Heather's Christmas List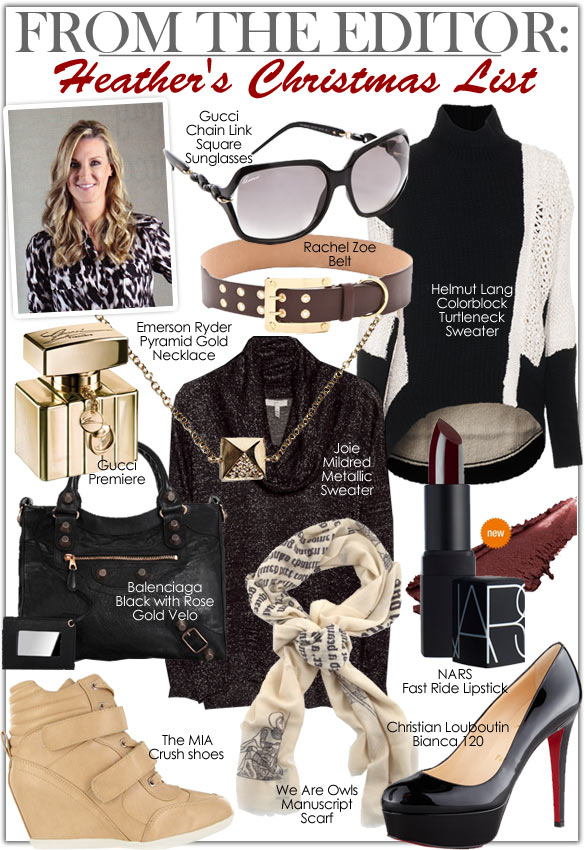 I've made my list, and I've checked it twice. If I got to play Santa this year, I'd give out this loot, whether you've been naughty or nice. Luxurious basics are my choice for Holiday 2012, and these pieces are the perfect balance of getting something that I want and something that I need. I suggest these gift ideas for any fashionista, girlfriend, or style-seeking family member in your gift-giving circle. High on my list are shoes and bags: a classic pair of black pumps, a trendy (and affordable) pair of sneaker booties, or a forever handbag. Accessories take the cake, too, whether it be a simple necklace, a must-have belt, a stunning scarf, or a pair of statement sunglasses. In the arena of cosmetics, a rich red lipstick or enchanting perfume make the perfect stocking stuffers. And what Christmas list is complete without a Christmas sweater? Instead of the ritual ugly sweater, your Christmas knit has the potential to become one of your favorite things…if it's a cozy cowl neck or mod colorblock. Read on for all the details:
1. Christian Louboutin Bianca 120 Patent Platform Pump: Holiday red takes on new meaning with these red-soled wonders. Give the gift of a legend with a pair of Louboutin pumps. Wearable year round, these patent leather pumps are the gift that keeps on giving.
2. Balenciaga Giant 12 Rose Golden Velo Bag: Rose gold hardware sets this bag apart from the rest…not to mention its Balenciaga beauty and signature moto-bag shape. If I find this under my tree, I'll faint with pleasure…and then carry it nonstop for the next 5 years. 🙂
3. Emerson Ryder Pyramid Gold Necklace: A simple stunner. This Emerson Ryder piece is on my Christmas list, but it's also one of my favorite gifts to give. A delicate chain is hung with one texturized pyramid stud, an accessory that manages to be both elegant and edgy at the same time.
4. Helmut Lang Colorblock Turtleneck Sweater: My favorite sweater all season, this Helmut Lang is my must-have. It combines all the best trends of today: colorblocks, a hi-low hem, and a chunky knit. Pair with leather or coated leggings and booties for a fabulous (an effortless!) winter look.
5.  Joie Mildred Metallic Sweater: Cozy cowl neck sweaters are a no-fail Christmas sweater. In a cool charcoal with metallic threads, this classic shape is also mod. Pair with a leather jacket, legging and boot for a family gathering, last minute shopping or Sunday brunch.
6. Gucci Chain Link Square Sunglasses: Give Gucci because the name says it all. Always elegant, these square frames have vintage styling that is forever on trend. Available in black, cocoa or brown, these shades have chain link arms that give off a metallic gold sparkle.
7.  we are owls Manuscript Scarf: Typography is trend. Something printed with…print…is hot for winter. Subtle, yet graphic, this scarf is a wear-with-all in creme with black lettering. It's an easy choice for anyone on your list, especially those new to it.
8. Gucci Premiere: Blake Lively is the Hollywood starlet tied to Gucci's Premiere perfume. Make an entrance whether it's your Hollywood premiere or at that important business meeting. This perfume has top notes of bergamot and orange blossom supported by white flowers and musk.
9. Rachel Zoe Belt with Screw Buckle: Often overlooked, the belt is an accessory that makes a wonderful gift. With the power to pull together any outfit, this beautiful brown leather option cinches the waist and provides an hourglass shape. Its extra gold hardware adds subtle shine.
10. NARS Fast Ride Lipstick: Statement-making lips. NARS Fast Ride is a hybrid of chocolate and red. A statement lip is a sure-fire way to add style, especially on a dreary winter day. Stocking stuffer, anyone?
11. Mia Shoes Crush Sneaker: I've got a serious crush on sneaker wedges this season. Perfection for running about town, edgy evenings, or lunch with the ladies, these beauties come in tan or black. With a $69 price tag, trend is well within reach of any budget.
Most Read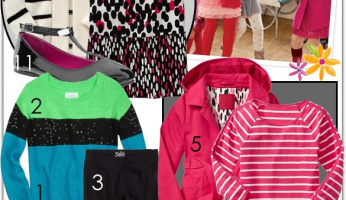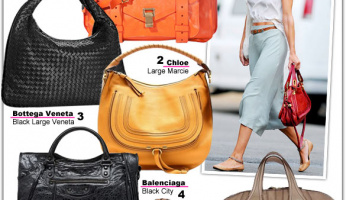 Subscribe to our Newsletter