White Button Down Looks for Summer 2023!
A white button-down shirt is the core of most women's wardrobes. It's a staple that everyone should have and is always a feature in capsule closets because of its versatility. Most people think that this kind of blouse is strictly business casual.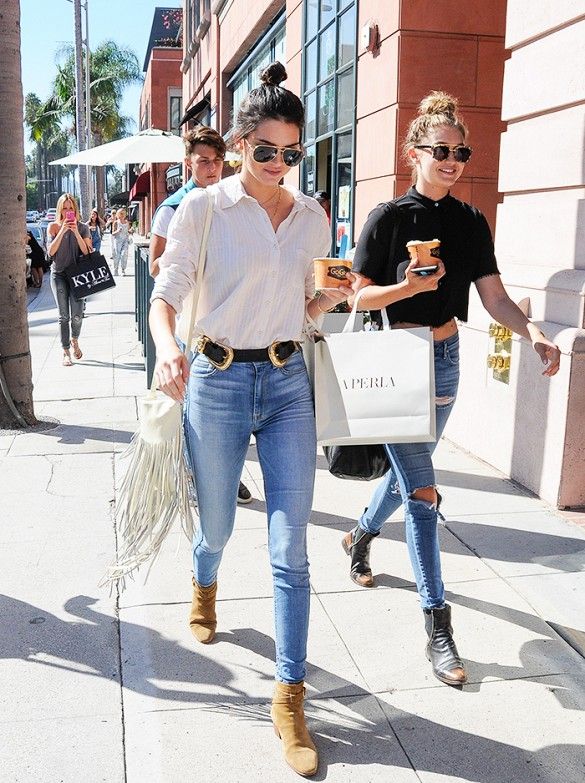 But, you can wear a white button-down with almost anything. Commonly worn with denim, over a bikini, tied or tucked, you can't go wrong with a white blouse. The beauty of a button-down is in all the different ways you can style it to transform it into something new.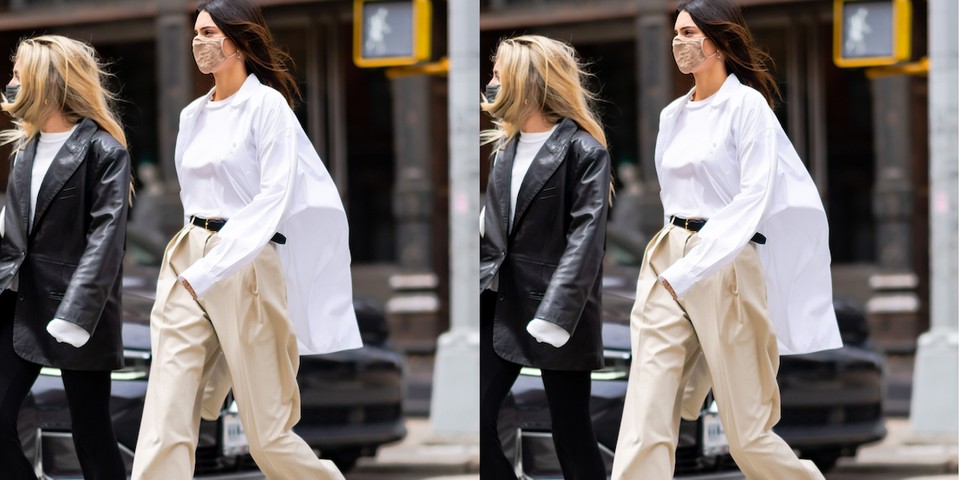 One of my favorite recent white button-down looks is from Kendall Jenner. On Instagram, Kendall showed off her head-to-toe look from The Row. She wore her white shirt layered on top of a white tee and paired it with flowy beige trousers and a black strappy heel. This white button-down retails on The Row for $1300.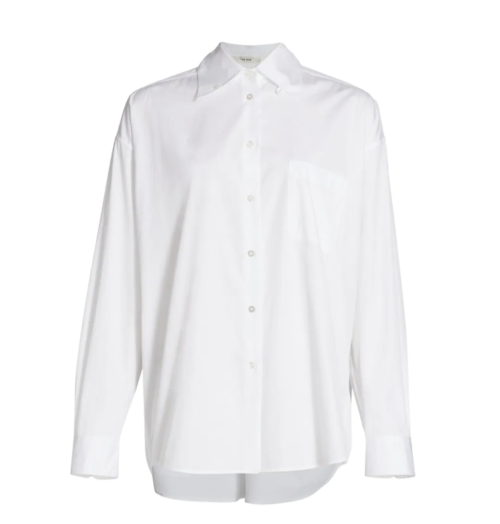 Another way of wearing a white shirt is buttoned up and tucked into a pair of denim jeans. Meghan Markle was spotted in this look at the airport. Her shirt had the sleeves rolled with a few buttons undone at the top and loosely tucked into some ripped skinny jeans.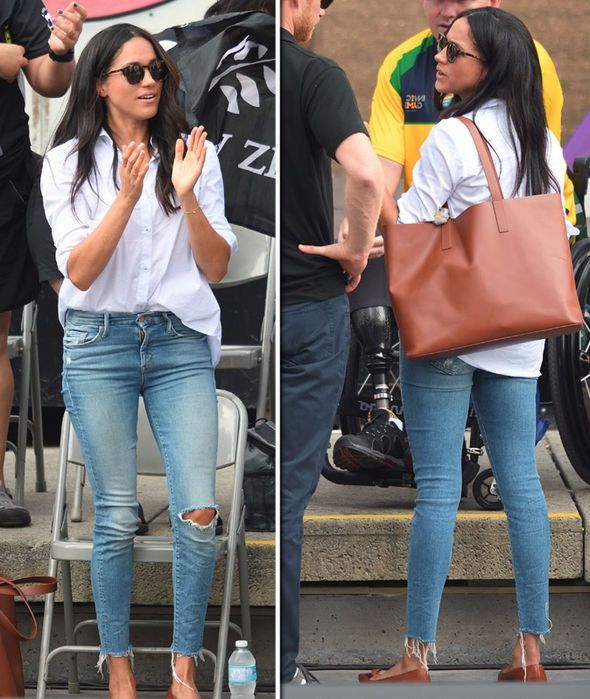 She accessorized with some sunglasses, strappy flat sandals, and a cream brimmed hat. Comfortable and classic, this way of styling a white button-down is perfect for a long flight or an afternoon lunch.
For a more glamorous take on a white shirt, Khloe Kardashian did it best. Her fitted shirt was folded up to give it a cropped look and more than a few buttons were left open, giving it a sexier feel than the last two looks. Her tight jeans, ripped at the knees, were mid-wash denim and high-waisted enough to show the perfect amount of mid-drift. Instead of a bag, Khloe wore a fanny pack slung on her hips. She finished the look with a navy wide-brimmed hat and dark sunglasses.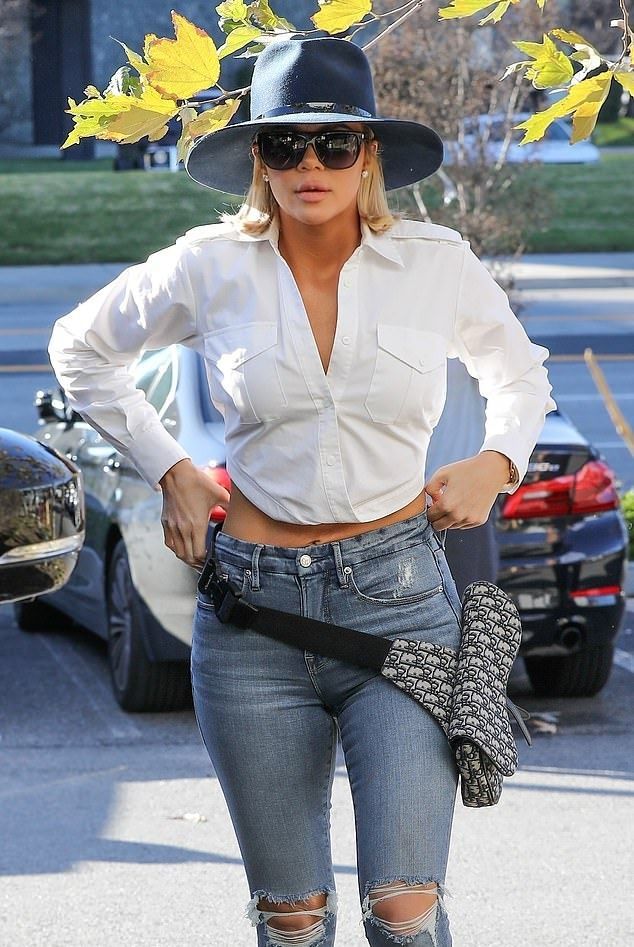 Some of these looks can add up to quite a bit of cash, but you can still achieve a similar effortless chic style without dipping into your savings. A great affordable option is the Rayon Long Sleeve Blouse from Uniqlo. This blouse is wrinkle-resistant and elegant enough to be dressed up. This shirt retails for $29.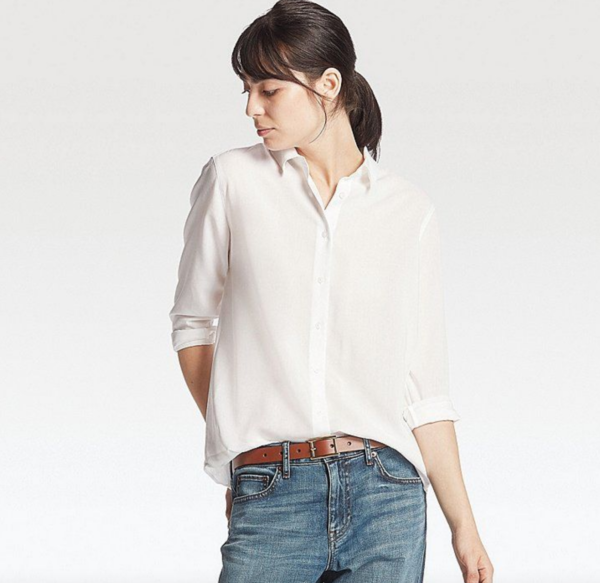 Button-downs can be perfect for the summer if you go for a short-sleeve option or a thinner fabric. Revolve has some great options that are on the higher-end side but still reasonably priced. Their Boxy Button Down is sure to keep you cool this summer. It's 100% rayon with cuffed sleeves for a flowy and comfortable feel. The front twist hem detail brings some interest to a normally plain piece and makes it just cropped enough to land above your favorite high-waisted denim shorts. This shirt retails for $78.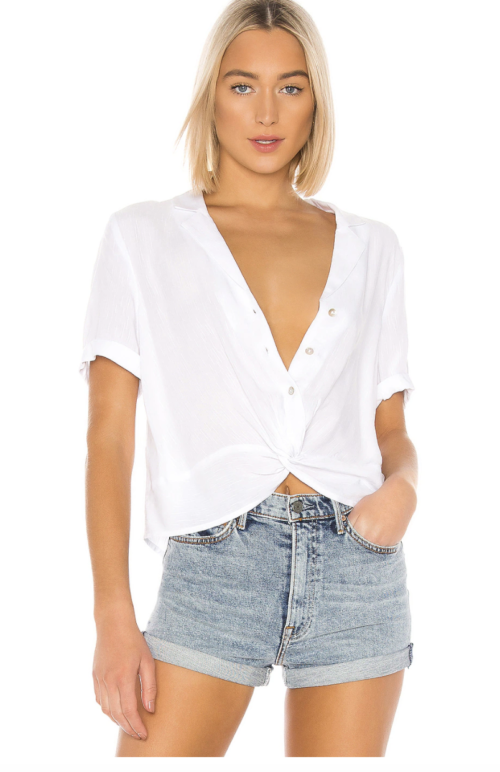 ASOS has a variety of shirt options in as many fabrics and colors as you can wrap your head around. Their ASOS DESIGN Tall Long Sleeve Boyfriend Shirt in white is the most basic white button-down you can find. This classic cut makes it the easiest to style. The baggy fit and longer hem mean you can wear it open over a tee, tied up and cropped, or simply buttoned and tucked in. Sometimes, less is more, especially with a timeless piece like the white button-down. And, at $36, this shirt is a must-have.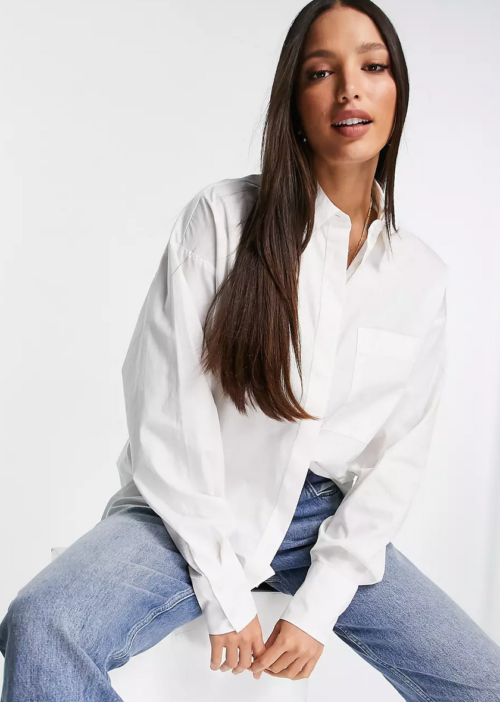 Subscribe to our Newsletter