The Perfect Fall Backyard Dinner Party
Here in Austin, the weather is cooling off, finally, and the sunsets are absolutely gorgeous. The Fall smells are in the air, and the time for outdoor ambiance lighting is perfect. The sweet smell of pumpkin spice lattes is lingering in the air. (Just me? Weird.) Hallelujah, my favorite patio season is here!
Bring on the sunset smores, the candlelit dinners alfresco, the family and friends gathering around the comfort food! Whether your patio dining set needs a complete replacement or you're just looking for a few fresh pieces, you're ready to figure out how to decorate your patio for the entertaining season I've got you covered. Overstock.com and I have teamed up to help style it for that tricky in-between seasonal weather. Browse away and start planning your first al fresco fall fête.
Enjoying the great outdoors for a meal or just a glass of wine means you'll be gathered around a dining set, and the combination of chairs, tables, and possibly an umbrella will need to last as long as your home.
Before you begin choosing outdoor furniture, you'll have to make some decisions. Fashion or function? Outdoor lounge or patio dining? A peaceful sanctuary or vibrant conversation starter? You've got choices, choices, choices. I'm here to help you make your patio — into an outdoor living space that you can party, relax, entertain, or all-of-the-above all season long.
Good seating can help make your patio a place you actually *want* to relax. If you're looking to upgrade your outdoor space, but don't quite know where to begin, consider investing in seating. Chairs bring a sculptural element that elevates your existing pieces.
Decide Between a 5-Piece Dining Set and a 7-Piece Dining Set:
Provide plenty of seating and be your friends' go-to hang-out while the good weather lasts. The typical outdoor dining set will comfortably seat four to six people. I opted for a farmer's table, so I can have big family-style dinners. My Fairmont Rectangular Outdoor Patio Dining Table is available in two basic configurations: Rectangular Outdoor Patio Dining Table with 4 Armless Chairs and 2 Chairs w/ Arms and Patio Dining Table With 6 Armless Chairs And 2 Chairs W/ Arms (the one I have). I love the modern, sleek design, and the table is aluminum and cleans very easily.
Add a Rug for a Cozy Touch:
Here's nothing that I love more than an outdoor living room. As the design trends keep moving toward the idea of creating outdoor spaces that feel just as comfy as your indoor spaces, it's essential to make sure that you have all the elements right. One of the most important pieces of decor I rely on to help make an outdoor space feel cozy is an outdoor rug. I choose to lay a rug underneath their dining set to protect and cozy up the area. Because I went with a neutral color palette for my outdoor dining furniture, the Novogratz by Momeni Tuscany rug was an excellent opportunity to add a little splash of color.
RELATED: How to Decorate a Your Patio That Will Make Guests Swoon
An Umbrella is Always a Good Idea:
Whether it's the beating sun or the occasional pocket of rain, I didn't want Mother Nature to spoil my outdoor fun. We can debate about what the "best patio umbrella" is until we're blue in the face, but in all honesty, the best patio umbrella for your outdoor space is the one that makes you the happiest. This cute scalloped Safavieh Zimmerman umbrella with flap does just that, and the beige color goes with everything.
When is the Best Time to Buy Patio Furniture? When it's on major sale! Overstock.com's Anniversary Day Sale and they are celebrating their customers with the deepest discounts in 20 years with everyday FREE SHIPPING!* Deeper discounts than 2018 Black Friday!
This post was created in collaboration with Overstock. As always, all thoughts and opinions are my own!
JavaScript is currently disabled in this browser. Reactivate it to view this content.
Most Read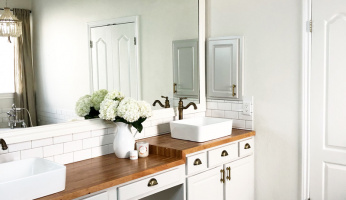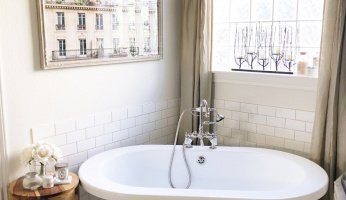 Subscribe to our Newsletter