The 7 Best Face Steamers of 2023!

If you've never experienced a professional facial before, you're missing out. But, what if we told you that you could mimic one at home… and on a daily basis? A huge component of facials is the steam.

Steam is used to open up our pores, allowing the products to penetrate our skin even deeper. It also helps to remove mud masks and tough products a lot easier by softening them up.

There's lots of talk online about whether cold water is better for your skin than hot water. While cold water and cold compresses have their own set of benefits, hot water isn't necessarily as damaging as people portray it to be.

Hot water, if used on an extreme setting can obviously be very dangerous and hot water, in general, can possibly dry out the skin if used too often. Using a facial steamer before applying your products limits the amount of hot water you need to use on your face, it's not as drying for the skin, and it is so relaxing you'll feel like you created a spa in your very own bathroom.

Facial steamers are affordable and can also make a great Christmas present. If you know someone who is obsessed with skincare or self-care in general, a facial steamer might just be the perfect present for them.

That being said, there are tons of facial steamers on the market and it can be hard to choose the right one. These are the best-rated, most-loved facial steamers that you can get in time for Christmas.
Our top 3 picks
Top 7 Picks!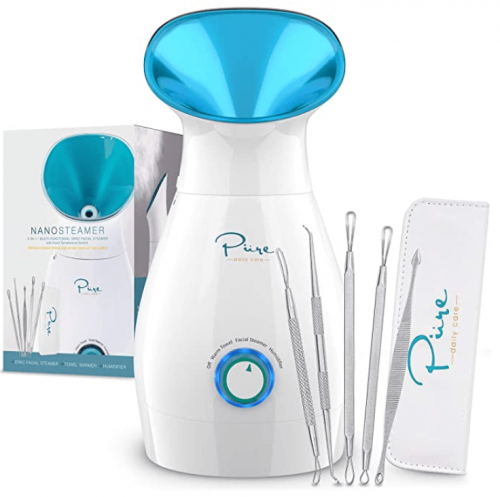 This nano-ionic facial steamer and humidifier is a new type of steamer that generates something called nano-ionic steam.
Read more
This is achieved by combining conventional heating with a new ultra sonic vaporizer which produces nano steam from the negatively charged ionic particles. This kind of steam is ten times more effective for penetrating the skin, letting your products sink much deeper.
This steamer also comes with a five-piece stainless steel extractor kit for blackhead and blemish removal. It also has 30 minutes of steam time so you can enjoy your self-care treatment without worrying about the steam running out.

2

. Ezbasics Facial Steamer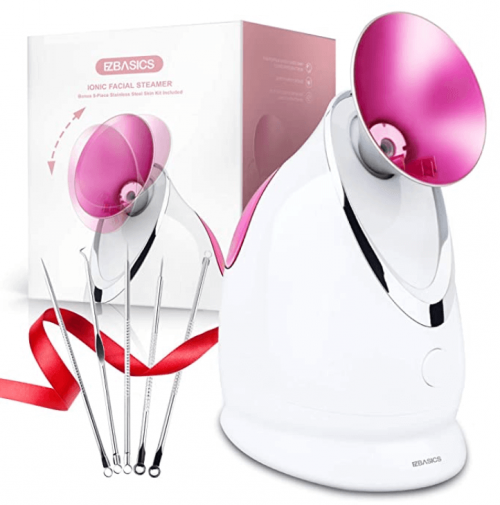 Ezbasics Facial Steamer generates the same iconic steam. This high-powered steamer is designed to be used with distilled or purified water for the best results.
Read more
You can enjoy a soothing mist for 30 seconds or a flow of steam for ten minutes! It can also be used for aromatherapy by adding a few drops of essential oil onto the aromatherapy pads, placing them on the machine's built-in aromatherapy tablets, and enjoying.
On top of this, this steamer is optimal for unclogging pores and allowing better penetration of your skincare products.

3

. Finishing Touch Flawless Facial Steamer
This new tool launched in 2021 is the ultimate at-home skincare product. It uses a constant stream of warm steam designed to help promote a more radiant complexion.
Read more
It's designed with a two-sided mirror, giving you the option to see what you're doing as you use the steamer.
It has 15 minutes of warm, steady steam which is an optimal steaming time. Using this steamer you can create a relaxing spa day from the comfort of your own home.
4

. Colorfarm Facial Steamer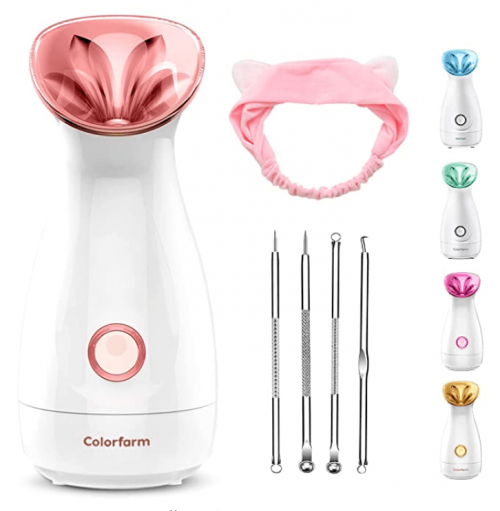 The Colorfarm Facial Steamer combines the nano-ionic steam that we've been loving with a purify light inside which can convert 100% pure water into nano-sized water molecules which reach your skin with the most effective condition.
Read more
This helps to clean the dirt and impurities out of your skin. This facial steamer allows you to enjoy 15 minutes of steam flow which is a happy medium.
Facial steam, when used too long or too frequently can actually damage the skin rather than help it.

5

. Vanity Planet Aira Ionic Facial Steamer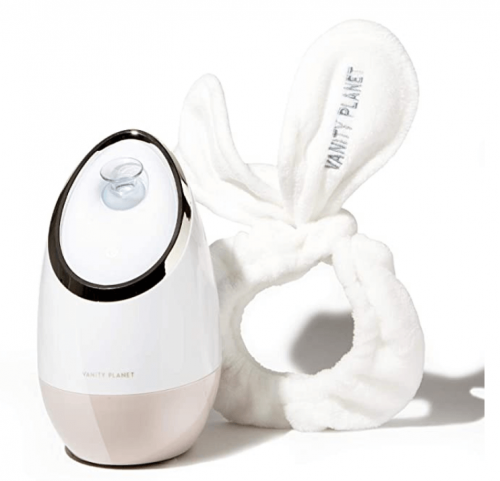 The Vanity Planet Aira Ionic Facial Steamer is one of the pricier ones on this list.
Read more
This therapeutic steamer generates nano-sized water molecules to instantly hydrate and soften the surface of the skin, helping to detoxify your pores of dirt and dead skin cells. It also has an aromatherapy basket so you can steam with your favorite essential oils and reap all the benefits of aromatherapy.
This specific steamer comes with the recommendation of only using it for 15 minutes a day for up to three days a week maximum.

Movsou Facial Steamer produces a warm mist that can naturally improve the ability to cleanse deeply, improving skin quality.
Read more
It can help to unblock pores and improve skin tone. It claims to increase blood circulation for a healthier, younger-looking complexion. Their full power steam produces a consistent mist that helps restore your natural moisture, leaving your face more hydrated than before.
It's easy to use, stylish and affordable. This steamer makes a great self-care treat for yourself or a Christmas present for all the skincare junkies you know.
7

. Conair True Glow Facial Sauna
On the higher end of the facial steamer spectrum is the Conair True Glow Facial Sauna. it uses a warm flow of softly steaming mist to open the pores and stimulate circulation.
Read more
It provides the ultimate experience for optimal cleaning, exfoliating, and hydration.
This steamer is a great way to practice the three-step approach of opening pores, deep cleansing, and moisturizing. These three steps are exceptionally effective in preparing your skin for the next steps in your skincare routine and are even more effective when paired with a facial steamer.
Celebrity style guide Writers
Bianca
Nov 29, 2021
Ana
Nov 29, 2021
Subscribe to our Newsletter