Retinol vs. Retinoid: What's The Difference and What Should You Be Using?
Our skincare routines are sacred. We have serums and oils and moisturizers, cleansers, toners, and more. But, one of the most important steps of a skincare routine is some form of a retinoid product.
Retinoids are amazing for treating acne, wrinkles, early signs of aging, and more due to their ability to reduce inflammation and stimulate the growth of collagen. If you're not integrating a retinoid into your skincare routine, your skin may be missing out.
We're going to get into the nitty-gritty of retinol vs. retinoid so you can make an informed decision about your personal skincare needs.
1. Retinoids
If you're looking at changing up your skincare and adding in a retinoid, there are some things you ought to know. Firstly, retinoid and retinol are not the same. A retinoid is a vitamin A derivative. It's transformed into retinoic acid which is super beneficial to the skin.
Retinoids are easy to find and are usually quite cost-efficient. They're antioxidants that help fight early signs of aging and promote collagen growth to reduce wrinkles and leave the skin feeling healthy, plump, and renewed. They also help to increase cell turnover.
This means that they can improve your skin's texture and dimmish the appearance of dark spots. Accutane, which is an oral form of a retinoid, is a maximum strength acne-fighting medication given for severe cases.
2. Retinols
While retinoids can be used in prescriptions, retinols are often just found in over-the-counter products. Retinols usually hold a lower concentration of the retinoic acid ingredient that we mentioned earlier. Since retinol products are lower in strength, it means they work more gradually.
Over time, retinols can be great at repairing the skin in a multitude of ways. Retinols are usually combined with other ingredients such as hyaluronic acid to brighten and hydrate the skin. They can also be great agents in fighting severe acne and related scarring. It provides mild exfoliation which can sometimes lead to stripping the skin, which is why it's important to keep up with your moisturizer after using.
Like retinoids, retinols also help to treat sun and age spots, signs of sun damage, skin texture, large pores, hyperpigmentation, fine lines, and wrinkles.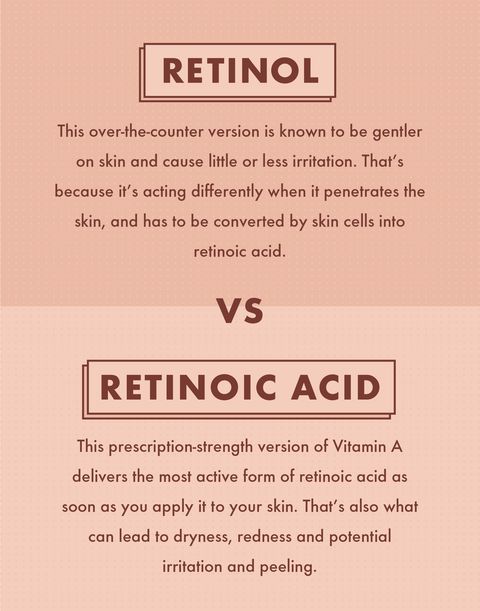 Our 4 Favorite Retinol and Retinoid Creams!
1. Honest Beauty Honestly Pure Retinol Serum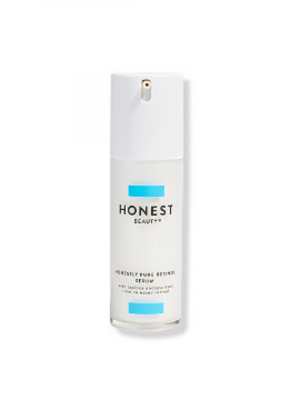 This retinol serum from Honest Beauty is a hydrating formula with tapioca, retinol, and hyaluronic acid. It's gentle, time-released retinol that is designed to be gentle enough for nightly use.
Packaged sustainably, this product is also formulated without parabens, mineral oil, synthetic fragrances, and more. Simple and straightforward, this retinol will address any and all skin concerns over time.
2. Differin Acne Treatment Gel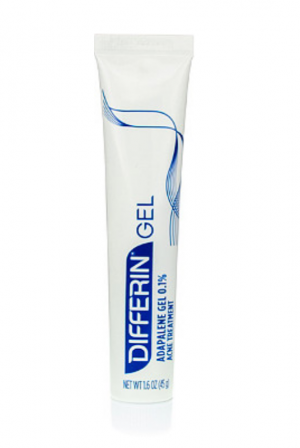 This FDA-approved full prescription-strength retinoid is a powerful product. Containing 0.1% adapalene, it clears acne and prevents future breakouts, banishing signs of blackheads, whiteheads, clogged pores, and blemishes. It restores skin tone and texture as well as helps to reduce signs of aging.
It's also extremely effective for treating "maskne" which is the phenomenon of breaking out due to the medical masks required from COVID-19.
3. The Ordinary Granactive Retinoid 2% Emulsion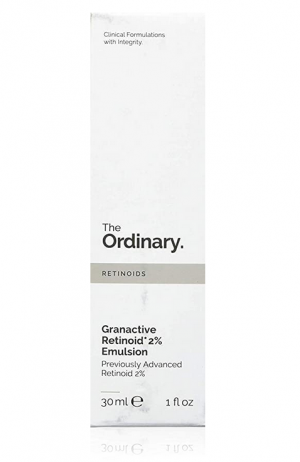 Speaking of HPR, The Ordinary Granactive Retinoid 2% Emulsion also features this highly advanced form of retinoid. This product, along with all other retinols helps to treat and manage the same skin concerns. But, this concentration of HPR is extremely effective. It's an advanced retinoid product that gives you prescription quality results at home. It delivers better visible results than other retinol and retinoid complexes.
4. Admire My Skin Clinically Effective Retinoid Cream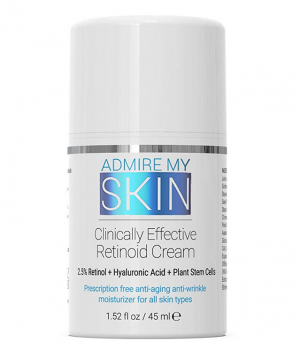 Admire My Skin has a prescription-strength retinol cream to give you promising results in no time. It is considered to be more effective than non-prescription retinol creams due to its high concentration of ingredients.
It is a 2.5% retinol formula with additional hyaluronic acid and plant stem cells. This product clings to quick results, claiming you'll be able to see results in four weeks of use with maximum results in six weeks of use.
In this time, this product will improve the appearance of fine lines, wrinkles, skin smoothness, and firmness as well as spots, texture, acne, and scarring.
Subscribe to our Newsletter