The 7 Best Reviewed Waist Trainers That Are Plus Size Friendly!

Waist training is a similar practice to what corsets were in the Victorian Era. The idea is to reshape your body using compression. These days, many celebrities wear waist trainers, especially in gym spaces to help them "achieve tinier waists".
Some of these celebrities include the Kardashian sisters
Kim
,
Khloe
, and
Kylie Jenner
. There is tons of negative talk about corsets and waist training including the critique that it is bad for your health as it squeezes your organs unnaturally.
But, when you see before and after pics of these celebs, it definitely has some merit to it in the looks department. Although, that doesn't mean that you should be waist training. Vanity and health are not synonymous and waist training is known to come with its risks.
If you're interested in the waist training practice, first and most importantly, do your research! You need to know how to do it properly to avoid internal damage as well as the proper timeframe and tightness to avoid cutting off your oxygen and circulation.
If you've done all this research beforehand, then the only thing left to do is buy an actual waist trainer. We've got the best-reviewed waist trainers to get your hands on.
Our top 3 picks
Our Top 7 Picks!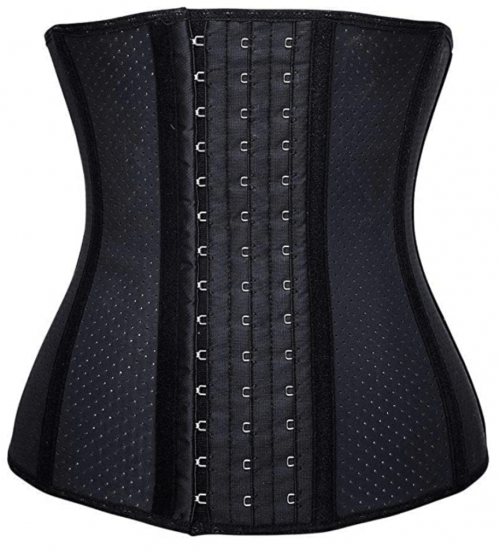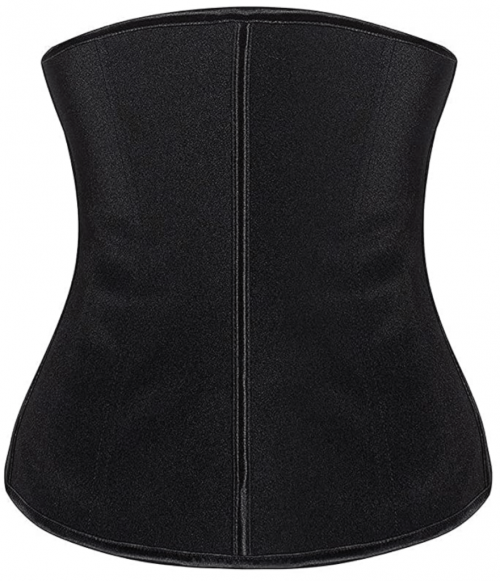 The Yianna Waist Trainer is plus-size friendly, going all the way up to 6XL in sizes. It has a traditional big and wide three-column hook-and-eye closure which allows you to keep adjusting over time.
Read more
It has a high compression durable latex blend that will give you a high resistance to slim curve ratio. You can wear this to the gym as well as throughout the day.
This waist trainer has nearly 81,000 reviews with an average of four stars. It's also affordable. Waist trainers can be pricy, especially when they are specifically celebrity endorsements.

2

. Nebility Women Waist Trainer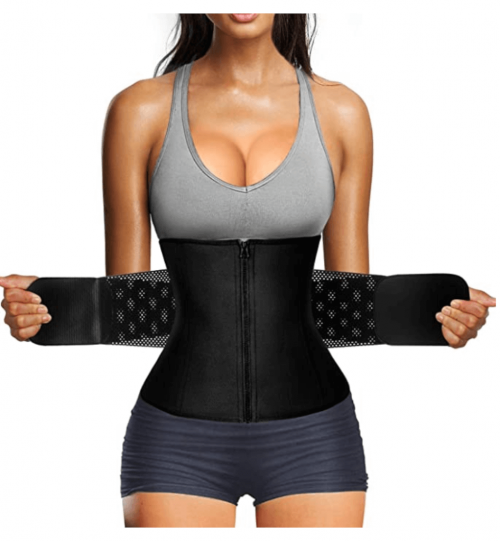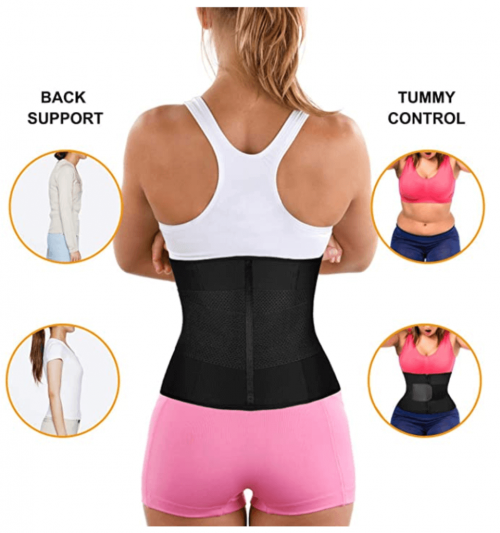 The Nebility Women Waist Trainer has a triple firm control waist trainer belt which is a slimming belt wide enough to wrap around your tummy, acting as a waist-cinching tool.
Read more
It has three layers of zipper, loop, and hook closures to provide a higher compression on your midsection, helping to flatten your tummy and contribute to an hourglass figure. The sizing goes up to a 3XL, making this friendly for straight sizes and mid sizes.
This is also an effective corset shapewear that can be used under clothing on a daily basis on top of being used at the gym to enhance your workouts.
This waist trainer has a four-star rating with over 2,500 reviews.

3

. Hoplynn Neoprene Sweat Waist Trainer Corset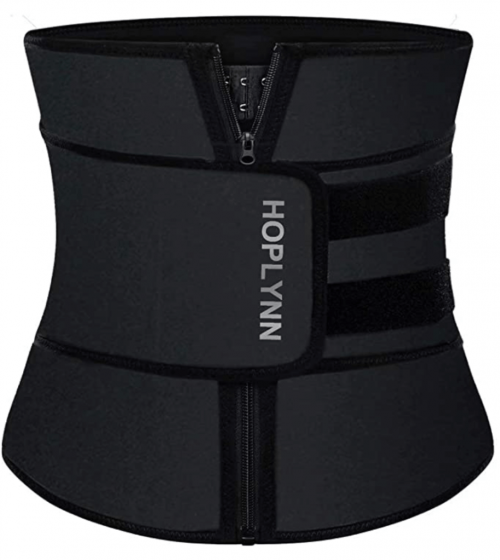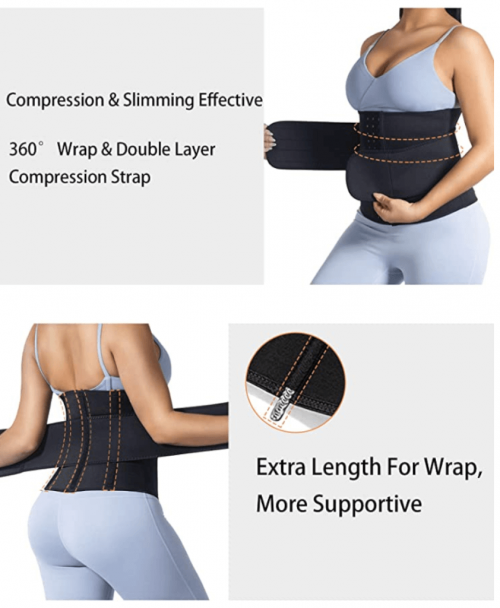 Hoplynn's Sweat Waist Trainer Corset is meant to elevate your training, improving hot activity, and making you sweat more.
Read more
It has double layers of tummy control for full coverage and high compression. It has a waist trimming belt that gives you a flexible fit, allowing you to adjust it over time.
The single-layer neoprene fabric adds to the compression, shaping you and speeding up the sweating process for up to three times the normal amount of sweat shed.
It carries sizes up to 4XL, covering a wide range of sizes. This waist trainer is very well-loved with over 38,000 reviews.

4

. Loday Waist Trainer Corset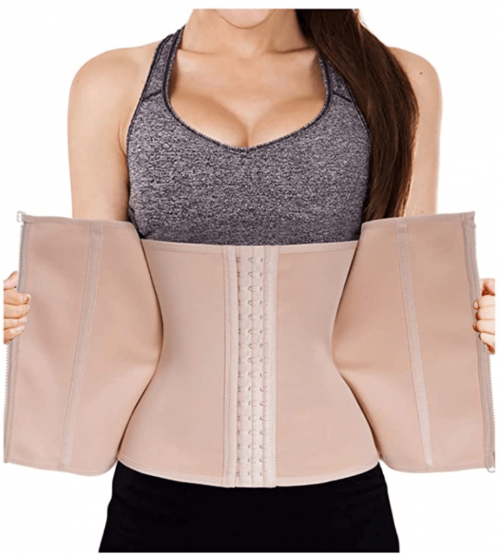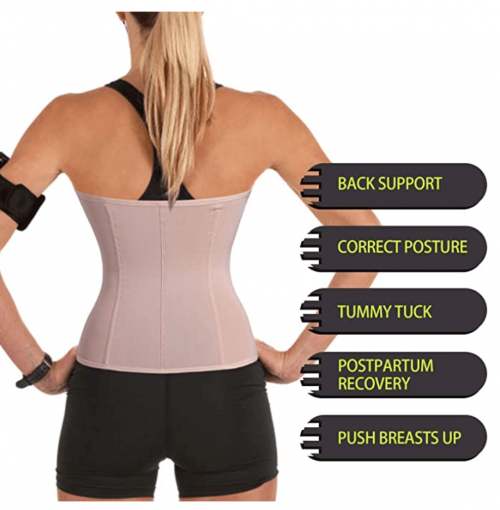 Loday Waist Trainer Corset is a best-seller on Amazon. It has a double layer high-compression design with a hook-and-eye closure as well as a zipper closure over top for maximum tummy control.
Read more
It has high-quality steel boning to prevent rolling and slipping throughout the day. It also provides support for back pain relief and posture. It has a completely adjustable design so you can tighten it over time as needed.
The zipper allows you to hide the hook-and-eye closure for a smoother, slimmer look. The long torso style hides any lumps and bumps, giving you a tight and cinched waist.
You can buy up to a 4XL in this waist trainer. It also has a four-star average among 34,400 reviews.

5

. Nebility Women Waist Trainer Corset Zipper Vest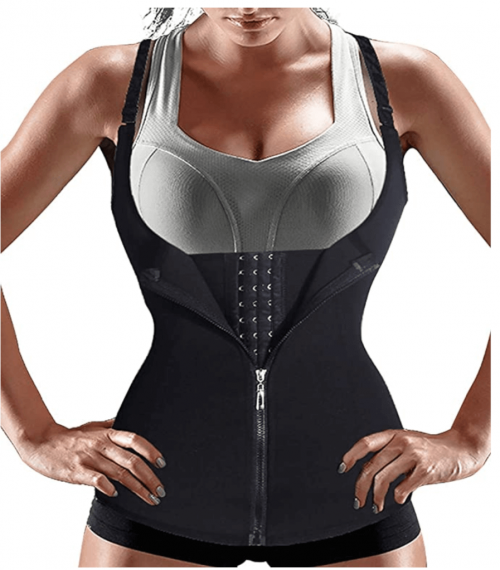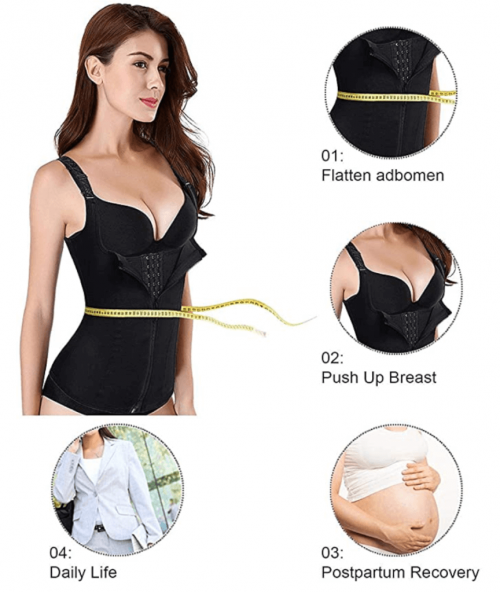 This is the second waist trainer from Nebility on this waist trainer guide. The Waist Trainer Corset Zipper Vest needs to be addressed because it's a one-stop shop for your waist training, shapewear, gym gear needs.
Read more
This waist training vest is made of high-quality fabrics that are smoothing, moisture-wicking, flexible and breathable for the ultimate comfort. It maximizes compression with its firm control, hook-and-eye closures as well as adjustable shoulder straps.
It's a multifunctional waist trainer that will support your back and posture as well as flatten your tummy, reduce waistline and protect your spine.
This waist trainer carries sizes up to 4XL, covering a wide range of sizes. It also has nearly 53,000 reviews. With a high four-star average and a low price tag, you can't go wrong with this all-encompassing waist trainer.

6

. Lady Slim Fajas Colombianas Latex Waist Trainer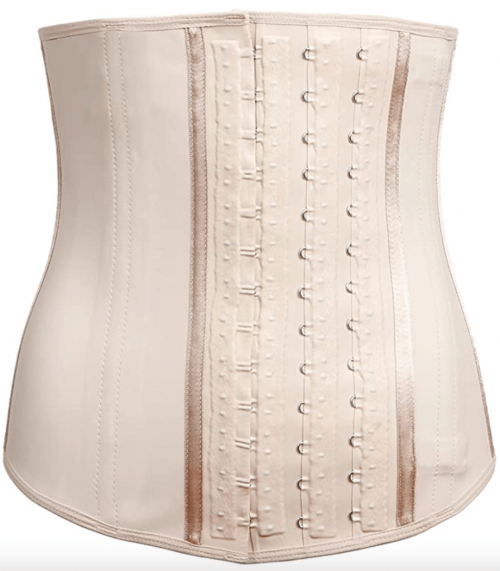 Lady Slim Latex Waist Trainer is made from 100% natural latex that will increase the temperate of your abdominal area, increasing your sweat-shed and helping to reshape your natural curves.
Read more
It uses the sauna effect which ultimately ramps up the heat in a specific area to reshape and reduce fat deposits. It has a hook-and-eye closure that is completely adjustable so you can tighten it over time as needed.
It has flexible boning to provide structure, helping you correct your posture as well as preventing the waist trainer from rolling up. It is strong and durable, good for everyday use.
Nearly 30,000 reviews and a four-point-five-star rating give this waist trainer a leg up on its competitors in the saturated market. It also has a decent size roster, ranging from XXS to 3XL.

7

. ShaperX Latex Waist Trainer for Women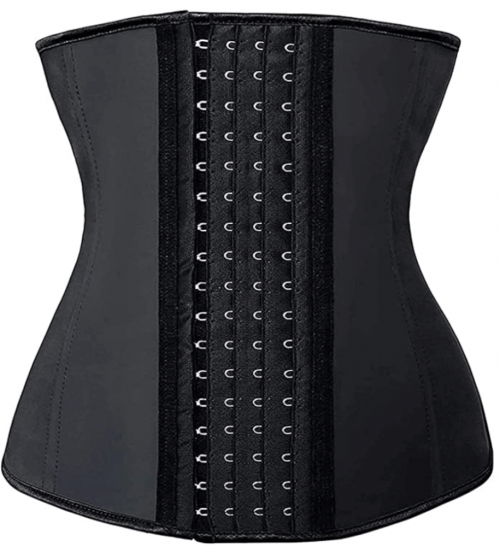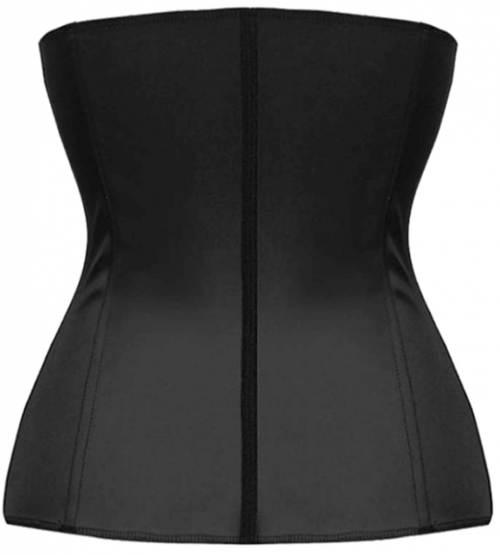 ShaperX Latex Waist Trainer is a traditional style of waist trainer. It features four hook-and-eye closures for an adjustable fit.
Read more
It's made from durable latex materials and spiral steel boning which provides high compression around your waist with rigid support for your back. It helps to slim the waistline, define your curves, and also increase sweating around the abdomen area. It's safe to use while exercising as well.
You can buy this waist trainer in a size up to 3XL. Over 9,000 people tried and reviewed this product, giving this best-seller an average of four stars!

Celebrity style guide Writers
Bianca
Dec 28, 2021
Ana
Dec 28, 2021
Subscribe to our Newsletter