Should You Be Wearing a City Sunscreen In The Winter?
It's safe to say that by now most people know how important it is to wear sunscreen. This summer, tinted sunscreens were all the rage, giving you protection and natural coverage all in one. But, sunscreen isn't just for the summer. In fact, wearing sunscreen all year round, even in the winter months is just as vital.
There are more than one single reason as well as more than one benefit to keeping up with your sunscreen routine every day and we're going to go through it all.
Why Is It Important To Wear Sunscreen In The Winter?
This may be a beauty article, but before we get into the skin benefits, we need to talk about science. Contrary to popular belief, during the winter months, the sun is actually closer to the earth. This increases your chances of sunburn during the winter by a lot. On top of this, ice and snow reflect the UV rays. Just because it's cold doesn't mean that the sun and UV rays aren't just as strong, if not stronger.
Another scientific reason to consider wearing sunscreen in the winter is that our Ozone layer is thinner. The ozone layer, which is the part of our atmosphere that absorbs radiation from the sun, is thinner during the winter months. That means that we get less protection from the sun and our skin may be absorbing even more ultraviolet rays than usual.
What Does Sunscreen Do For Our Skin?
UVB rays are very damaging to the skin. They can cause melanoma (skin cancer), but it also depletes the collagen in your skin which can cause dark spots, skin sagging, and early signs of aging such as fine lines and wrinkles. Sunscreen protects our skin and helps to keep it looking as youthful as possible for as long as possible.
Essentially, staying out under the sun will shrivel us up like raisins. This will happen no matter the season, which is why it's vital to keep up with your sunscreen all year round.
UVA rays, called "long wave" rays are the most common rays that reach the Earth's surface. They penetrate our skin much deeper than other rays. UVA rays cause signs of aging and possible cases of melanoma. They also are strong enough to penetrate glass, so staying indoors isn't always a sure-fire way to keep yourself away from the rays.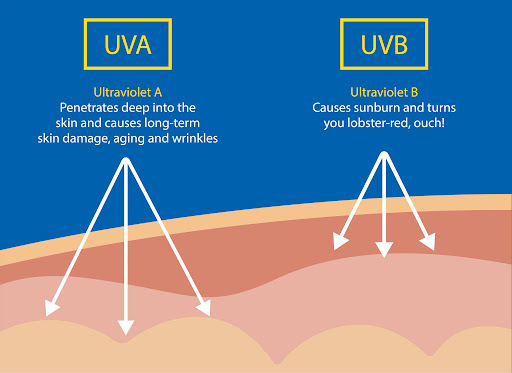 UVB rays, called "shortwave" rays are responsible for redness and sunburns. It doesn't penetrate the skin as much as UVA rays do. They are most intense during the sunniest hours of the day and are easily reflected off of ice and snow during the winter.
Sunny days in the winter can create even more UVB rays due to these reflections, causing sunburn even if you're wearing a parka.
The 5 Best City Sunscreens According to Beauty Editors!
1. Supergoop City Sunscreen Serum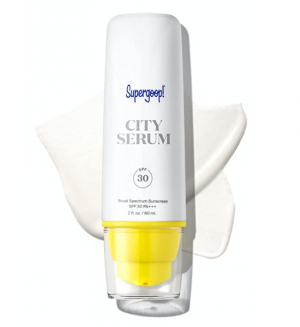 Supergoop City Sunscreen Serum is a light, hydrating, oil-free formula with SPF 30 to protect your skin. You can layer under makeup or wear it as is. It protects against harsh UV rays to reduce signs of fine lines, wrinkles, loss of firmness, and skin elasticity.
Some additional key ingredients include Vitamin E which is a natural conditioning agent and antioxidant that helps protect against environmental damage.
Vitamin B5 helps to soothe skin, supporting its barrier function and increasing the water retention of your skin. Hydroviton 24 is an advanced moisturizing complex that helps reduce water loss and combat dry skin.
2. Dr. Jart+ Every Sun Day Mineral Sunscreen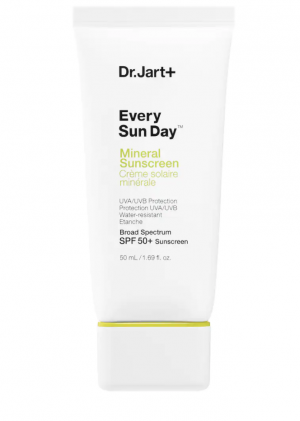 Dr. Jart+ Every Sun Day Mineral Sunscreen is a weightless, waterproof SPF 50 formula that blocks UV rays and protects sensitive skin. It's a hypoallergenic cream formula that also helps with redness, acne, and blemishes.
Zinc Oxide is a highlighted ingredient in this product for its ability to protect against UV rays while soothing the skin at the same time. It has a matte finish due to powder that absorbs sebum and oil, delivering a lightweight powder, but skin-like look.
3. Shiseido Clear Sunscreen Stick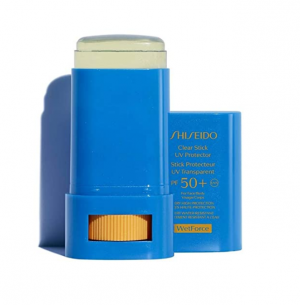 Shiseido Clear Sunscreen Stick is a clear, SPF 50 formula that works over and under makeup. Perfect for the on-the-go individuals, this stick is easy to use, non-greasy, and helps to lock in moisture as well as protecting against the sun.
As an Allure Best of Beauty award winner, this sunscreen stick is water-resistant for 80 minutes. It uses WetForce and HeatForce technology to create an invisible, protective barrier that becomes even more effective in contact with water and heat.
4. CeraVe 100% Mineral Sunscreen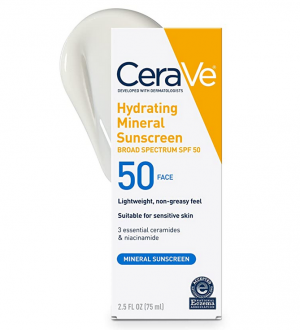 CeraVe is a very popular skincare brand at the moment. It was recently given extra attention by YouTube skincare specialist, Hyram. Their tinted mineral sunscreen was a summer favorite, but their traditional mineral sunscreen is perfect for winter. It has broad-spectrum UV protection which reflects UVA/UVB rays away from the skin. It contains Zinc Oxide and Titanium Dioxide which are perfect for sensitive skin.
It's also oil-free, fragrance-free, and oxybenzone-free. On top of being a great sunscreen, it's also beneficial to your skin. It includes three essential ceramides that help to restore the skin's natural barrier, locking in moisture.
5. Neutrogena Clear Face Liquid Lotion Sunscreen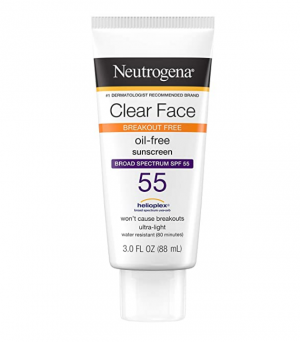 This Neutrogena Liquid Lotion Sunscreen is a great budget buy. It's formulated for acne-prone skin with broad-spectrum SPF 55 to also protect against sun damage. Stabilized with helioplex technology, it provides superior UVA/UVB protection. It has a weightless texture that leaves behind a matte finish.
It's water-resistant and is great for protecting your skin during outdoor activities such as hiking, skiing, snowboarding, and more. It will prevent sunburns while fighting off acne for a dual power sunscreen lotion.
Subscribe to our Newsletter