Reel Style: Up All Night Fashion & Style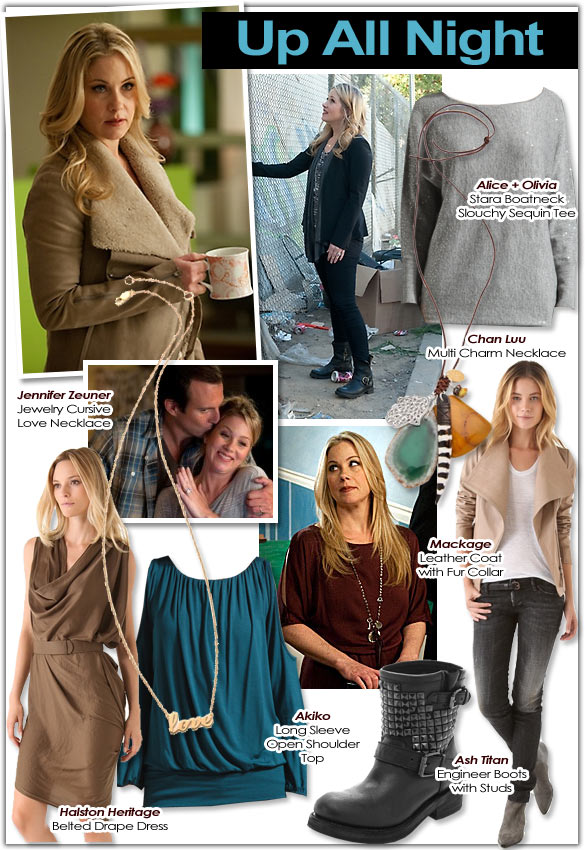 Up All Night is the story of Reagan and Chris, two newbie parents trying to juggle their baby Amy with their careers, their relationships, and the demands of everyday life. The result? A funny, down-to-earth show about parenthood in all its glory and grit. Once free-spirited and adventurous, the couple long for their younger years. As we watch Reagan and Chris sacrifice and struggle, we also know that these good-hearted parents wouldn't change a thing. Their love for Amy carries them through many real-to-life adventures and conflicts.
Christina Applegate, as Reagan Brinkley's, Up All Night fashion is definitely workwear to weekend. As the family's breadwinner (Chris stays at home with Amy), she opts for gorgeously draped pieces and statement necklaces…which she promptly switches out for sweats first thing through the door. For weekends and mommy doings, Reagan lets her youthful edge show with her ankle moto boots, black leggings, and slouchy sweatshirts. But whether it's the workweek or weekend, Reagan always wears her delicate gold "Amy" necklace. I love this mom!
Workwear
1. Halston Heritage Belted Drape Dress: Reagan is a producer of the Ava show, a gig that includes schmoozing the guests, meeting colleagues for lunch and the occasional event. This sheath dress works for all three occasions. Gorgeously draped, the cut is as stylish as it is forgiving. Its warm color works season to season, while its asymmetrical hem gives it an edge.
2. Akiko Long Sleeve Open Shoulder Top: Another flowy and forgiving cut, this teal top shows a hint of skin with its open shoulders…a cut that Reagan loves to wear. Pair this top with a statement necklace and skinny pant for a work look a la Reagan.
3. Chan Luu Multi Charm Necklace: Agate pendants, bone charms, and a metal hamsa combine for a versatile statement necklace. Reagan would wear this to work with her draped top or would pair it with a simple tee on the weekend.
Weekend
4. Ash Titan Engineer Boots with Studs: Age-appropriate. Reagan was an edgy, trendsetting party girl before motherhood. I love how she remembers her roots with these tough girl moto boots. Studding, buckles, and a lug sole take a standard leggings + tee outfit from mommy to edgy mommy.
5. Alice + Olivia Stara Boatneck Slouchy Sequin Tee: If you must wear sweats, wear them well. This slouchy tee is oh-so-comfy with its relaxed shape, but it's also pulled together and trendy with all-over sequins and an off-the-shoulder cut. Pair back to black skinnies and the above-mentioned moto boots for a very Reagan look.
Workwear to Weekend
6. Jennifer Zeuner Jewelry Cursive Love Necklace: Reagan's signature necklace is a delicate, collarbone-grazing chain attached to a gold cursive "Amy" charm. She wears it all weeklong as a constant reminder of her baby girl. This similar necklace keeps love close to your heart, too, whether that be your main squeeze or your darling child.
7. Mackage Leather Coat with Fur Collar: One of my favorite episodes last season is when Reagan's new high-powered boss lends her a stunning shearling leather jacket. Reagan doesn't take it off the whole show…and who could blame her? This Mackage Leather Coat has the same vibe with its versatile nude color, extra wide collar, and sleek fitted sleeves and body. Wear it all week long as your go-to topper. It's a stunning way to enter autumn!
8. J Brand Houlihan Cargo Twill Pants: The perfect reflection of Reagan Brinkley's Up All Night style……and mine. These olive cargo pants are in heavy rotation with my wardrobe. Distinctive seaming adds dimension while perfecting the lean fit of stretch-twill cargo pants with cool, modern style.
Most Read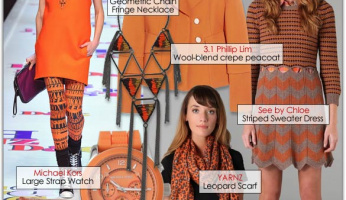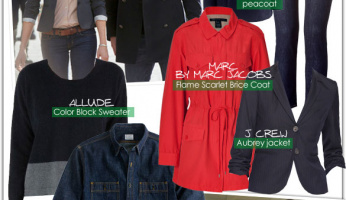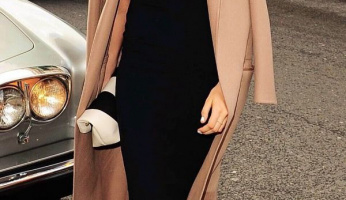 Subscribe to our Newsletter