Reel Style: Arrow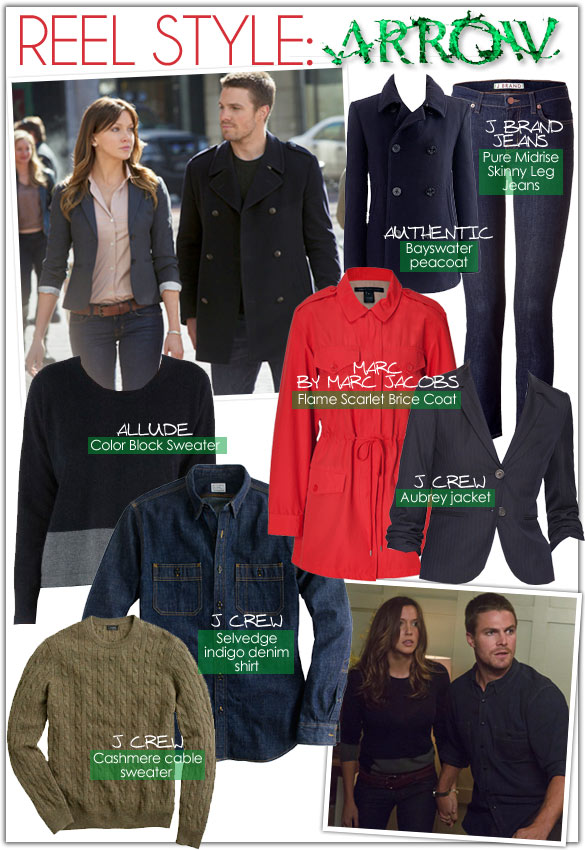 Action. Intrigue. Dual identities. Arrow has it all. The CW's latest series is based on the story of Oliver Queen (Stephen Amell), a rich playboy who was thought to be lost in a shipwreck. After five years alone on an island, Oliver is found and returns to his hometown of Starling City, but his time on the island reformed him. By night, Oliver operates as the secret vigilante "Arrow," who works to defend society and right his past wrongs…one of which is to reconcile with his former girlfriend Laurel Lance (Katie Cassidy). The intricacy of Arrow's plot stands in contrast to the straight-forward style of the characters. Oliver and Laurel wear classic pieces like navy peacoats, cable knits and clean-lined blazers, but mix in fresh preppy trend like colorblocked sweaters and denim button-ups. For work or play, this mix of clean-lined classics from J Crew and Marc Jacobs are sure to keep you on the straight and "Arrow" of style:
1. J Crew Aubrey Jacket: Preppy pinstripes. This wear-with-all blazer boasts a perfect fit. Layer over ultra dark denim skinnies, a slim brown belt, and a neutral button up to capture Katie Cassidy's style for your own. Roll the sleeves for streetside wear, like Cassidy did. Finished with tiny pinstripes for variation of color and depth.
2. Allude Color Block Sweater: Neutral colorblocks lend sophistication and quiet trend to this crewneck sweater. Layer this thin cashmere sweater over a button up or tuck into a jean like Laurel Lance. Its work to weekend wearability makes this black-and-gray piece an autumn go-to.
3. MARC BY MARC JACOBS Flame Scarlet Brice Coat with Zip: No matter how straight-laced, every wardrobe needs color. This flame-colored coat adds the pop you need. Its warm color is a natural complement to navy, camel, white, and gray. If you love your neutrals, this coat is an easy way to get your daily dose of color. Preppy parka with cinched waist and all-over pockets.
4. J BRAND JEANS Pure Midrise Skinny Leg Jeans: Wardrobe wonder. Every girl needs a dark rinsed skinny in her wardrobe. Dressed up with a blazer or down with a simple sweater, these indigo skinnies are universally flattering. Finished with a bit of stretch, they hug your curves on the go or relaxed at home.
5 J.Crew Selvedge Indigo Denim Shirt: Inspired by the burly workshirt of the early 1900s, this denim button-up proves that what's old is new again. Oliver Queen battles evil forces (and gets the girl) styled in this crisp classic. Style with chinos for weekend, its tough-guy construction includes ultra dark denim, crisp tailoring, and flat chest pockets.
6. J.Crew Authentic Bayswater Peacoat: The ultimate coat. Guy or girl, young or old, the iconic peacoat works for all. This nautical navy version is styled for the boys with slim tailoring, a double breasted cut and anchor-embellished buttons. Wear to work or for weekend…throwing this coat on over anything guarantees a preppy look.
7. J Crew Cashmere Cable Sweater: What better complement to a peacoat? A cable knit is just as iconic-ly classic. This deep olive sweater mimics the one that Oliver wears on afternoons out with his girl. Pair with jeans or layer over a plaid for your own autumn outings.
Most Read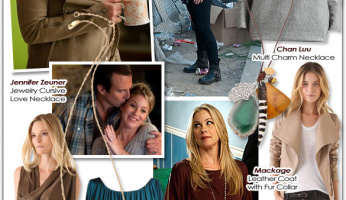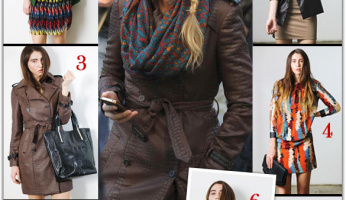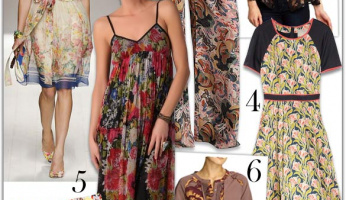 Subscribe to our Newsletter