Designer Spotlight: Walter Baker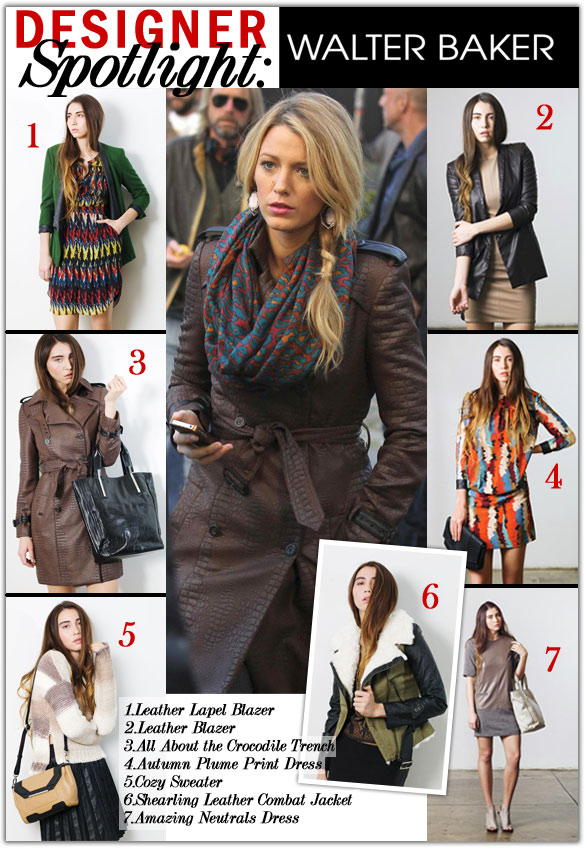 Blake Lively. Eva Mendes. Taylor Swift. Rihanna….just to drop a few names. Walter Baker's stunning styles have been spotted on all these leading ladies. His modern twist on classics are a cunning mix of sophistication and sass, making them regular headliners in magazines like InStyle, Bazaar, Elle, and Marie Claire. Add streetwise to the list of adjectives, as his Fall 2012 collection spotlights leather and leather detailing (strengthening a trend that began last fall with leather sleeves and all-leather pieces). Be wowed by Baker's mixed media moto jackets, leather-lapel blazers, croco-embossed trenches, and mod mini dresses detailed with leather cuffs and panels. Any one of these pieces has the power to create celebrity-worthy style on your street:
1. Walter Baker Heather Jacket: I have to say I love this jacket…and not just because of it's name. Skinny leather lapels and cuffs edge this menswear-inspired blazer. Done up in a rich emerald green, this blazer styles well over anything from a trouser and button-up to a color-drenched print dress. Jewel tones are the perfect way to embrace the cool autumn weather and transition easily into a winter wardrobe.
2. Walter Baker Patricia Jacket: Lovely in leather. This versatile blazer has a long slim body, fitted sleeves, and skinny lapels for a feminine take on a borrowed-from-the-boys blazer. Layer over a sheath dress for work, a skinny jean for play, and a mini dress for afterhours.
3. Walter Baker Susan Trench: As seen on set. Blake Lively wore this croco-embossed trench on the set of Gossip Girl…and boy, did it start some gossip. Nab this mix of class and sass for your very own. Its luxurious chocolate brown leather styles well over any autumn look, from work to weekend. Layer on a colorful scarf like Blake did to bring out the rich tones of this coat.
4. Walter Baker Cassi Print Dress: Fiery orange is tempered by cool blue and black and hints of crimson and mint. Baker's autumn plume print is not only fall-worthy, it's also drop-dead gorgeous. This stunning dress balances its mini skirt with a loosely-fitted blouse top and black leather cuffs. Pair with any black heel or dress it down with black tights and brown boots.
5. Walter Baker Cozy Sweater: Leather-less, yes, but this cozy knit is the perfect contrast to straightforward leather pieces like a pleated skirt or leather legging. Almost an ombre fade, this creamy knit has variegated stripes in buttery camel and soft cocoa brown. Cropped front with longer back and side zip.
6. Walter Baker Yasmin Coat: Mixed media. Shearling, leather, and olive green fatigue come together in one luxe jacket. Pair it back to leather leggings and combat boots for Rihanna styling or back to denim skinnies for a more streetworthy look. Detailed with a self belt and combat hardware.
7. Walter Baker Rachelle Dress: Soft gray is accented by beige leather panels on this marvelous mini dress. Short square sleeves and a straight-lined body make this mini dress extremely mod. Pair back to pumps or booties, tights and boots or sky-high stilettos, depending on the occasion.
Most Read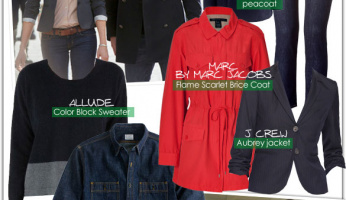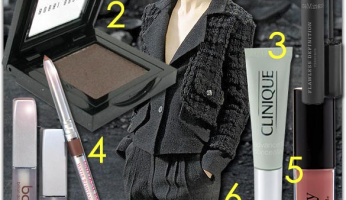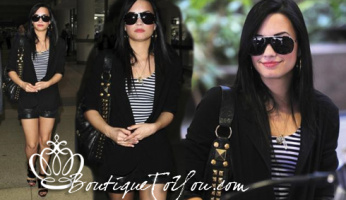 Subscribe to our Newsletter