The Best Peach Makeup Looks: Spring 2023 Trend Alert!
We're already thinking ahead to Spring and Summer 2022 and what the trends will be like. We can tell you this much – peach makeup will be the highlight of the year.
After a few months of berry-toned, wine-stained lips, we're going into an era of brightness and fruity hues. We're talking monochrome, tone-on-tone peach makeup. Why is this makeup trend hitting the runways with such tenacity? Because it's universally flattering!
Peach makeup really does look good on everyone no matter your skin tone or undertones. Peach can be used as a color corrector, illuminator, brightener, and more. It can add dimension, light and a healthy glow to any face.
Peach is not just an orange. It's an orange that is mixed with pinks and reds, even yellows. Think of a sunset, that's what peach makeup is. It'll make you look youthful and awake like you've just gotten back from Miami on spring break.
There's a lot of leeway in terms of peach makeup. While the color peach is very specific, you can opt for bright oranges, apricot, creamsicle orange, coral, and more. This makes it easier to find a shade that looks best on your specific skin tone.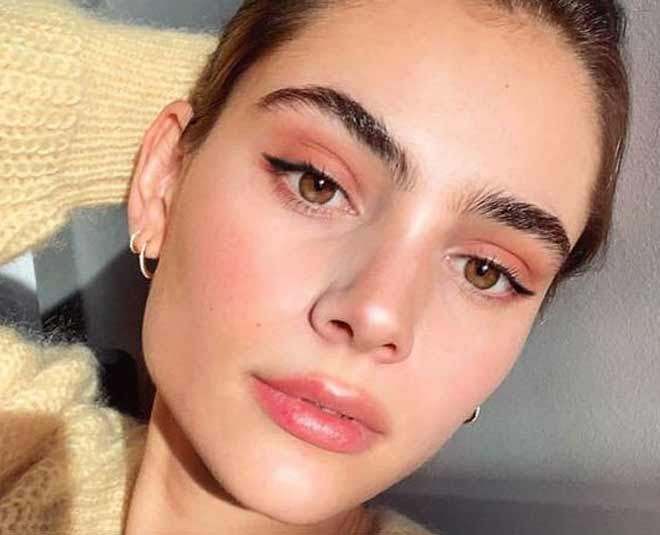 The other great thing about peach makeup is that it's available in every product you can find. You can match your eyeshadow to your blush right down to your lips. That will help you achieve a monochromatic makeup look that is super user-friendly and easy to achieve by both novice and seasoned MUAs.
The only logical next step is to go through our favorite peach makeup products before it sells out everywhere. We're going to give you the ins to the best brands with the best peach shades to get you sporting this trend before anyone else. We're got palettes, blushes in both liquid and powder as well as the best lipsticks.
Remember that beauty products are experimental. If you love your peach liquid blush, try it on your eyes or your lips. If you have an orange lipstick that just didn't work on your lips, give it a go as a cream blush. There are no rules or limits to makeup!
Peach makeup: eyes
Nars Mini Voyageur Eyeshadow Palette in Copper is full of orange and peach eyeshadow nudes. There's a mix of lighter and deeper shades that make it easy to create a whole eye makeup look with this one palette.
Nars shadows are known to be creamy and easy to blend. They're also typically quite expensive so let's look at some more affordable options.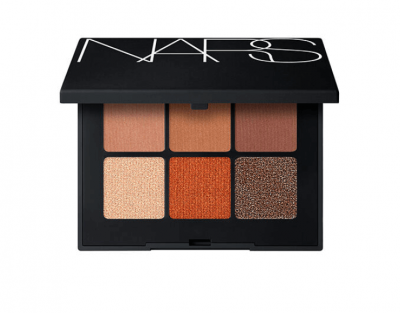 There are two awesome ColourPop palettes that are under $15! Coast to Coral Eyeshadow Palette comes with six awesome peach shades.
They have an array of pink-toned peaches and orange-toned peaches along with some deeper browns and terracotta shades that create a balanced, perfectly peach eyeshadow look. In the same six-pan format is the Nude Mood Peach Eyeshadow Palette.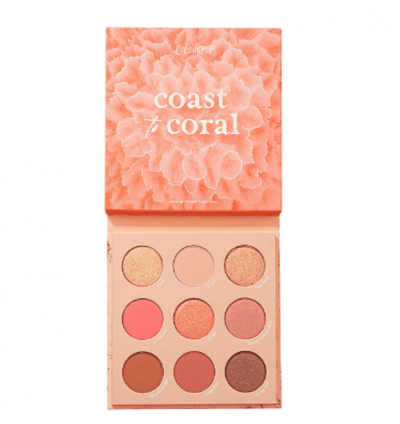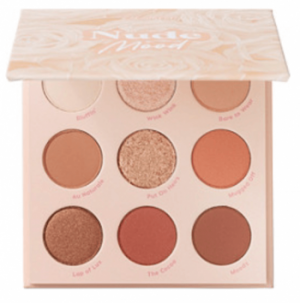 Peach makeup doesn't have to be bold and bright. You can take a subtle approach, and this palette is perfect for that. It has more nude-toned peaches with some peachy champagne shimmers and mid-tone nude mattes that are great for a crease or transition shade.
Peach makeup: cheeks
There are two types of blush girls. There are the ones who like liquid and cream blushes that melt into the skin for a natural glow, and there are the glam girls who like a bold powder blush. We've got both of these girls covered.
Rare Beauty is best known for its highly pigmented and easy-to-blend liquid blushes. Their Soft Pinch Liquid Blushes come in two peach blushes that we need to talk about.
The color Joy is a dewy muted peach in a radiant finish. This is great for fair to medium skin. The shade Love is a matte terracotta shade that would look fantastic on deeper skin tones.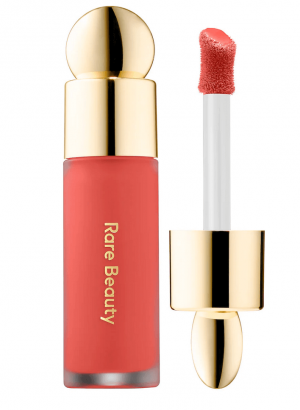 Nars Liquid Blush is getting a lot of hype recently after being promoted by Madison Beer as one of her go-to products. She uses the infamous shade Orgasm, but for a truly peach look, you need the shade Torrid. Torrid is a warm coral with a golden shimmer.
This blush gives you a natural flush as if you've just been to the beach. It's a golden, sun-kissed shade that makes the perfect addition to a peach makeup look.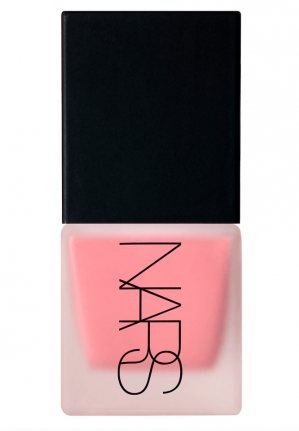 Our last cheek pick is the Fenty Beauty Cheeks Out Freestyle Cream Blush in the shade Fuego Flush. Fuego Flush is a true orange. It's described as a soft tangerine with shimmer, but this truly orange blush is bright and bold and not soft at all.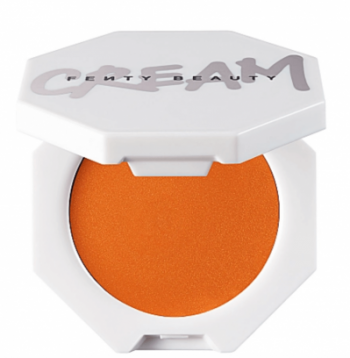 In the pan, this shade makes a statement as looks a little intimidating, but you have to apply it to get all the true effects. This orange blush is the most natural and stunning addition to any complexion. You have to try it to believe it!
Peach makeup: lips
The first lipstick on our list of top picks is MAC Powder Kiss Lipstick in Mull It Over. Mull It Over is a dirty peach, slightly on the nude side with some bright peach pigments.
This is the perfect shade for a more subtle, or nude-toned peach lip. It's still giving us the sunset vibes, but in a muted package. The Powder Kiss Lipstick formula is a hydrating, creamy lipstick with a matte finish.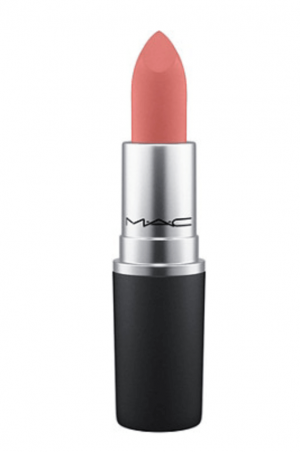 On the topic of nude-toned peaches, we have Milani Color Fetish Matte – The Nudes Collection in Pleasure. Milani Color Fetish Matte is currently selling like hotcakes and is sold out everywhere. It's by the far one of the most iconic drugstore lipsticks around.
The shade Pleasure is a light, peachy nude. It's still considered a nude, but it's bright and pigmented and perfect for completing a peach glam look. If you can get your hands on this collection, we recommend you buy all the shades you can find – you won't regret it!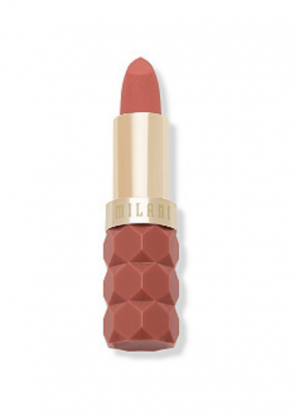 Some people rather a lipstick that doesn't smudge or smear. If you need something a little more long-wearing and durable, a liquid lipstick may be your solution. Rare Beauty Lip Soufflé Matte Cream Lipstick in Brave is a great option. Brave is a muted terracotta that is great for all skin tones, including deep and dark.
It's a darker toned peach with a slight brown hue that gives it a nude feel with the brightness of a peach. It's a lightweight, air-whipped formula that applies creamy and dries down to a velvety matte.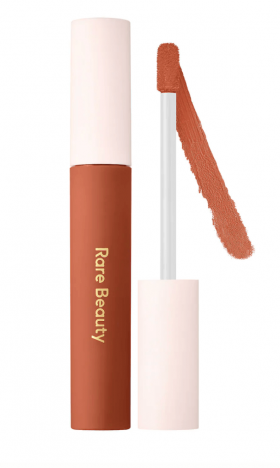 Sometimes lipsticks may not be the right move for your makeup that day. Sometimes, it's a lip gloss or lip oil that really does the trick. In this case, NYX Butter Glosses are our holy grail.
There are quite a few peachy shades to choose from and we're living for each and every one. Keep in mind that these glosses have a sheer but buildable coverage so the shade range will fit various skin tones.
Sugar High is a light peachy nude, great for topping up lipsticks or wearing alone for a subtle your-lip-but-better feel!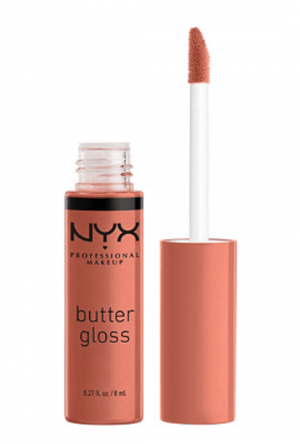 Subscribe to our Newsletter