A MUA Approved Guide On How To Achieve Faux Freckles!
If you were born with a smattering of beautiful freckles, you're lucky! I wish I didn't have to apply my fake freckles every morning. The truth is, many times, we want what we can't have. Anyone with curly hair wishes they had pin-straight hair straight from the shower. But, those with straight hair wish they have some volume and texture.
It's the same thing with freckles. Anyone who doesn't have freckles is trying to achieve them with makeup. It's not always easy and doesn't always look natural. It takes some skill and the right technique to give you a born-this-way freckled face.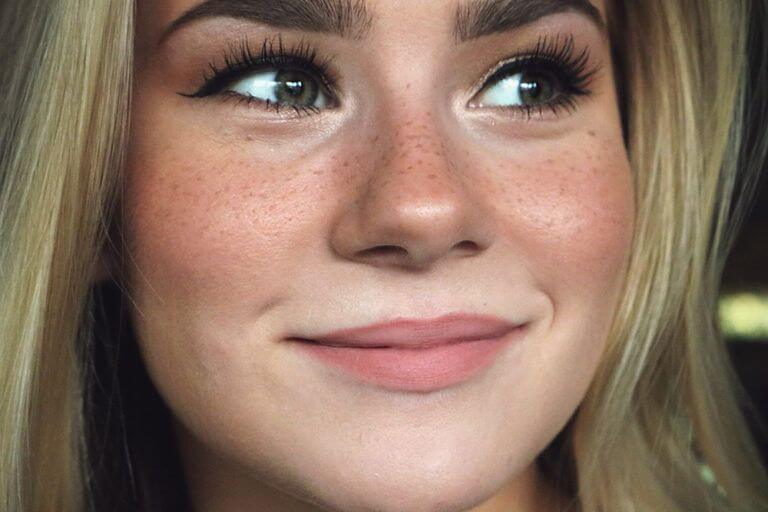 There are a few specific products targeted towards the fake freckle trend, but there are some other multipurpose makeup tools you can use to achieve this look that are affordable and just as effective.
We're going to guide you through fake freckles with the best beauty products to use and the best technique/tutorial to follow so you don't have to fuss around too much.
Fake freckles can be time-consuming, so let's go through the most efficient makeup tips to get you out of the house in minutes.
4 Products to Use to Do Fake Freckles
Before tackling the technique, let's go through the products you're going to need. There are a few freckles makeup products you can use that are targeted specifically towards the fake freckle look.
Freck Beauty has the Freck The Original Freckle tool in three shades. This formula is long-wearing and easy to diffuse for a natural-looking faux freckle. It has a precise tip (similar to that of an eyeliner) to apply small freckles very easily.
This product is meant to melt into the skin rather than sit on top of it, which helps contribute towards realistic freckles.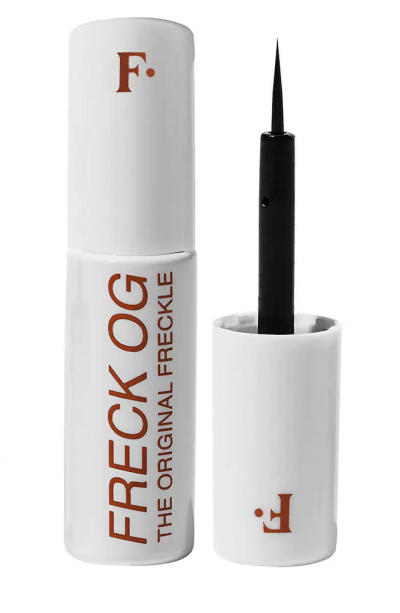 There's also the Lime Crime Freckle Pen. This fake freckles pen has a marker-like felt tip applicator that is easy to use and familiar, so you can create the look you want with minimal fuss.
You can dot this product over natural skin or on top of makeup without separating your base. It blends out best using the warmth from your fingertips; all you have to do is tap the product in until it diffuses.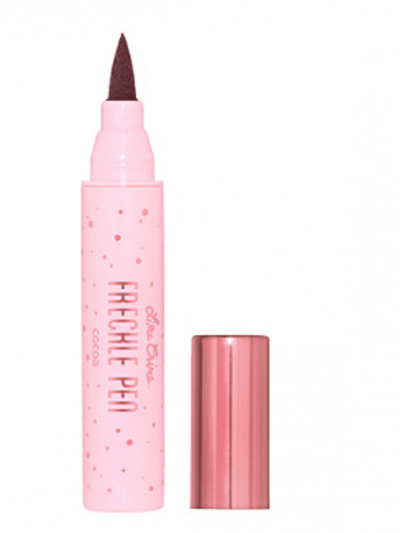 These two products retail around the $20 mark. That's not necessarily budget-friendly. So, if we were to use something cheaper, could we get the same results? Yes!
The most common way of applying faux freckles is actually with an eyebrow pencil. Eyebrow pencils are commonly long-lasting and pigmented. They also come in a variety of shades that can cover a multitude of skin tones.
The two best eyebrow pencils to use are actually $10 or less! NYX Micro Brow Pencil Vegan Eyebrow Pencil is our top pick. There are eight shades to choose from in this creamy formula.
The tip of this product is tiny, great for defining your eyebrows or for getting precise freckles. It's easy to blend and apply but dries down for a look that will last all day.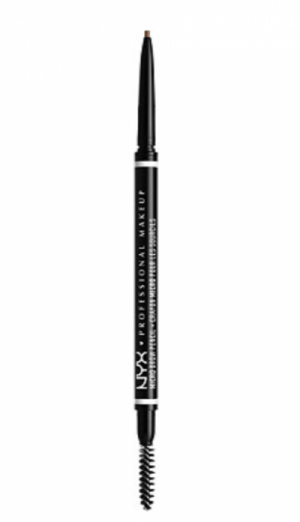 The L'Oréal Brow Stylist Definer is also a great option. It includes ten shades with some lighter options that would look natural on very fair skin. This product blends out very easily and is just generally user-friendly.
It features an ultra-fine tip so you can dot it anywhere you want quickly without sacrificing the integrity of the smattering of unique freckles you're going for. It's also only $9 and is widely available online or at your local drugstore!
DIY Technique: How To Do Your Fake Freckles
As far as technique goes, faux freckles are more intimidating than they should be. The reason for these sentiments lies in the fact that they aren't real, but we want them to be!
We want our fake freckles to look undistinguishable and as real as possible, but because we know they're not, we're self-conscious that everyone else can tell they aren't real. But, here's the secret… No one will ever know the difference if you follow a few easy steps and our fake freckles tutorial!
The first thing you need to remember about freckles is that not all freckles are the same size or color. Layering your freckles will help you achieve this.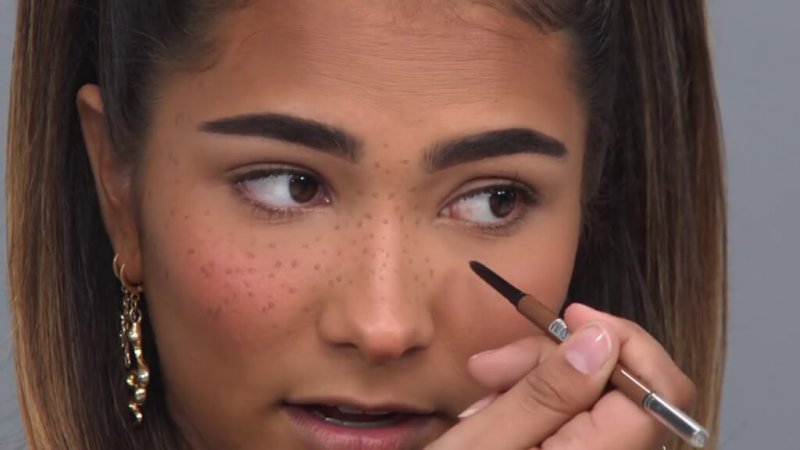 Essentially what you want to do is put down an initial layer of freckles and blend them out (smudge lightly), then top it off with a few more than you blend out slightly less to get variety.
You're also going to want to choose a shade that isn't too far off from your natural complexion. Going too dark will look unnatural, so choose something that will show up on your skin but without too much stark contrast.
So, on top of your foundation, concealer, and bronzer, you're going to take your eyebrow pencil or freckle pen and dot on as many as you please. Take these freckles over your nose, on your forehead, and anywhere else freckles may appear. These shouldn't be in a perfect pattern but rather just dotted on randomly for the most natural effect.
Make sure you're also adding different-sized dots. They should be messy and imperfect, just like natural freckles would be. You can also do all these steps underneath a sheer skin tint or tinted moisturizer as they will poke through just as natural freckles would.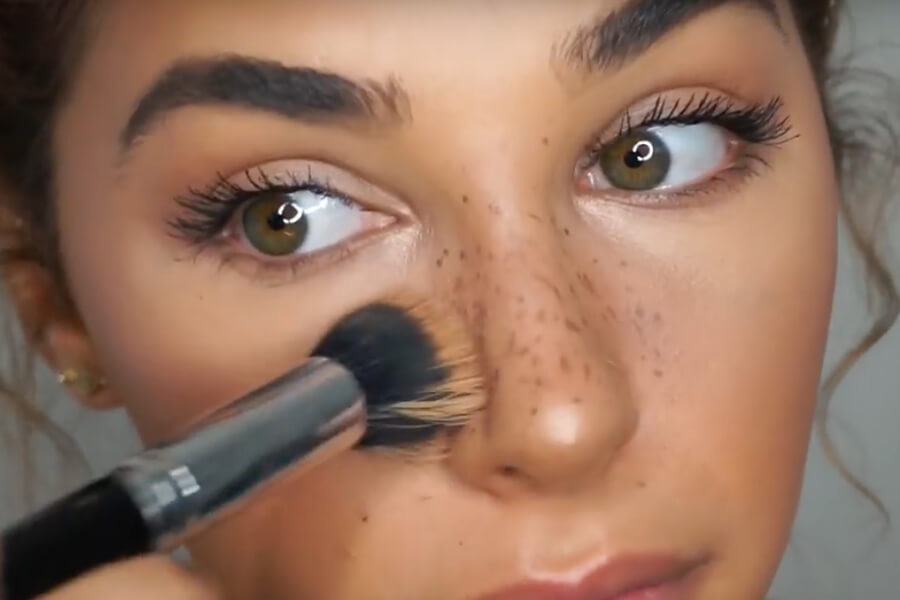 Next, you're going to want to tap out these dots with your fingertips. Using your fingers may seem unsanitary and counterintuitive, but they can be the best tool for some makeup applications.
The warmth and moisture from your fingers will soften up the product and allow it to melt into the skin, blending out more effortlessly. In the case of faux freckles, this technique is also recommended.
Once your initial freckles are all diffused to your liking, you can go in again with the tool of choice and apply some more on top. You're going to repeat the blending process, but you're going to want to blend these freckles out a little less. You want these ones to stand out more and differentiate themselves from the freckles underneath.
This last step is truly vital to the process. You're going to want to apply your blush right on top of your freckles. Now, using a cream blush may separate or smear your freckles, so for this look, use a powder.
The powder will sit on top of the freckles and is also easier to build up so you can control how much of your freckles are peeking through.
So, choose your favorite powder blush and start small and sheer. Adding blush on top rather than underneath will create a veil over your freckles and make them appear more realistic, as if they're actually a part of your skin texture!
Subscribe to our Newsletter