Everything You Need To Know About Lash Lifts & Tints!
Everyone feels better leaving the house with their lashes on. It's like a security blanket where you immediately feel a little bit more confident with your lashes done. You can achieve this in a few ways. Mascara for the natural girls, glued-on falsies for the glamorous ones, lash extensions for the ones with a little extra to spend every month, and then we have lash lifts and tints.
Lash lifts and tints are a low-maintenance, affordable treatment that will instantly brighten your eyes, making them appear larger as well as give you a sexy curl to your lashes. It's a little like having permanent mascara on and false eyelashes, but it lasts about two months.
We're going to let you in on our lash lift and tint secrets, including what exactly this cosmetic process entails, as well as the difference between a lash lift and tint and lash extensions.
What Is a Lash Lift & Tint?
A lash lift itself without the tint is a little like a perm. Actually, it's a lot like a perm. The lash lift essentially gives a semi-permanent curl to your lashes, bending them upwards and making them appear longer.
Your lashes will always grow outward rather than upward, so lash lift treatments do a great job of giving your lashes a makeup-like effect without the makeup. It's an enhancing procedure that gives your natural lashes the boost they need to thrive without makeup.
The tinting process is necessary for the full lash length effect. No matter how dark, everyone's lashes will have light blonde tips. It's just simply the way they grow out. Tinting your lashes will make them look darker, thicker, and fuller, maintaining a natural look.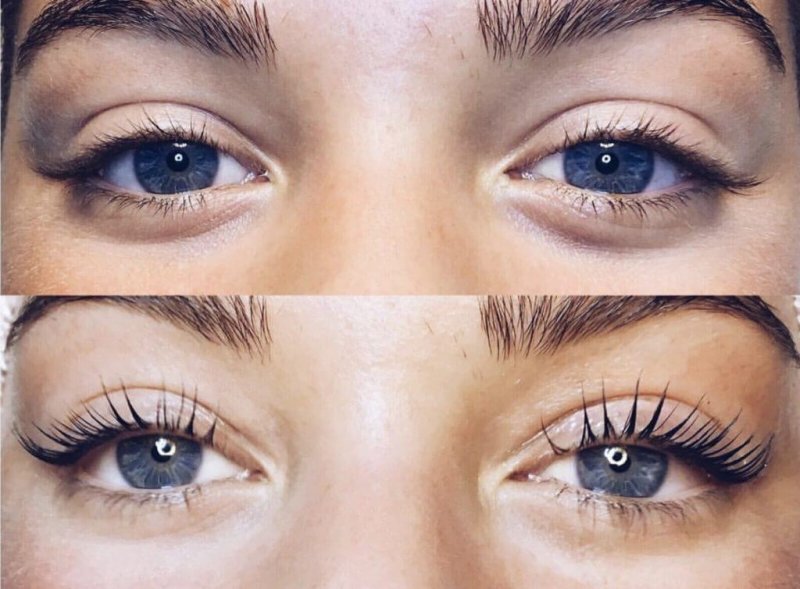 The tint is great for blondes and will make a huge difference in the end results. Although, girls with already dark lashes will notice a lengthening effect as the tint takes on the lighter tips of your lashes.
You can technically get an eyelash lift without the tint, but the two processes together give you the ultimate subtle but dramatic lash. The whole process takes between 40 minutes to an hour, depending on who you go to.
Before applying the perming solution and dye, your lashes need to be cleaned thoroughly and separated so that the process takes on every single lash.
Results and Maintenance
The price of a lash lift can vary depending on the market and demand in your area. It can be as low as $50 or as high as $250. The average price seems to be around the $100 mark, but different factors may increase this drastically for upwards to $200+. On the bright side, this treatment does last about two months, so this expense isn't as frequent as others.
Your lash lift and tint treatment lasts between four to eight weeks, depending on how you maintain it and your natural lash shedding cycle. The first 24 to 48 hours of a lash lift are crucial. You have to avoid any water coming into contact with your lashes.
If you've ever seen legally blonde, you know that perms can't get wet for this time period, and lash lifts are no different. This means you need to avoid sweating excessively, showering, weather conditions like rain or snow, as well as any makeup, including mascara.
After this 24-hour to 48-hour time period, the perm solution should be safe to get wet, and the integrity of the curl in your lashes should last nearly the whole eight weeks. You can now apply mascara on top of your lash lift, but never waterproof!
Waterproof mascara formulas can cause breakage to the lash as they are typically drying and take more effort and force to remove.
Lash Lift versus Lash Extensions
Lash extensions are a monthly experience that includes refills and more intense upkeep. The prep is much like a lash tint and lift where your eye area needs to be thoroughly washed and covered with the lashes exposed and separated. The actual process is extremely different.
Lash extensions take actual individual lashes that are glued to your own near the lash line, extending them in the literal sense to give you super long lashes and a dramatic look.
You can add volume and length and get them in various styles. This process includes adhesive and can potentially be more damaging than a lash lift.
Lash lifts are also less frequent and less expensive. There are more expenses in lash extensions. You can get refills if your lashes stay mostly intact, which is the act of repairing any missing lashes.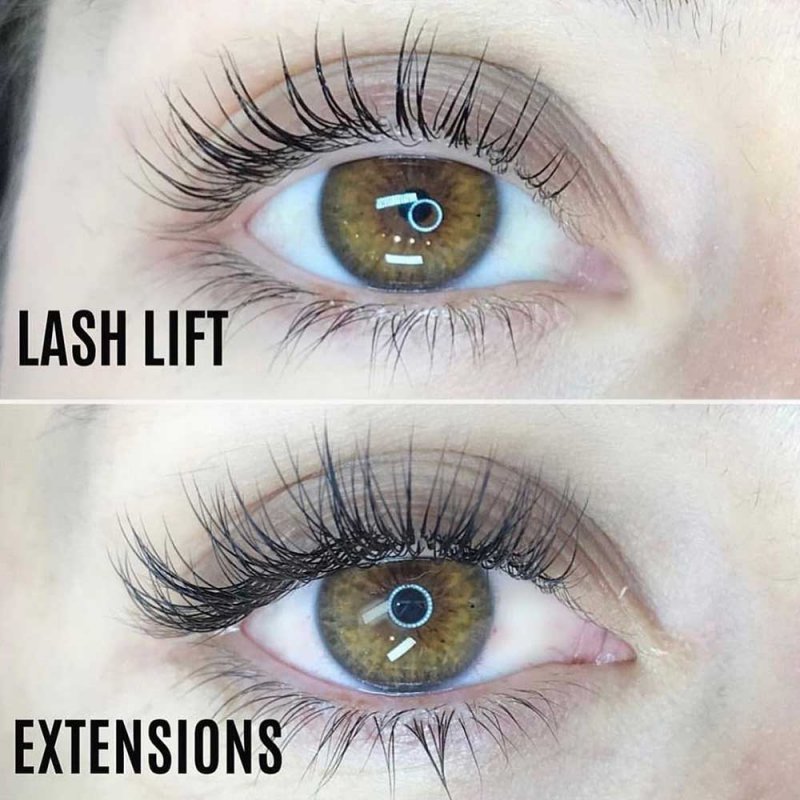 This is usually cheaper than a full set. A full set needs to be applied when the lashes fall out and are sparse looking. A full set can cost anywhere from $100-$300 depending on different factors such as where you live and the demand for lash extensions.
The advantage of lash extensions is that they can be customizable, and you can get something that looks unique each time. A lash lift will look the same time and time again with no wiggle room. The downfall to lash extensions is their expiration date.
Too many factors can cause your lashes to fall out throughout the month, and they won't last as long as lash lift will. With lash extensions, even just a good cry can take out half your lashes.
You also need to upkeep your lashes by cleansing them and fluffing them out each night, whereas with a lash lift, this isn't necessary.
Subscribe to our Newsletter