Jennifer Aniston on Aging in Hollywood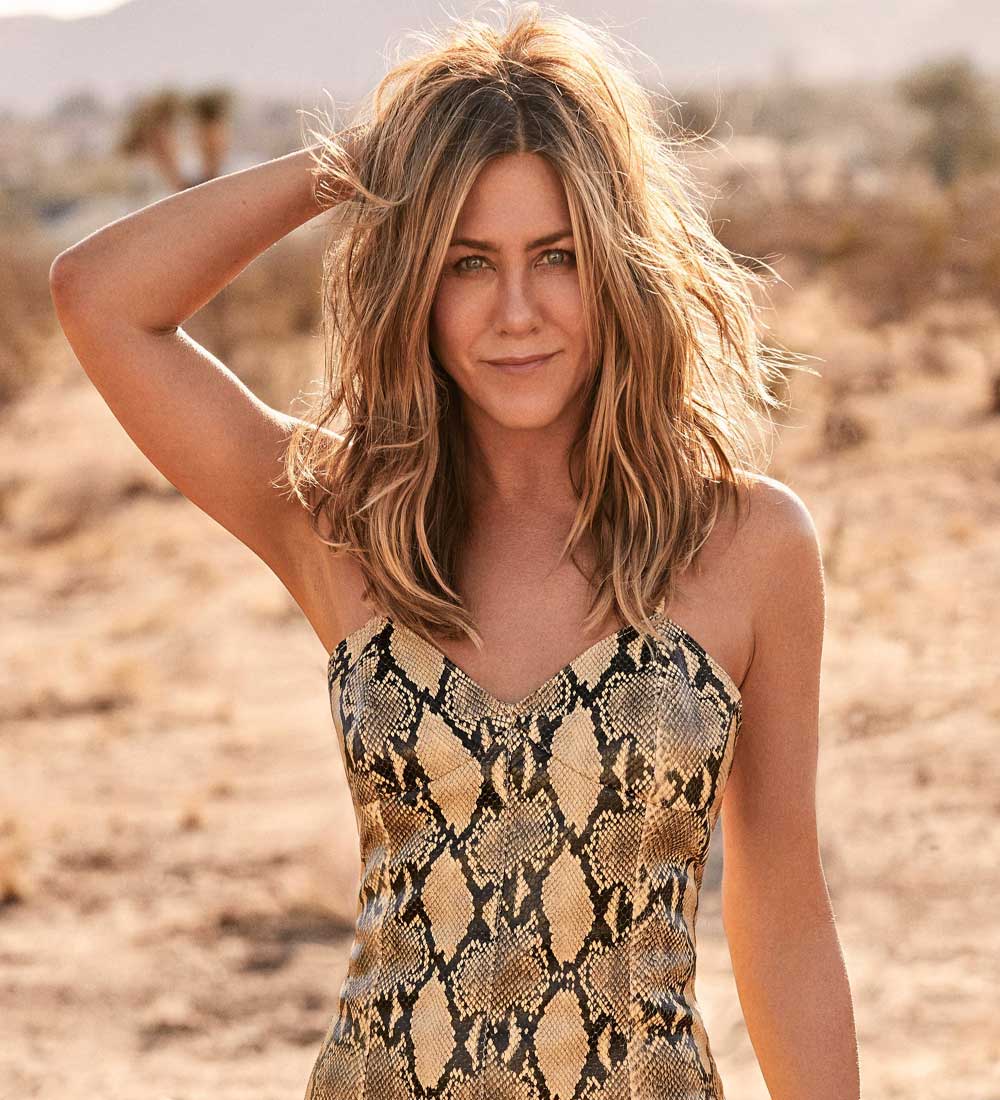 People love Jennifer Aniston! In fact, most of America can't get enough of her, even though it's been 22 years since Aniston first leaped into our living rooms as the spoiled-but-lovable Rachel Green on Friends. She's been hailed "the sexiest woman alive" by Men's Health and awarded "the most beautiful woman alive" title by People magazine. She is the reason people drink Smartwater and lather on her favorite Aveeno Daily Moisturising Lotion (She swears by it!), stockpile Living Proof hair care products and bring photos of her to their hairstylist and personal trainers.
Jennifer Aniston gave an interview with Yahoo Beauty editor-in-chief Bobbi Brown where she discussed her weight and disclosed at what number she feels most comfortable.
"I usually give myself bread on the weekends, but really, my body doesn't love carbs," the 45-year-old actress revealed during the interview, after confessing she ate a bagel that morning. "These days, if I was being super picky, I would love to drop five pounds. That is just where I have always been really comfortable at about 110 to 113 pounds. But it is harder to get that down, at this age."
Jennifer also talked about pressures in Hollywood:
"There is also this pressure in Hollywood to be ageless. I think, what I have been witness to, is seeing women trying to stay ageless with what they are doing to themselves. I am grateful to learn from their mistakes because I am not injecting s–t into my face. I see them and my heart breaks," Jennifer added. "I think, 'Oh god if you only know how much older you look.' They are trying to stop the clock and all you can see is an insecure person who won't let themselves just age. I also have a fiancé who will put a gun to my head if I touch my face in any way."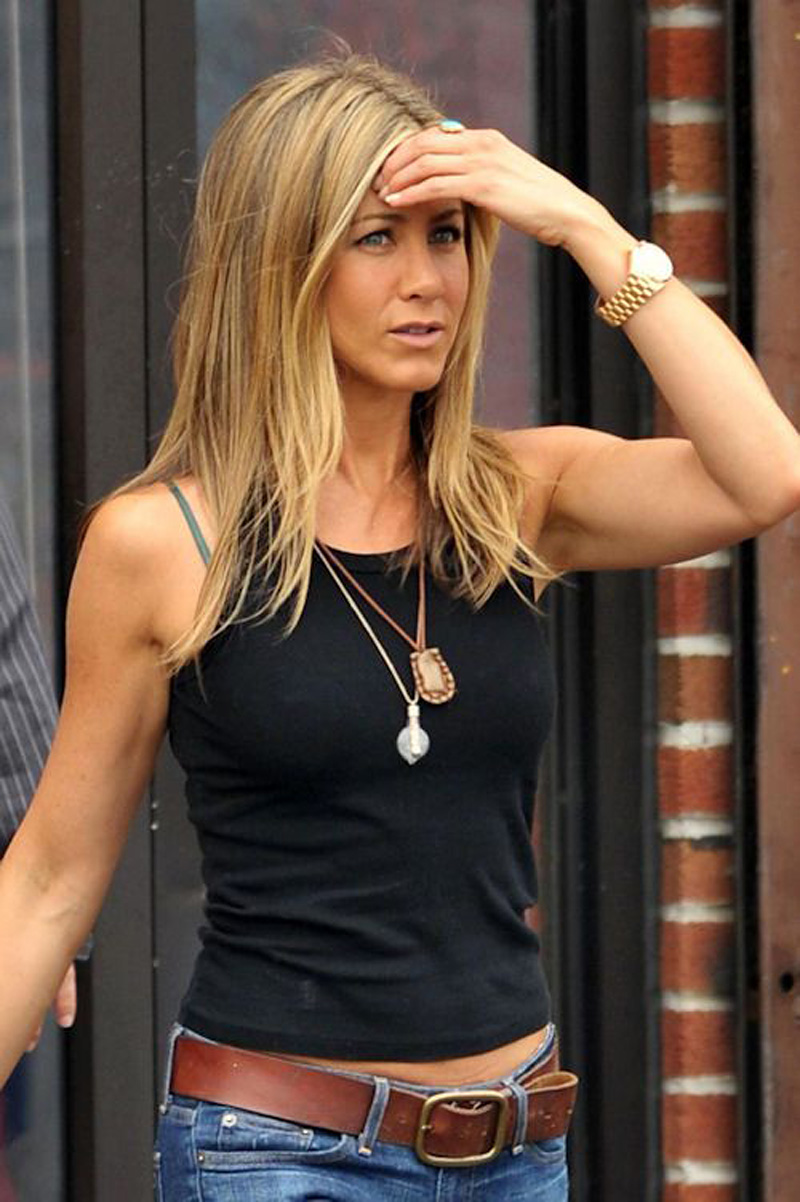 On women, she admires: "I am fortunate enough to know women like Gloria Steinem, who I think is one of the most stunning women on the planet and doesn't touch her face. Diane Keaton, Annette Bening, all of these fabulous fearless women who are flawless, they embrace it!" she said. "To each their own—I don't judge it if you do it—but sometimes I wish I could beg the people I know, who I am very near and dear to, to not touch their face."
Jennifer Talks Genetics:
"My dad [soap opera veteran John Aniston] is 100 percent Greek; he turned 81 and he barely has a wrinkle. And neither did my grandmother, who was 95 when she died. But it's also just water, drinking a lot of smartwater, using really nice good products for your face. Don't overproduce, that's the other thing. Getting proper sleep is always important."
Jennifer Aniston's Hair Secrets:
Jennifer Aniston's glossy, healthy hair continues to inspire trends everywhere. And though her signature style has evolved over the years, the actress knows what works for her, rarely making any major switch-ups when it comes to her cut and color.
She told Glamour magazine in 2016, "If I'm working then I usually do wash it, because it has to have continuity, but if I'm not working I try to give my hair a break for as many days as possible."
Aniston co-signs on her overall unfussy vibe when it comes to those lazy hair days, telling Allure in 2015, "Yesterday it took me 15 minutes to get up, get my hair done, and go," adding, "I honestly just blow-dry it with my fingers around my hairline, and then I get the roots set, and then I'll let the rest of the hair air-dry."
How Does Jennifer Style Her Hair Curly?

For the ELLE September cover shoot, I used Shu Uemura Depsea Repair Foundation Essential Hair Prep at the crown of her hair and Bumble and bumble Surf Spray at the ends. Then I do what I call a "bad blow-dry." I vary the sizes of the round brushes—twisting the hair around them—so that I leave the hair halfway dry, halfway wet. This way, I pull the curl out but allow the hair to go into its natural form. The Surf Spray really helps to add texture to the hair—it gives it that day-old-hair look on the same day.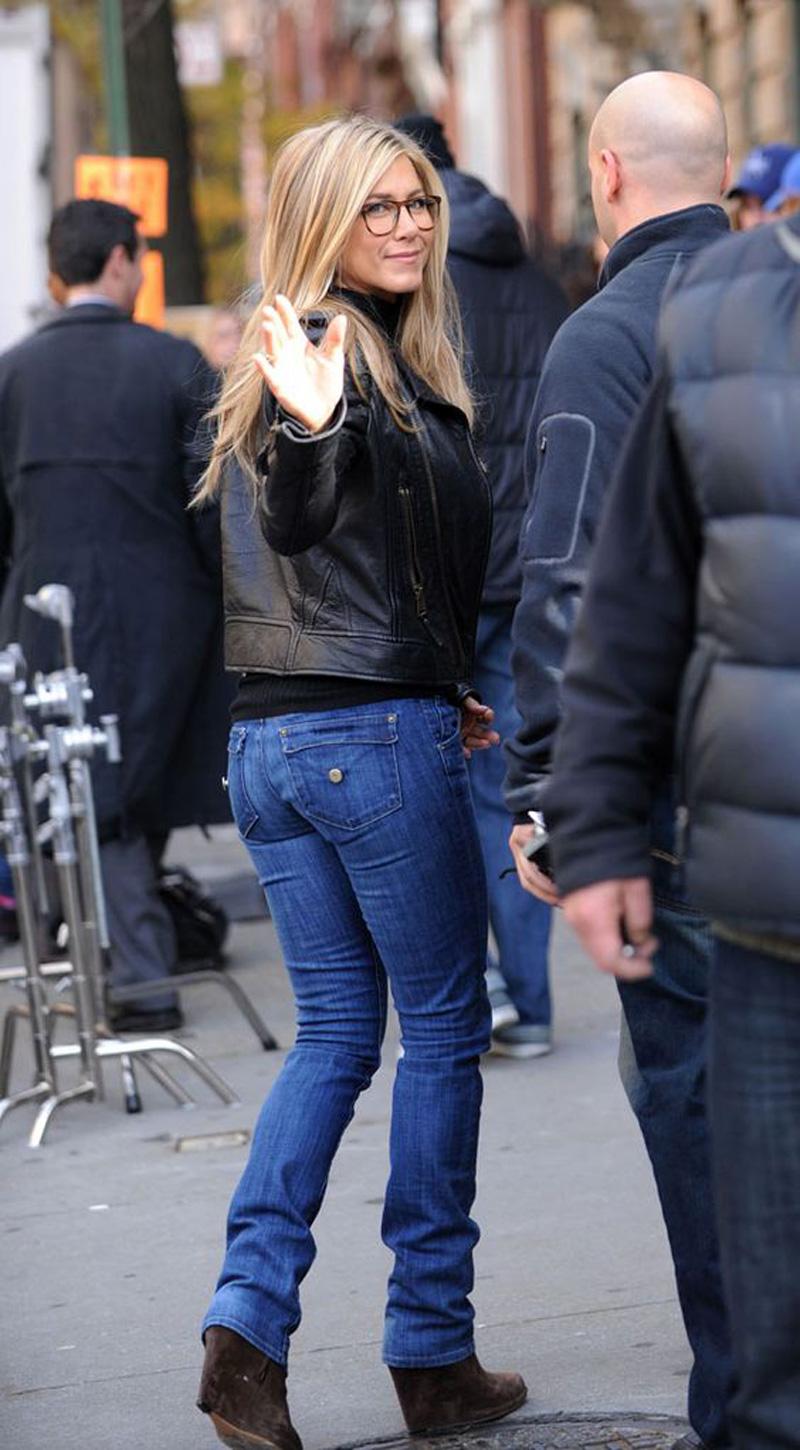 How to Dress Like Jennifer Aniston:
"This is my secret: The trick to T-shirts is that I usually tailor them. Which is silly, but it works. Or you just have to find the perfect one. James Perse has really great T-shirts and tank tops, Theory is great for T-shirts and basics, and for jeans, I have these Genetic jeans that they don't even make anymore. I take the pockets off of Hudson jeans because I like the fit, but not the pockets (Hudson jeans heard Jen's statement and now makes a non-flap pocket), and I wear Saint Laurent jackets."
Jennifer Aniston Style Guide:
Most Read Subscribe to our Newsletter