Get Perfect Skin Without Photoshop With the DMK Enzyme Facial
Let me introduce you to one of Hollywood'sHollywood's best-kept secrets. It'sIt's how they own the Red Carpet, and a Supermodel approved beauty staple, and my favorite way to prep for any occasion where you want to glow, the DMK Enzyme Facial. I love trying new skincare treatments, especially ones that are used by celebrities. Since celebrities have to maintain perfect skin as part of their professional life, I figure they're choosing what they think is giving them the best results. One of the hottest celebrity skin care treatments is the DMK Enzyme Mask Facial.
Where some cosmetic facial treatments may act only on the surface of the skin, the DMK Enzyme Masque works with the skin penetrating all the dermal layers. The enzymes aim to strengthen the structural integrity of the skin and create a healthy environment for cells to live and thrive.
The Enzyme Therapy facial is a treatment unlike anything else I have ever tried (and I try everything!). This DMK Enzyme Mask Facial is the A-List and Supermodels best-kept secret. If you are serious about your skincare or need to hit reset on your skin health, then you will love the DMK philosophy to healthy skin for life.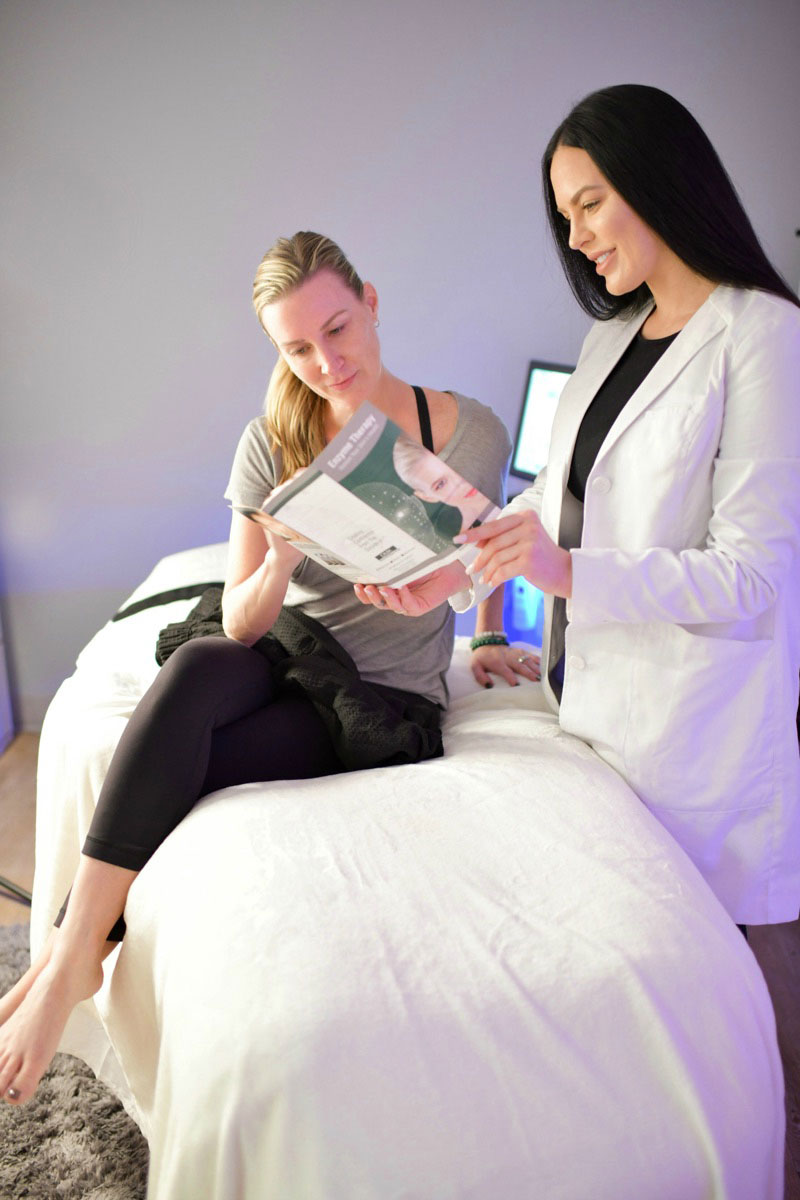 About my incredible licensed aesthetician Robin Ashley:
"Aesthetics is not only my profession but, more importantly, my passion. I'veI've been practicing as a Medical Aesthetician for over a decade. Webster defines the word Aesthetics as a "branch of philosophy dealing with the nature of beauty, art, and taste; with the creation and appreciation of beauty." For one to feel beautiful in their skin is powerful and priceless, and helping someone achieve that is truly indescribable.beauty has depth. It's not a look, but a feeling. I strive not only to create physical beauty but to restore wholeness and balance within the mind, body, and spirit. Here, at More Beautiful You, science and nature, therapy and mystery, beauty and peace are intertwined, offering an experience as luxurious as it is therapeutic and as magical as it is real." Follow Robin on Instagram HERE.
The Treatment:
Robin started cupping — a type of suction against your skin that increases blood circulation — my face. "Cupping?" I asked, fearing I'd be left with Gwyneth Paltrow welts circa '04. Robin immediately assured me that I wouldn't bruise (a typical side effect of cupping when it's done on your body), because she used small suction cups (they look like clear, rubber thimbles) that quickly glide along your jawline, cheekbones, under eyes, brow area, and neck, gently lifting the skin to stimulate circulation and lymph drainage, aka skin-pro speak for "makes everything less puffy and more defined." It was super relaxing, but at this point, I realized this wasn't your typical facial, I was in for a celebrity style results!
RELATED: Celebrity Secret to Look 10 Years Younger in 20 Minutes
DMK Enzyme Facial is for all skin types and it is a 3-step process:
Cleansing & Exfoliation
Treatment begins with a cleanse and pre-exfoliation which is customized by your DMK Therapist depending on your skin condition. This will leave your skin feeling fresh, revitalized and a little "tingly" or warm.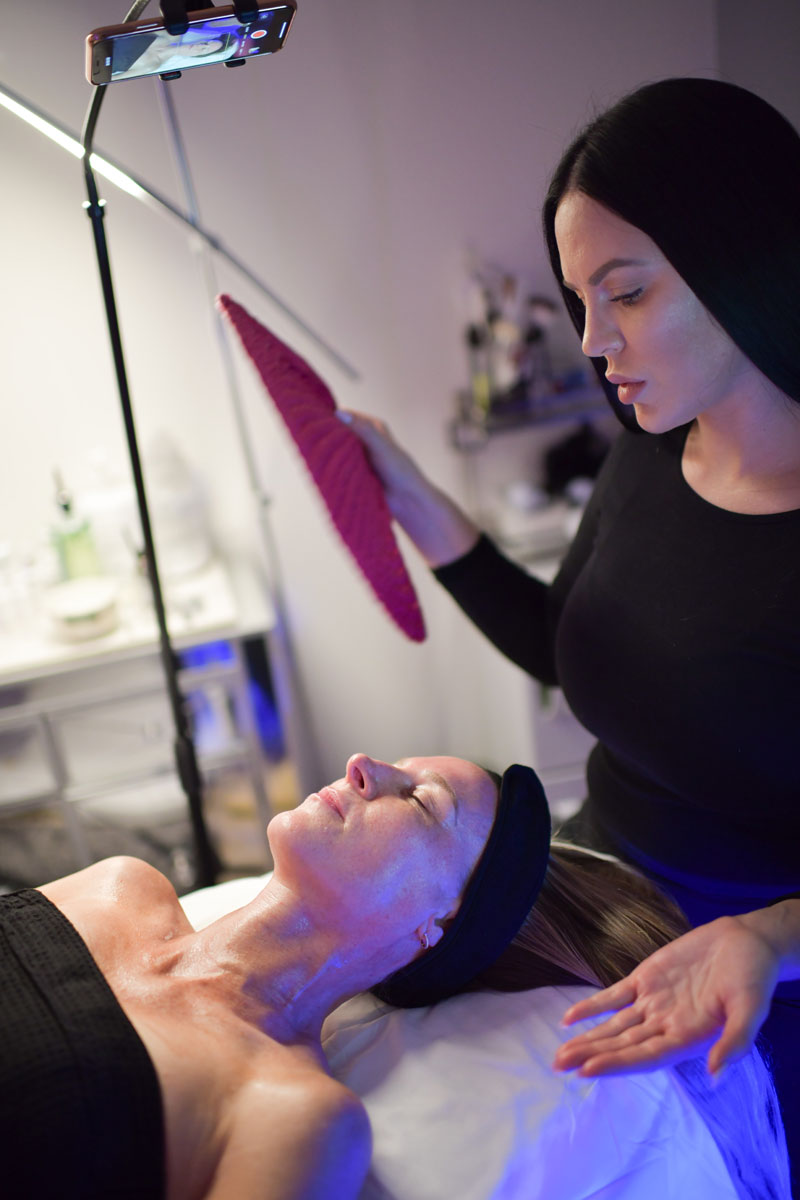 The Masque
Next is the application of the Enzyme Masque, this stays on for approx. 30-45 min. depending on your skin condition. Here's how it works: The enzymes stimulate circulation and "as the mask hardens, it forces the body to pump blood, oxygen, and minerals to the area," Robin adds. So, unlike many oxygen facials, which mainly just blow oxygen at your face with an airbrush gun, this treatment uses your body's own oxygen to make skin magic. And with that, she left the room, noting the "mask would get really tight," so I set my phone down and relaxed.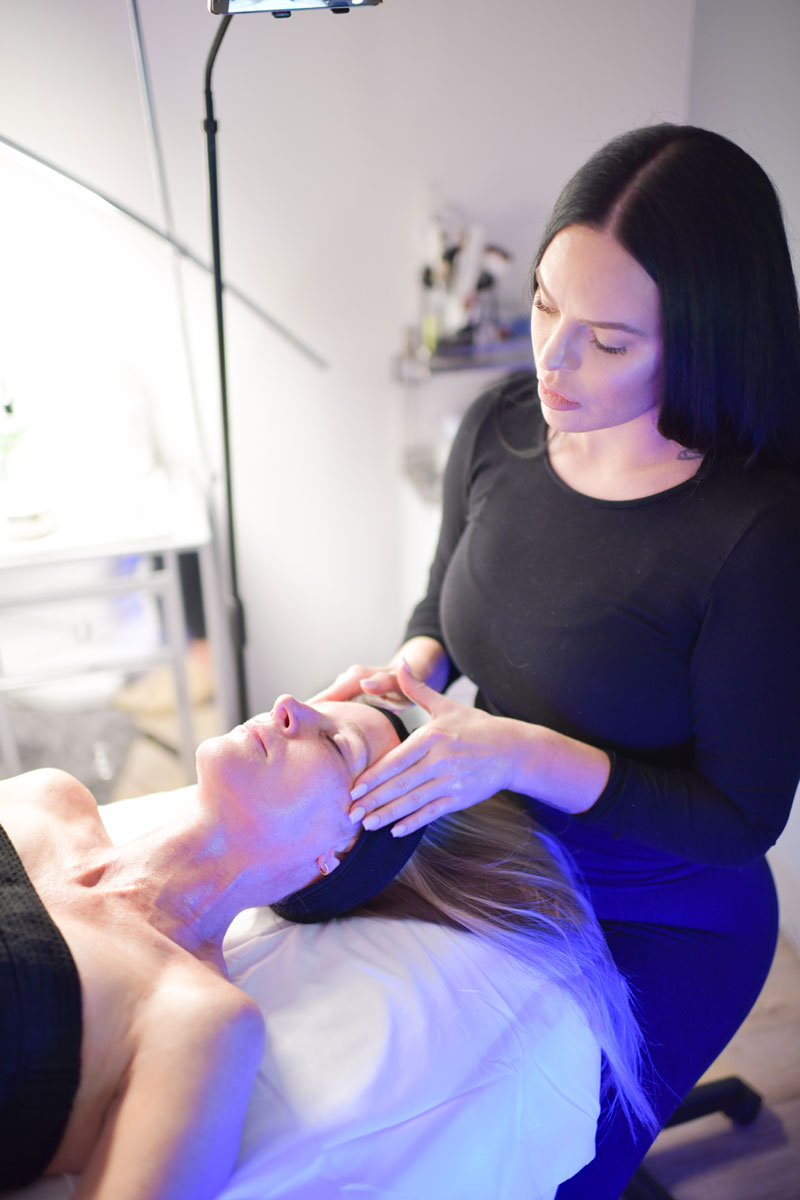 Transdermal Infusion
Finally, the enzyme masque is removed, cleansed again and given a transdermal infusion. This infusion is a cocktail of active ingredients, vitamins, and minerals and is customized to your particular skin condition by your DMK Therapist. Infusions consist of some or all of the following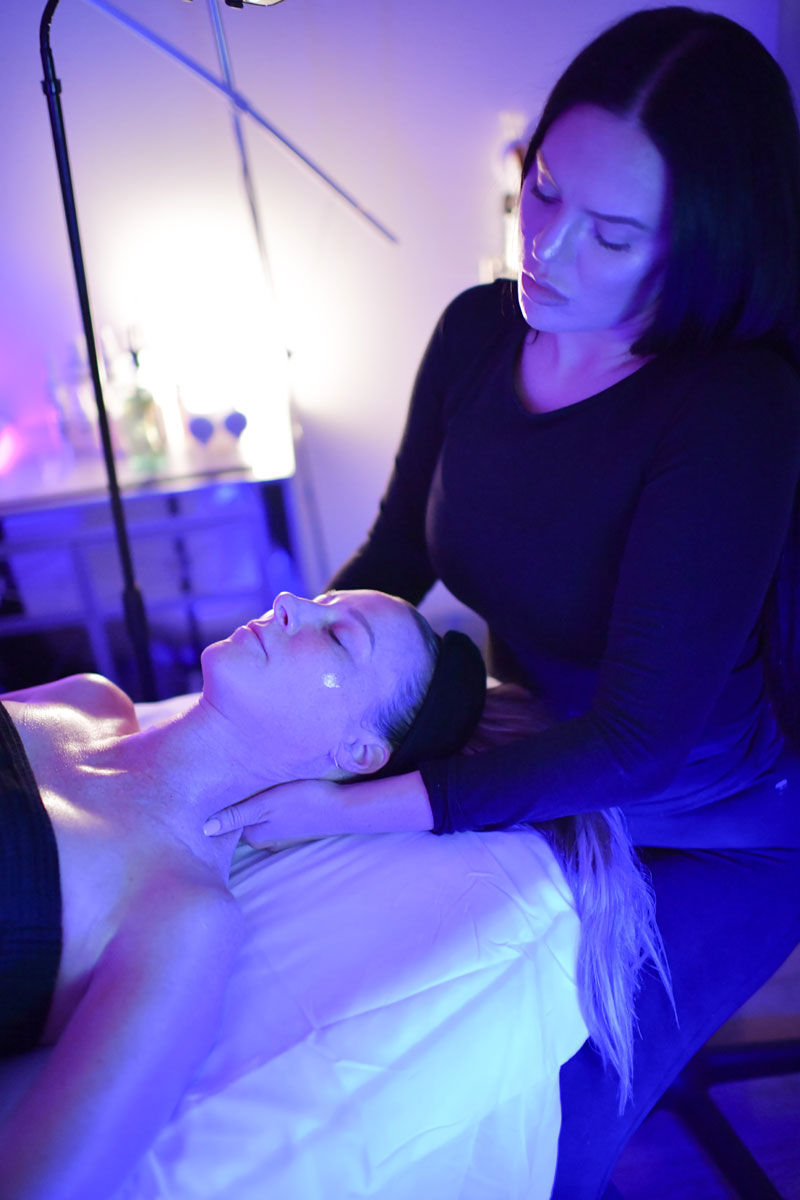 The Result
Post-treatment my skin felt incredibly smooth and supple, fine lines diminished. It was plump, reflective, and glowing! A couple of days post-treatment my skin will appeared and felt healthier and so much more radiant. I really saw the benefits of the DMK Enzyme Masque and I was told a series of these treatments is recommended, once your skin health is stable Robin will put me on a maintenance program. We all know skin must be maintained, like going to the gym for your body. Regular treatments ensure your skin remains healthy, vibrant and slows the aging process. If you live in Austin or the surrounding area, I cannot recommend Robin's DMK Enzyme Facial enough – or for any of your skincare needs! Y'all will LOVE them and your skin will thank you!
I can highly recommend the DMK Enzyme Facial and cannot wait to get my next one!
Book yours today! Glowing skin, here we come!
Most Read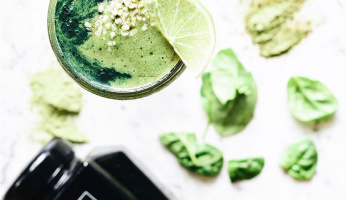 Subscribe to our Newsletter