CSG Exclusive Guest Editor: Ali Landry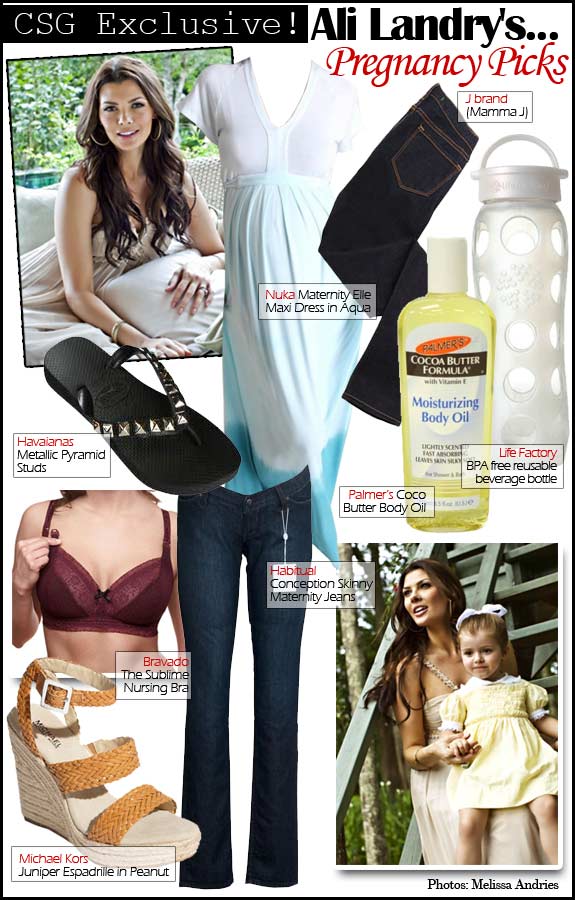 Mom's the word! Ali Landry, model, fashionista, and celebrity mom, recently shared her favorite pregnancy products with us. From a great pair of maternity jeans to a go-to maxi dress to the perfect nursing bra, Landry lets us in on the best of the best for the soon-to-be-mom. Her other beauty secrets include a stretch-mark busting oil and a stylish way to stay hydrated. Finally, Ali shares her very best secret of all: a wonderful support system. Join her mommy club this coming November when Ali's new show, "Hollywood Moms' Club," premieres on the TV Guide Network.
1. J brand (Mamma J) Jeans ($)
A great pair of jeans. My favorites are J brand (Mamma J), and Habitual skinny leg. J Brand  because they look and make you feel great and also because they do not have a front panel, they look like a normal pair of jeans with two very small side elastic panels so you can wear all of your non pregnancy tops.  My other favorite pair is Habitual.  They are the most comfortable pair of jeans that I own and they look great.  They have a great wash to them as well.
2. Palmer's Cocoa Butter Formula with Vitamin E Moisturizing Body Oil ($5)
A body oil to ward off unwanted pregnancy stretch marks. I am using Palmer's Coco Butter and I absolutely love it! It smells divine and is very moisturizing.
3. Tucker Maxi Dresses
Maxi Dresses – My go to look of choice while being pregnant.  I love maternity lines such as Nuka and Boden and also non-maternity designers such as  These dresses are not only beautiful but also give you all the room you need to stay comfortable at every stage of your pregnancy and after as well and remain stylish at the same time.
4. Life Factory BPA free reusable beverage bottle ($10)
Because keeping hydrated is so important while you are pregnant, you should always have a bottle of water handy.  I just found this really modern BPA free reusable beverage bottle from Life Factory.  I chose white for summer, but I think that I will get the orange as well.  I feel chic just carrying it around.
5. Bravado Original Nursing Bra ($35)
A great Bra – I am absolutely loving Bravado.  There Original Nursing Bra saved my life with my last pregnancy and with this pregnancy I have found so many new styles that I am in love with, especially The Sublime Nursing Bra and matching panties, because having a baby does not mean I have to sacrifice having gorgeous lingerie.
6. Havaianas Slim Flip Flops ($24)
A great pair of shoes. For around the house and running errands I am usually in a pair of Havaianas.  My favorites are gold with gold pyramid studs on them.  When I am going to events or meetings I am usually in Michael Kors Juniper Espadrille in Peanut.  They make my legs feel longer and leaner and also have a really nice cushion sole that keeps me comfy for hours.
A wonderful mommy support system. We started a mommy supper club about a year and a half ago.  We get together once a month and do a pot luck dinner.  I have learned so much from these other celebrity moms….. this group has been a great blessing in my life.
Most Read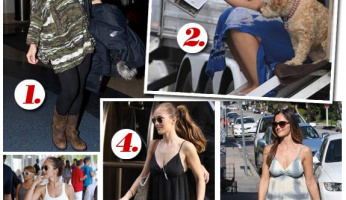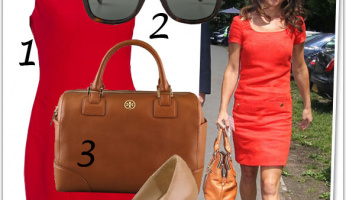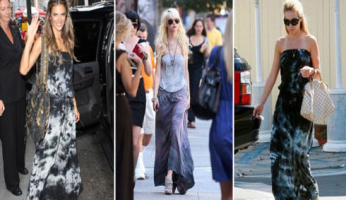 Subscribe to our Newsletter