Our Honest Brow Lamination Guide: The Truths & The Myths
If you thought that perms were a thing of the past – think again. This time around, the perm is for your eyebrows! Lamination is a new brow trend and treatment for thinning or unruly eyebrows that lifts the hair and sets it in place for sleek, lush, and shiny eyebrows.
Once brow lamination made its way west (this practice originated in Russia), celebrities like Cardi B and Lizzo have flocked to this new trend. If you watched Cardi B's music video UP, those flawless lashes are courtesy of brow lamination!
What Is Eyebrow Lamination?
Eyebrow lamination is a process that applies a chemical to your brows (much like a perm). It lifts the hair up and away from your face and straightens the hair to lock it in place.
The finished product looks like your unruly brow hairs were combed and gelled in place, and it will hold this shape for up to six weeks.
What Can I Expect At My Appointment?
The lamination process is relatively quick and takes around 20 minutes from start to finish. Your stylist starts by applying a lifting cream to the eyebrow hairs. This cream strips the hair, making it more malleable to shape it into position.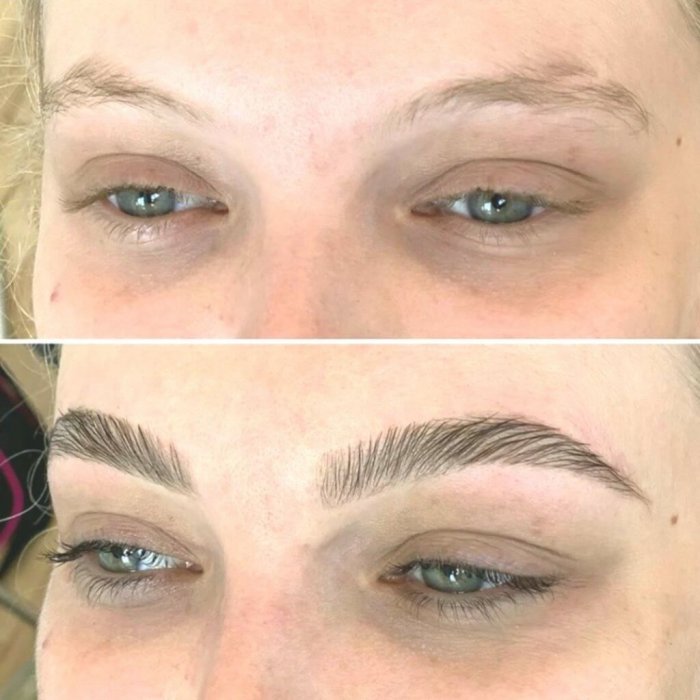 After your brows are combed into place, a neutralizer is added to lock your style in place. Finally, nourishing oil is applied to give your brows a shiny sheen. In less than 20 minutes, you have perfectly manicured eyebrows!
If your brows are especially unruly, or you want them to be darkened or lightened, additional waxing and tints are applied to your brows, taking an additional 10 to 20 minutes.
Lamination At Home
There are kits readily available to tackle this procedure from the comforts of your bathroom. But home procedures should be tackled with the same cation and apprehension as dying your hair at home. Just because you technically can doesn't mean that you should.
The instructions provided on most kits walk you through the process, but there are a few things to keep in mind first. While most kits don't suggest this step, be sure to treat your brows with vaseline to prevent overprocessing.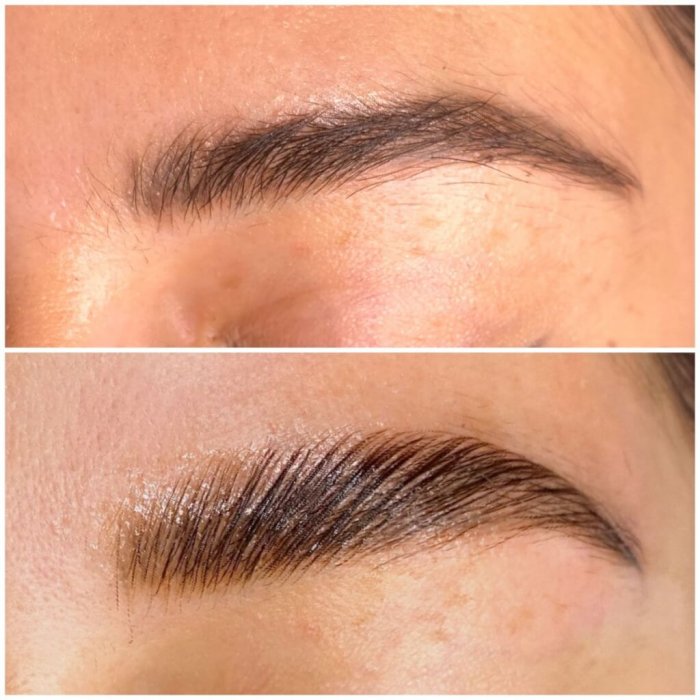 Also, do a patch on your arm hair to ensure that your skin doesn't react to the process. If your skin is ok after 24 hours, you are free to apply the chemicals to your brows.
Lastly, be sure to have an emergency stylist contact ready just in case things go wrong (and they very well could). You may not get the results you want, and having a stylist ready to do a little damage control at the helm will give you peace of mind.
Lamination Sans Chemicals
For that laminated look without the chemicals, a few products deliver fluffy brows without the need for harsh chemicals.
West Barn Co Soap Brows – this product is super easy to apply, and one container goes a long way. Coat the included brush into the solution, and apply directly to your brows.
Before the product dries, shape your brows into the desired shape. This product's excellent because it lets you play with different forms depending upon your mood and washes out at the end of the day.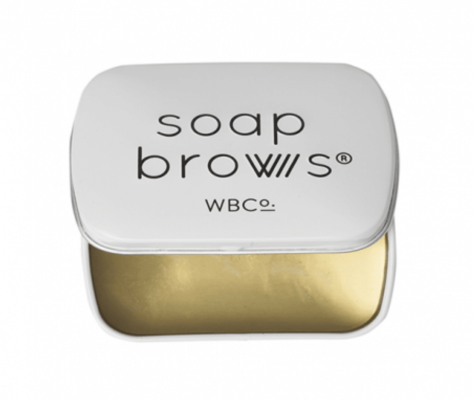 Anastasia Beverly Hills Clear Brow Gel Lightweight Setter – this product will give you that same shape and sheen without a trip to the salon. It's packed with nourishing ingredients that strengthen your hair while allowing you to shape it in place.
While it acts like a gel, it does not dry hard, which will keep your brows looking fluffy and natural.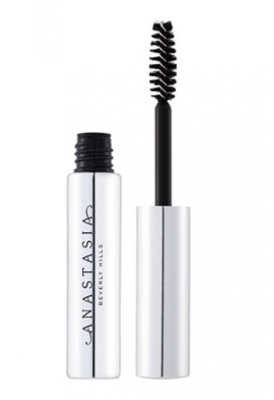 Products To Keep Your Brows Looking Great
After your treatment, it's essential to have the right products in your arsenal to keep your now full brows looking great between appointments.
After having your hair chemically treated, it's vital to nourish and moisturize your hair, which also applies to your brows.
Basic castor oil works in a pinch if you have a tight budget. Dip a mascara spoolie into a bottle of castor oil and apply it to your brows at least once a day (applying it at night often works best).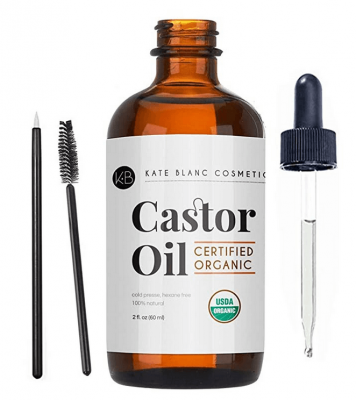 If you have the cash to spend on a formula explicitly crafted for lamination, Lash Brow and Toxx is an excellent choice.
This treatment is packed with hair-loving ingredients such as Hyaluronic Acid, Keratin, Marshmallow Extract, Biotin, Aloe Vera, Rosemary, Camomile, and Apricot Extracts, that coat your hair and keep it moisturized to prevent damage and breaking.
Some of the ingredients in this formula also help detangle and nourish the skin to prevent dryness.
Lamination Vs. Microblading
Microblading is like tattooing your eyebrows. It involves making minor cuts into your brow line to fill out your brows and make them look full and healthy.
The entire process takes up to 2 hours, and the results last for up to a year before a touch-up is needed. One session can cost anywhere between 450 and 750 dollars.
Microblading is more invasive and requires a numbing solution to your face. Aftercare is much more complicated than lamination and requires no makeup to be applied to your face for a few days – which can be a deal-breaker for some.
On the other hand, lamination is far more affordable and doesn't demand the same level of aftercare. One procedure takes around 20 minutes and brow lamination costs around 100 dollars.
Instead of using needles on your face, laminated brows are treated topically with chemicals. The downside to lamination is that results will fade over time, and you will need to schedule an appointment every 6-8 weeks.
Most Read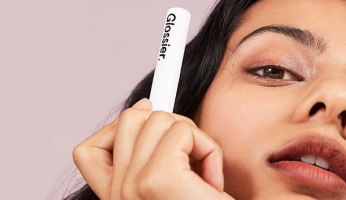 Subscribe to our Newsletter