4 Affordable Santal 26 Candle Dupes!

If you were to walk through the doors of J Lo's home, you would likely be hit with the fresh and inviting scent of Santal 26 candles. She loves these luxury candles so much that she buys them in bulk!

They strike that perfect balance with subtle notes of sweet, spicy, fruity, and fresh scents. It's a candle that can transform a modest studio apartment into something luxurious. 

The downside? These scented candles are expensive. If you find yourself at the right place at the right time, you may be able to grab a few at the Nordstrom semi-annual sale.

However, I have done a little digging to gather some fantastic dupes that pack a similar punch without taking the same hit to your bank account!


What Does Santal 26 Smell Like?


These candles pack a highly-perfumed punch of expensive ingredients that are incredibly unique.

Amber, cocoa, vanilla, cedar, spices, musk, and sandalwood make these candles smell warm and cozy, luxurious and expensive all at the same time. 


Why are they so expensive?


I know that you're thinking- they're just candles. How can a candle be so expensive?

Sure, you can pick up a homemade candle at your local farmer's market, but these candles will likely boast weaker scents and use wax that burns up quickly.

Everything used in Santal 26 candles is derived from excellent sources to create a candle that packs a powerful aroma and burns longer than cheaper candles. 

The wax used in Santal 26 candles is made from soy wax, partially responsible for the higher price point. Soy wax is a great green alternative to paraben wax, but it's also more expensive to produce (hence the high price point).

While it may be more expensive, you get a bigger bang for your buck. Soy candles burn down much more slowly, which will last much longer than cheaper candles.

On average, one Santal 26 candle will burn for up to 60 hours. 


4 Santal 26 Alternatives We Love!


All of this sounds great, right?

You likely hopped off this page to add a candle to your cart and hesitated when you discovered that steep price point.

Hopefully, you made it back to this article because I'm about to discuss some near-identical Santal 26 dupes that smell great but won't strain your bank account!
Our top 3 picks
The 4 Best Dupes!
1

. Maison Louis Marie No.04 Bois de Balincourt Candle
If you love the clean look of the Santal 26 candle, this option from Maison Louis Marie is the next best thing.
Read more
It uses a similar soy wax base that burns up to 60 hours and hosts sandalwood, nutmeg, and amber wood notes.
It's a little more savory than the Santal 26 candle, but you may find that it's near -identical! It's not the cheapest option on my list, but it's less expensive than Santal 26 and smells very similar. 
Customers love this jar candle because it looks identical to the sleek and modern design of Santal 26 candles, burns just as long, and replicates the scent perfectly. 
2

. Lulu Candles - Jasmine, Oud & Sandalwood 
Are you on a serious candle budget? This option from Lulu candles is the next best thing, and it's one of the most affordable dupes out there on the market.
Read more
Users found that this candle only gets better the more you burn it, and the scent is so strong that it'll quickly permeate your entire house!
It's made from a blend of vegan soy wax, just like Santal 26, and is accented with jasmine, oud & sandalwood notes. Oud isn't your typical fragrance, but many find it smells rich and expensive, like leather and spices.
With the warm notes of oud and sandalwood punctuated with Jasmine, this candle tows the sweet and savoy line just like Santal 26!
3

. Ranger Station Santalum Candle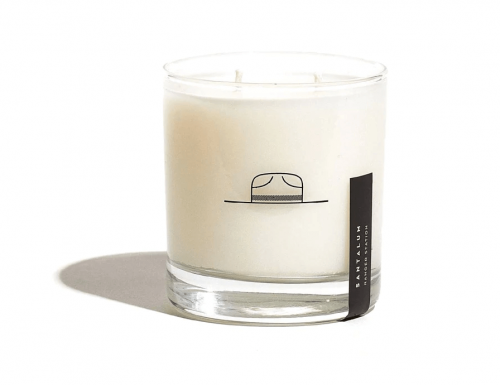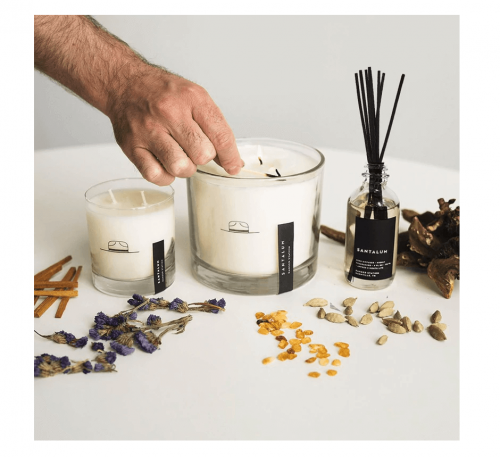 As far as price is concerned, the Ranger Station Santalum Candle runs in the middle of the pack. While it's not your overall best value, the scent of this option is hauntingly similar.
Read more
It is made from a premium soy wax base that burns for just 30 hours - half as much as Santal 26 or other options making the dupe list. 
Sure, it won't burn as long, but you cannot deny that warm and inviting scent. Many users found the musky notes of sawdust, timber, clove, papyrus, palo santo, Amyris, cardamom, and amber smell even better than the coveted Santal 26!
4

. Trapp Signature Home Collection No. 7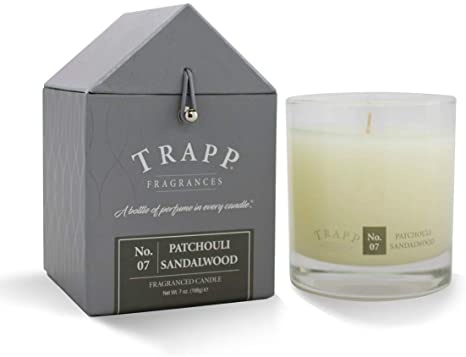 Another close contender is this blend from Trapp Signature Home Collection. It boasts a soy wax base and hints of Asiatic patchouli, sandalwood, and cedar for a warm and earthy scent with just a subtle touch of sweetness.
Read more
This candle burns for about 50 hours, which is pretty close to the 60-hour burn time of Santal 26. With a price tag of almost half the cost of Santal 26, it's an option worth checking out. 
I love this option from Trapp Signature Home Collection because it comes in a standard 7 oz candle, but they also offer a smaller 2-ounce candle at a lower price point, so you can try it out without taking as big of a hit to your wallet.

Celebrity style guide Writers
Tara
Mar 29, 2022
Ana
Mar 29, 2022
Subscribe to our Newsletter