The best Affordable Press On Nails and How to Remove Them
I love getting my nails done, but sometimes I just don't have time. Time isn't the only thing stopping me from getting a fresh set. Getting your nails done is time-consuming, expensive, and damaging to your nails. This is exactly why press-on nails have become my go-to beauty secret. Press-on nails have come a long way, and now come in a variety of colors and shape for every occasion. They're easy to use and only take me 5 minutes per hand to apply! Consider press-on nails for your next wedding or prom and skip all of the salon fuss.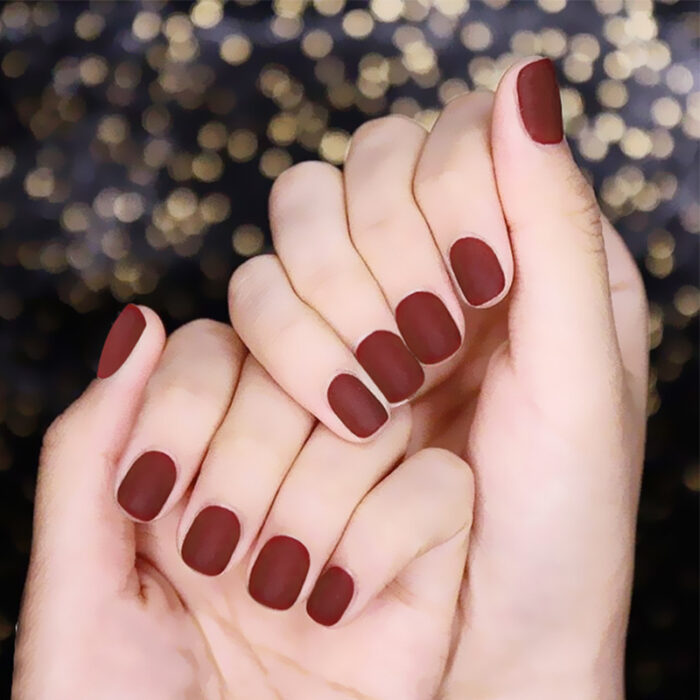 Press-on nails can be more cost-efficient in the long run. A set can cost as little as $5 depending on the brand. Not to mention that if you take care of your nails and remove them properly, you can save them and re-wear the same nails at a later date. These usually come pre-polished and filed so all you have to do is apply the nail. You can come across more expensive press on nails that are hand-painted and unique, which typically can be found on websites such as Etsy. These can also be custom-made if you like elaborate and artistic sets. Lastly, you can buy clear plastic nails to paint yourself. This is a great option for anyone who has a UV LED Lamp to set Gel polish.
For a cheaper and quicker press on nail, Amazon carries the brand Kiss. These nails are between $5-$10 and come in tons of neutrals and fun colors (our favorite kit is the KISS Glam Fantasy Special FX Effect Nails!). They also have many glitters and designs for more adventurous tastes. With so many nail shapes to choose from, you're sure to find a Kiss nail that checks off all the boxes. This brand has great reviews, and from personal experience, I can vouch for the quality as well! These nails typically last 2 weeks when applied properly and can be re-applied if needed. For the price, you can't beat Kiss nails. It even comes with the nail glue included!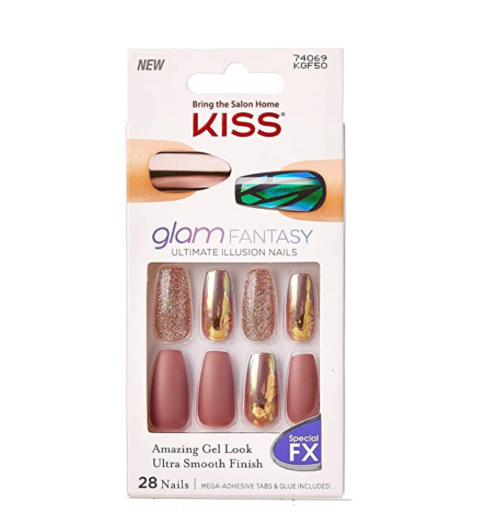 If you like doing your own nails and have the means to polish them at home, buying a bulk kit of clear plastic nails might be your best option. Amazon sells 500 piece boxes with up to 10 different nail sizes of these clear plastic nails for just a few bucks. You can buy different shapes and lengths, but these can also be cut down and filed before polish. These are definitely versatile and a great option for the artists out there wanting something a little more custom.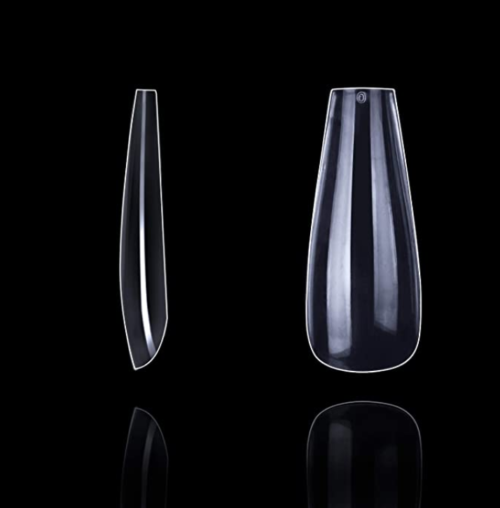 The brand SOCU sells packs of 72-piece press on nails on Amazon that seem to be wildly popular based on reviews. With different color sets and shapes, you can find a pack that fits your style. They come in glossy or matte finishes and in 12 different sizes to make sure they fit your nail to perfection.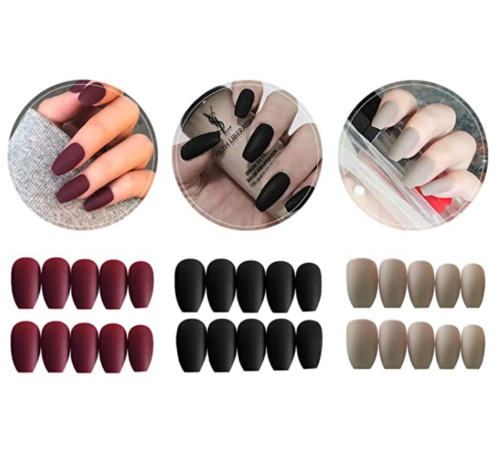 One of the most important parts of using press-on nails is knowing how to remove them properly to avoid nail damage and to salvage the fake nail itself. There are three easy ways to remove fake nails, some more effective than others depending on the adhesive used. Keep in mind that the adhesive strips are usually easier to dissolve than liquid nail glue.
The first recommendation in the removal process is to use cuticle oil at the base of the nail. Oil is a great tool to combat makeup, glues, and other hard-to-remove materials. Applying a cuticle oil will hydrate your nail but also help to loosen the glue. Amazon has many affordable product options that will last you multiple set applications and removals. We recommend the OPI Manicure Nail & Cuticle Oil.
The second way to remove press on nails is simple with warm water and soap. In a bowl, fill it halfway with warm water, enough that your nails are completely submerged. Add a few drops of regular hand or dish soap and soak your nails. After 10-15 minutes, you can try to wiggle the nail. It might take a little extra time, but using soap and water is far less damaging than acetone. Keep soaking and wiggling the nail until it falls off.
The most common way of removing press on nails is also the fastest and most damaging. Soaking in acetone-based nail polish. This is effective and quick, removing your fake nails in about 15 minutes. The same process for the soap and water method applies to acetone. Soak your nails in a bowl of acetone or apply the acetone to a cotton ball and seal it to your finger using foil. The acetone will actively work to break down the glue. The Sally Hansen Nail Polish Remover with Vitamin E and Chamomile is rated one of the best.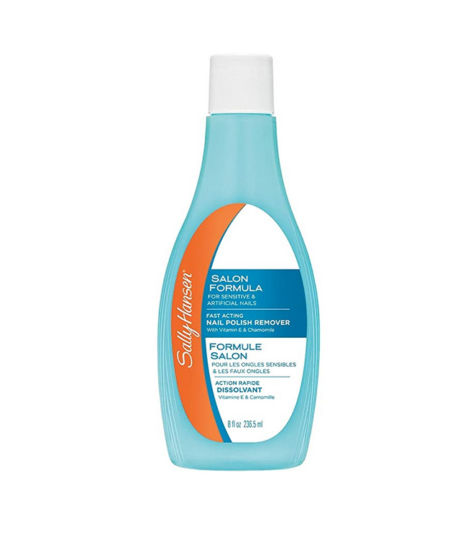 Most importantly, remember to remove the leftover glue from the press-on nails if you wish to reuse them. Proper care of the nails ensures long-lasting results every time. You can use a nail file and gently file away any remaining glue on the inside of the nail.
Subscribe to our Newsletter