Tuxedo Trend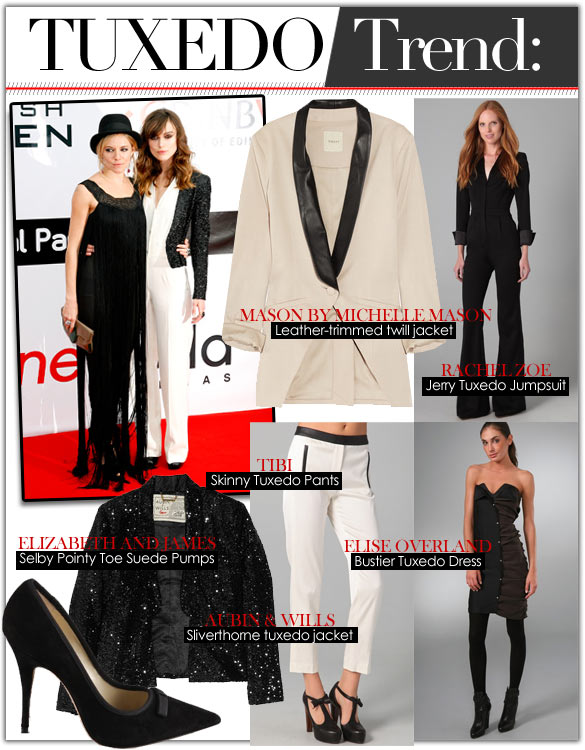 Kick the dresses, toss the minis. It's time to rock the tux. If there's such a thing as "classic edgy," donning the tuxedo is it (Need an example? See Keira Knightly above). Hitting full force in the seventies, the tuxedo trend is back in a big way for 2011-2012 (along with other hits from the 70's: flares, midi skirts, wedges). You can go for the full-on jacket and pants ensemble, but you can also work in a blazer here, a tailored pant there for a touch of tux. My favorites are always in classic creamy white and black, but sequins, leather, and shine add a fun feminine twist to any traditional menswear piece you choose to rock.
1. Mason by Michelle Mason Leather-trimmed Twill Jacket ($640)
Add this jacket to black skinnies and stillettos for evening, or play with jeans and a tee for day. Any way you wear it, this classic tux jacket is 2011 with its leather lapels and v-cut front.
2. Aubin & Willis Sliverthorne Sequined Satin Tuxedo Jacket ($330)
Sparkle as only a woman can in this sequined tux jacket. Cropped and ready to rock, this jacket pairs well with most anything, as a topper for a cocktail dress, over leather skinnies or, for a more sophisticated look, with wide-legged dress pants.
3. Elizabeth and James Selby Pointy Toe Suede Pumps ($325)
Add a bow to your toe. If you aren't daring enough to pull off a bow tie, get your bow fix with these Elizabeth and James pumps. Ever a classic, the lines of these high heels are beautiful with their graceful curves, stiletto heels, and pointy toes. Finished in suede with grosgrain piping and bow.
4. Elise Overland Bustier Tuxedo Dress ($1288)
Can't ditch the dress? Catch the trend with this tuxedo-inspired number. Feminine details galore (ruching, silk side panels, sweetheart neckline), this dress still carries the strength of a menswear style with its strong lines and button details.
5. Rachel Zoe Jerry Tuxedo Jumpsuit ($575)
Head-to-toe tux. It doesn't get any easier than this pull-on-and-go jumpsuit. Add heels, a simple earring, and you're red carpet ready. My favorite parts of this jumpsuit are its wide leg pants, satin trim and padded shoulders. 3-button cuffs with long, cuffed sleeves.
6. Tibi Skinny Tuxedo Pants with Leather Trim ($297)
Sexy suit pants! Creamy white wool blend fabric is cut in a slim, cropped leg and finished with contrasting black leather trim at the waistband and pockets. Pair with a fitted jacket or feminine, bow-tie blouse for full on tux flair.
Most Read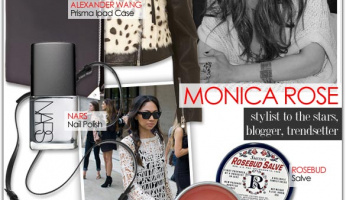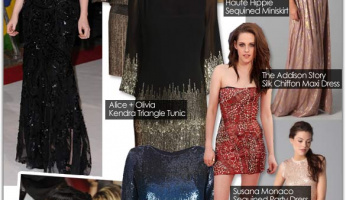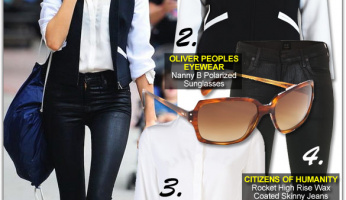 Subscribe to our Newsletter