Trending: Winter Pastels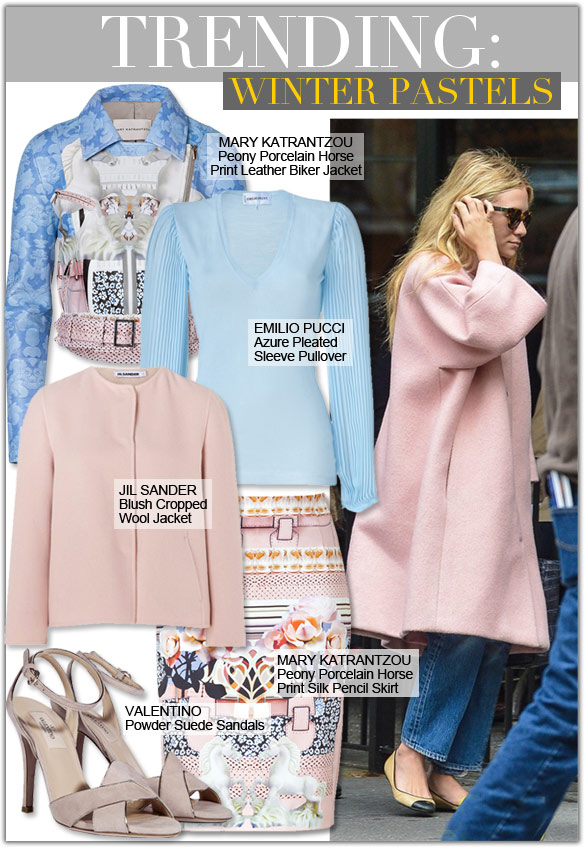 Mint, blush, baby blue, and powder pink. I'm taking a cue from Ashley Olsen and seeing the fashion world through her rose-colored coat. Although basic black will always be mod, as Mary Kate illustrates in her head-to-toe ensemble, pastel coats, pumps, skirts, sweaters, and blouses are all trend items this winter. Ultra feminine, pastel colors were once reserved for spring (see more pastels here), but now this palette is a refreshing way to alter the humdrums of your current winter wardrobe. Pair a pink overcoat with jeans and flats like Mary Kate, go for a mood-altering pastel print to shake up a moto jacket, or pull a baby blue top over your neutral work skirt. Work to weekend, winter pastels take your classics to edgy like the Olsens or demure like Jackie O.
1. Mary Katrantzou Peony Porcelain Horse Print Leather Biker Jacket: Scene stealer. Revolutionize an LBD with this biker jacket or vamp up a pair of black jeggings and booties. The Mary Katrantzo jacket is done up in a stunning peony pink and baby blue print that manages to be ultra mod and vintage feeling at the same time. Go out on a style limb with this piece…you won't be disappointed when you steal the scene night after night.
2. Valentino Powder Suede Sandal: Choosing the more demure route? If a mood-altering print is not your speed, embrace the pastel trend with a suede sandal. This blush pink style works much like summer's nude sandals, but its suede composition is winter-appropriate for evenings and late autumn weddings. Metallic piping lends a subtle edge, and plays with the light at afterhours occasions.
3. Mary Katrantzou Peony Porcelain Horse Print Silk Pencil Skirt: The same designer as the biker jacket, Mary Katrantzo uses her porcelain horse print again, this time in a stunning silk skirt. This streamlined piece complements a blouse with movement (bloused sleeves, draped collars, even pleats). Choose a neutral top to let the pop print take center stage.
4. Jil Sander Blush Cropped Wool Jacket: Jackie O approved. Get a the grace of a Kennedy or Michelle Obama in this tailored wool jacket. Pair back to a pencil skirt and pump for First Lady style or don over jeans and flats a la Ashley Olsen. The opportunities are endless with this timeless silhouette and trend color.
5. Emilio Pucci Azure Pleated Sleeve Pullover: Pleats aren't just for skirts, as illustrated by this Emilio Pucci. Baby blue silk is cut close to the body, but is let out in pretty pleated sleeves. A statement blouse like this works for the office with a pencil skirt or trouser, but you can also dress it down with skinnies and a boyfriend blazer for weekend events.
Most Read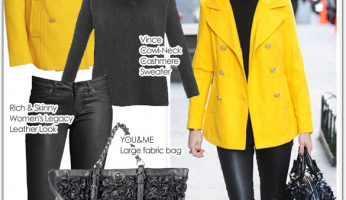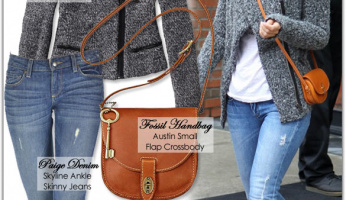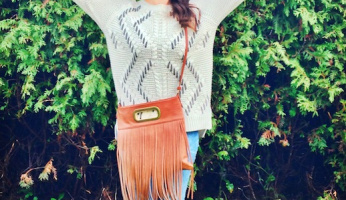 Subscribe to our Newsletter