Steal Her Style: Olivia Palermo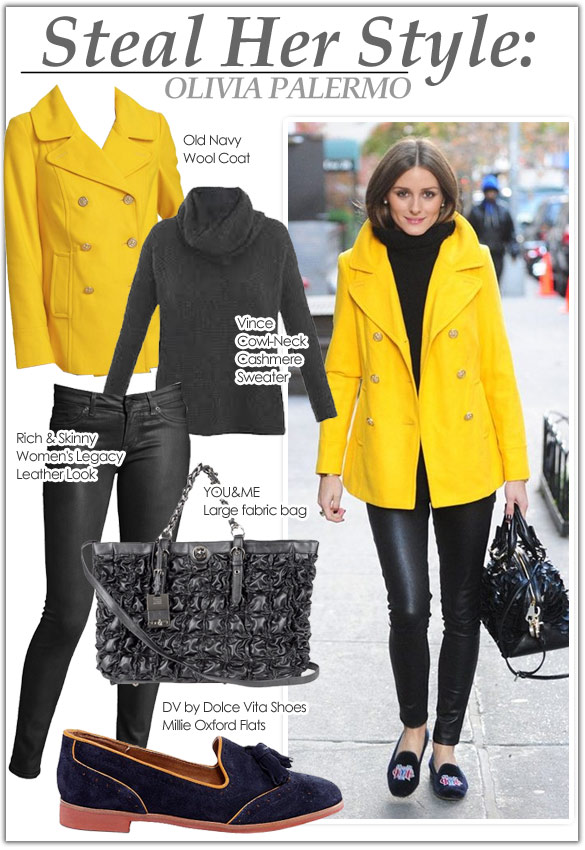 Cheerful sophistication. It's the name I've given to this must-steal outfit by Olivia Palermo. This time of year, I like to warn my fellow fashionistas about the danger of overdressing. The holidays bring sparkle and color, leather and kitsch…and there is such as thing as too much of a good thing. Choosing just a touch of the holiday trends is sophisticated and fun; choosing too much is tacky and overdone. Palermo has the art of holiday dressing mastered. She balances a mod leather legging with a cute crest-embellished flat, a bright yellow coat with a demure black cowl neck, and an oversized bag with a simple stud earring. Use the same tricks when seeking out your December looks, and you will always be cheerfully, joyfully, stunningly sophisticated!
1. Old Navy Wool Coat: A pop coat could be a scary investment, but this version from Old Navy is a trend-buying steal. Also available in cobalt blue and orange, you can choose your favorite and spin your own take on Palermo's look. Classic black, army green and nautical navy are also available…and all come decked out with shiny gold buttons.
2. DV by Dolce Vita Shoes Millie Oxford Flats: Smoking shoe or oxford flat? Another opportunity to use your artistic sensibility. Palermo chose a crest-embellished smoking shoe, I favor a tasseled navy oxford. With the myriad of flats out there, pick your favorite to balance out a bold jacket.
3. YOU&ME Large Fabric Bag: Palermo picked up a textural delight in her ruffled, layered, scrunched handbag. This large fabric bag steals her style at a fraction of the price of a Prada, Chanel, or Hermes. I adore its scrunched, pillow-y sides and chic chain handles. Carry over the shoulder for travel, in hand for occasions closer to home.
4. Rich & Skinny Women's Legacy Leather Look: The look of leather, the price tag of denim. If you're hesitant to try out a leather legging, give the look a test drive with these leather-looking leggings. They have the same sheen and luster without the hefty price. I love leather for day this season, especially mixed up with your favorite cozy or chunky knit.
5. Vince Cowl-Neck Cashmere Sweater: Indulge. A basic black cowl neck is worth the cashmere indulgence. You'll have this sweater forever…it's a style that's been worn by Audrey Hepburn, Jackie O, Julia Roberts, and Charlize Theron. Its classic lines, cozy cowl neck, and perfect fit make it an investment in style for years to come. Perfect with a leather legging or your favorite skinnies for shopping, weekend brunch, or Christmas morning.
Most Read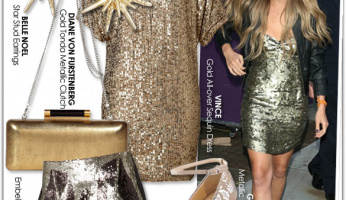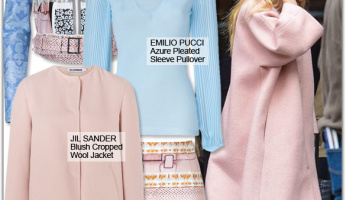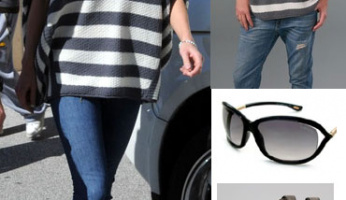 Subscribe to our Newsletter