Time To Buy: Summer Pieces
As always there are a host of new arrivals flooding the stores and this time of year simple summer sophistication is the theme. Here are a few pieces I fell in love with and are on my must have list for summer.
1. J Brand Mid Rise Skinny Leg Jeans ($176)
Stylish skinny leg jeans in red stretch denim, breathtakingly sexy and cut like classic 5-pocket jeans. Super slim skinny, more like leggings with cropped legs, although the pants fit tight, they're comfortable thanks to the stretch. A style hit, a mega trendy super fave for young women, put with a tunic, a shirt and an XL cardigan or a hoodie.
2. Day Birger Et Mikkelsen Pearly White Embroidered Tunic Top ($290)
Stylish tunic top in pearl-colored silk and really light, fine summery quality. Classic tunic cut, slim, straight and slightly longer with long, slightly wider raglan sleeves. The real eyecatcher is the elegantly embroidered bibb. Smaller stand collar, a terrific everyday basic, casual, trendy, yet chic. Wear instead of a blouse in the office with slim skirts and pants, and in the evening with jeans, mini skirts, hot pants.
3. Valentino Ivory Sleeveless Draped Dress ($2000)
Luxurious dress in fine stretch rayon and glamour color: ivory. Cut slim, close to the figure, with highly elegant wrap-draping and delicate ruffles, feminine V-neck and moderately wide straps, decorative flower. Pleasant, just short of the knee length and wonderfully ornamental and flattering. A dream of a dress for many summery-elegant occasions, wear with delicate peep toes or sandals.
4. Theodora & Callum Blue Multicolor Border Scarf ($175)
Stylish scarf in fine, multi-colored viscose, elegant in blue, red and beige, wonderfully long and wide. Protection from the cold AND style accessory, wear this scarf with just everything in your wardrobe, a simple T-shirt, chic shift dress, or luxurious blazer.
5. Spring Green/Gold Tapered Bangle ($175)
Stylish bangle from the hot New York designer Alexis Bittar, fine gold-plated, crazy decorative and dressy. Glam, summery green color accent and slim, delicate shape. A highlight for day or evening, instant upgrade – pair with a sexy top as well as a cocktail dress.
6. Tod's White Leather/Metal Oval Sunglasses ($455)
Stylish sunglasses in white leather, luxury quality from the top Italian label Tod's. New, ingenious mix of leather-framed structure and metal bows, very prominent, oval XL-shape with a retro look. Darkened lenses with UVA and UVB protection, narrow, comfortable bow and double nose bridge. A signature piece and fashion statement for all the elegant, cool, trendy looks.
Most Read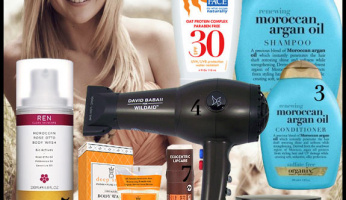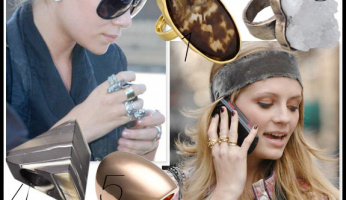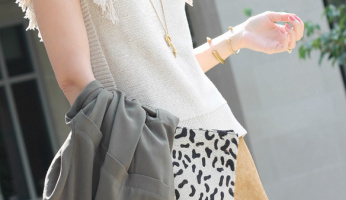 Subscribe to our Newsletter