THE ESSENTIALS: MAKEUP KIT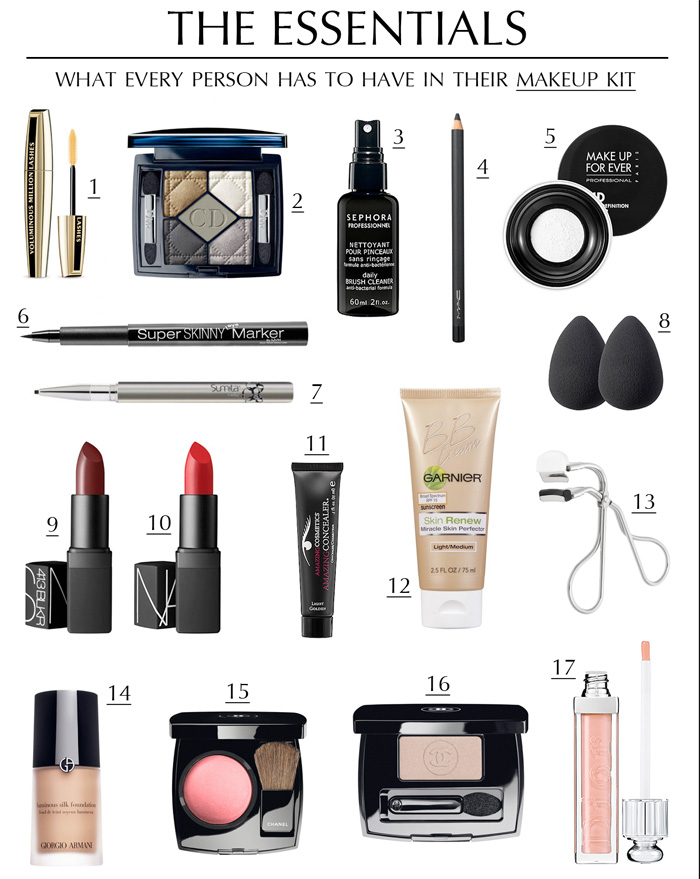 What are the true essentials? It's slightly different for everyone, of course, but there are some old standbys you can always use to touch up your look. They're the basics you don't want to be without — and the products you can justifiably spend some cash on, since they can make or break any look. Here it a list of tried and true celebrity and beauty expert's must haves…..
Shop The Post:

1. L'Oreal's Voluminous Million Lash Mascara: The perfect mascara not only because it's a decent price but also because it works well.
2.  Dior 5 Couleurs palette in Royal Kaki: Perfect for a smoky eye, neutral eye, and a golden glow.
3. Sephora Collection Daily Brush Cleaner: Disinfecting your brushes at least once a week is a must, it prolongs their life and protects you from bacteria build up.
4. MAC Eye Kohl in Black: My absolute favorite eyeliner!
5. MAKE UP FOR EVER HD Microfinish Powder:Finishing powder – Set your foundation for the day or night with this award-winning powder.
6. NYX 'Super Skinny' Eye Marker: Ideal 50′s style liner or dramatic cat eye
7.  Sumita Eyebrow Pencil: For a dramatic "Cara" look, or if you just need to fill in your sparse brows
8. Beautyblender sponge: Achieve a perfectly blended foundation application. (Don't forget to blend into your neck).
9. & 10. Lipstick NARS Semi Matte Lipstick in BLKR and Jungle Red: Not only is a bold red lipstick a must, so is a deep sultry shade.
11. Amazing Cosmetics Concealer : For those stubborn under eye circles or a pimple or two, this will cover your imperfections.
12. Garnier BB cream: It's easy to apply, and renews, brightens, hydrates, while evening skin tones – plus it has SPF 15
13.  Shu Uemura S Curler: An eyelash curler is a must to achieve those long lashes we all strive for.
14. Giorgio Armani Luminous Silk Foundation: THE go to when you want your skin to look extra flawless for those special events
15.  Chanel Powder Blush in Rose Initial: Everyone knows blush is a must to make you look perfectly flushed!
16. Chanel Soft Touch Eyeshadow in Slate: For a natural and quick makeup look, for just a hint of color.
17. Dior's Dior Addict Lipgloss in Angélique: In addition to a great lipstick, everyone needs a soft pink glossy option.
Most Read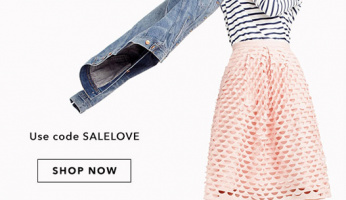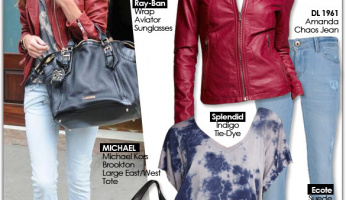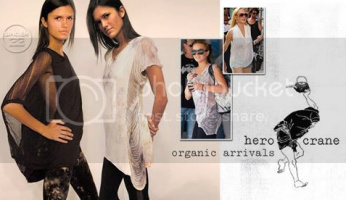 Subscribe to our Newsletter