The Best Vitamin C Serums of 2023 – Tested by Our Editors!

Vitamin C serums are one of those skincare products that people rave about. There are tons of people out there who will tell you that you just simply must have a vitamin C serum in your skincare routine. To a certain extent, this is true. But, let's go over what exactly a vitamin C serum does so you can determine if it fits in with your skin needs.

Vitamin C serums are used for their anti-aging and antioxidant properties. Some other benefits usually include a brighter, radiant complexion, fixing the issue of dull skin. It can also reduce early signs of aging such as fine lines and wrinkles. It has a great safety profile meaning most people can use it without any irritation or negative reaction to it.

These serums often contain the vitamin C derivative magnesium ascorbyl phosphate which decreases water loss, helping your skin retain its moisture. It can also help with hyperpigmentation and dark spots, including dark circles.

This plethora of benefits is great for any and all skin tones. It Is highly recommended for aging, but as we've seen, it does a lot more than that. That being said, vitamin C serums do tend to sway on the expensive side. Luckily, we've found some great budget buys that will keep your skin and wallet happy.

Here are our favorite vitamin C serums, both high-end and cost-efficient, that you should be integrating into your skincare routine.
Our top 3 picks
Top 7 Picks!
1

. Obagi Professional C Serum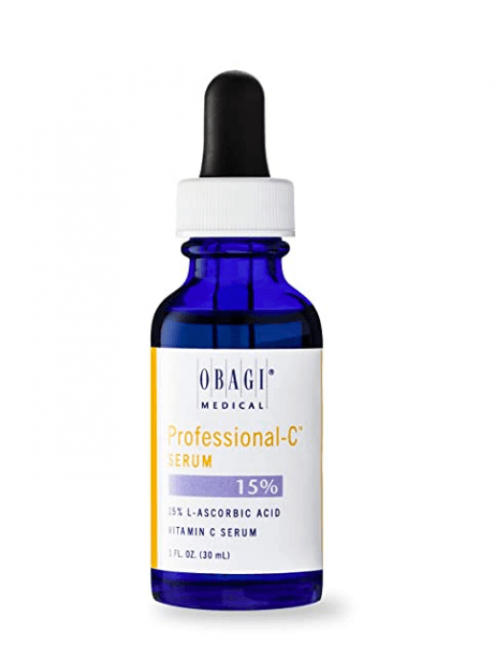 Obagi Professional C Serum is a high-performance vitamin C serum. It's a daily wear skincare must-have that helps to fortify the skin for a more youthful appearance.
Read more
With 15% pure Vitamin C to maximize the permeability of this product, this serum will promote an even skin tone, bright complexion and will help in retaining moisture.
Minimizing the look of fine lines, wrinkles, and photoaging of the skin, this vitamin C serum proactively protects the skin from environmental stressors and visible aging.

2

. Paula's Choice C15 Super Booster
Paula's Choice is a brand that we talk about a lot. They use high-quality ingredients in high concentrations for maximum results.
Read more
This C15 Super Booster Serum contains 15% vitamin C along with vitamin E and ferulic acid. This combination of replenishing antioxidants and skin-smoothing peptides improves the appearance of even skin tone, lessening environmental stress and brightening a dull complexion.
Using this booster alone or with a moisturizer twice daily will dramatically improve your skin's health and overall appearance.
3

. RoC Multi Correxion Revive + Glow Vitamin C Serum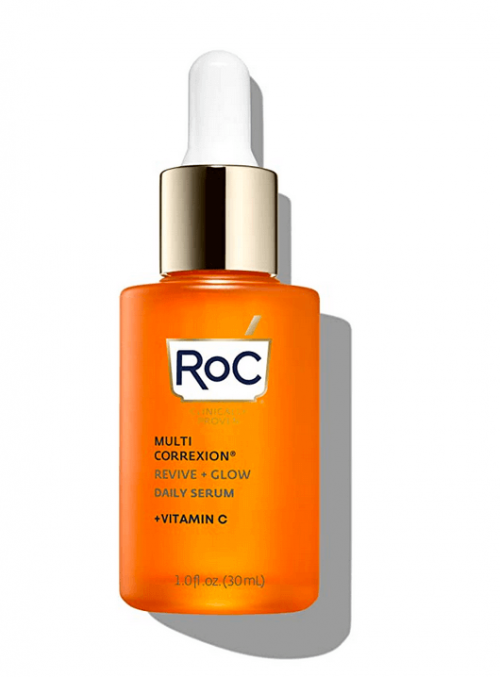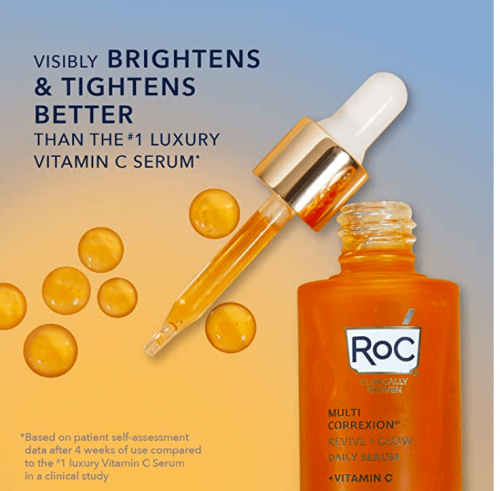 RoC's Vitamin C Serum is a multi-tasking glow serum that reveals visibly smoother, luminous skin.
Read more
This lightweight product is supercharged with a blend of vitamin C and energizing nanopeptides that will help tired, dull-looking skin glow.
Actively combatting visible effects of environmental stressors, this vitamin C serum will restore elasticity, tighten skin and reduce signs of aging.
The deepest of wrinkles and fine lines and the darkest of undereye circles can be helped with this strong and effective serum!

4

. Mad Hippie Vitamin C Serum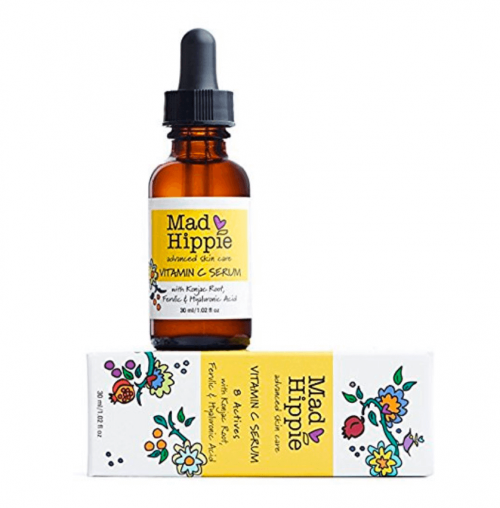 Mad Hippie's Vitamin C Serum is an award-winning serum that is formulated with a blend of antioxidants that will tighten, brighten and smooth the skin.
Read more
The brand is built on the notion that natural skincare is just as effective as traditional skincare. That means that this serum doesn't have any additives such as fragrance, parabens, and more.
This serum will reduce the appearance of wrinkles and discoloration while offering antioxidant protection from photoaging and sun damage.
It contains vitamin E that will also strengthen these benefits for maximum results. Hyaluronic acid is used to plump up the skin and offer moisture retention.

5

. TruSkin Vitamin C Serum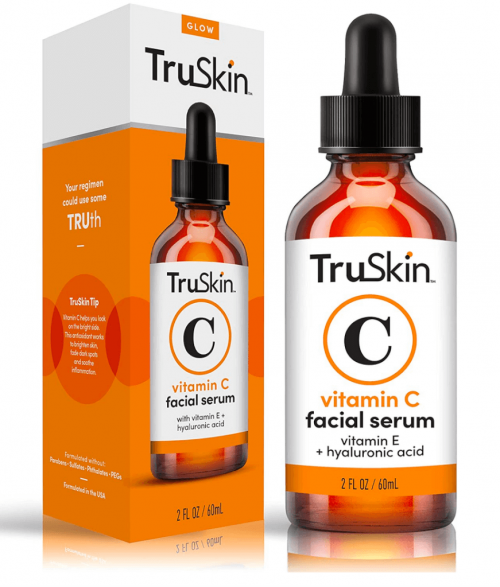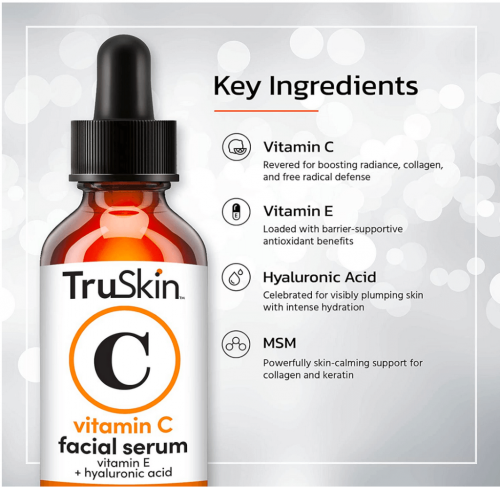 TruSkin Vitamin C Serum blends vitamin C with botanical hyaluronic acid, vitamin E, witch hazel, and jojoba oil for a powerful anti-aging, skin brightening formula.
Read more
Targeting wrinkles and dark spots, this plant-based formula will give you a youthful-looking appearance and a healthy glow for a radiant and vibrant complexion.
Enhance your skin firmness with this collagen-conscious blend of vitamins and glow from within. The organic, mineral-rich aloe vera will calm and hydrate the skin.

6

. CeraVe Vitamin C Serum with Hyaluronic Acid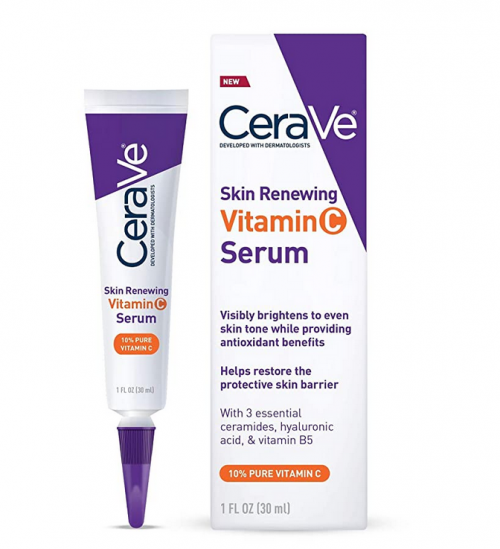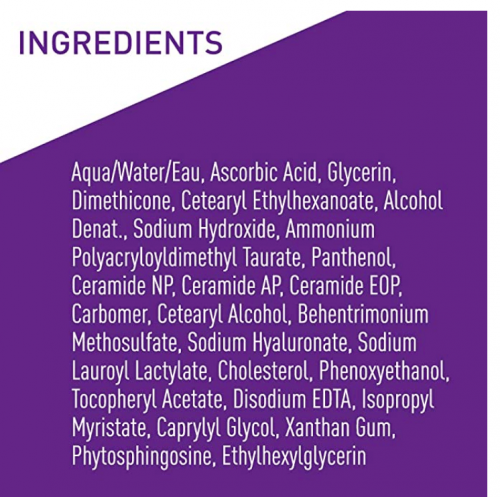 If you have access to the internet, then you've heard of CeraVe. This affordable drug store brand has gone viral in the last year for being a leader in high-quality drugstore skincare.
Read more
They have an immense line of acne-fighting, balanced products. Their Vitamin C Serum with Hyaluronic Acid is the cheapest one and yet just as effective.
For just under $20, you're getting all the same benefits as your favorite high-end vitamin C. It is formulated with 10% of the purest form of vitamin C which will help provide antioxidant protection.
It will improve skin tone and texture. Along with the addition of hyaluronic acid, it will also hydrate the skin for a healthy, radiant complexion. It also includes CeraVe's signature three essential ceramides and soothing vitamin B5.

7

. La Roche-Posay Pure Vitamin C Face Serum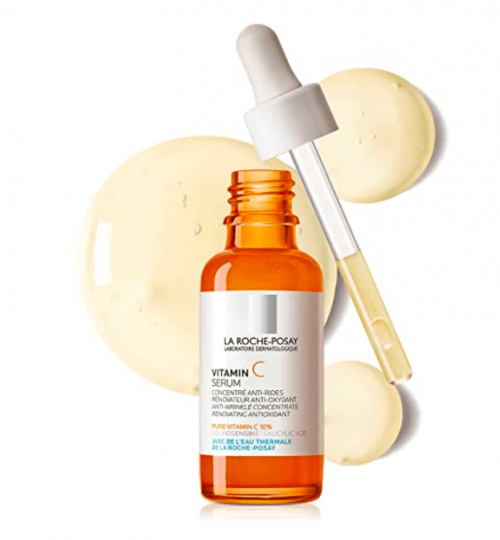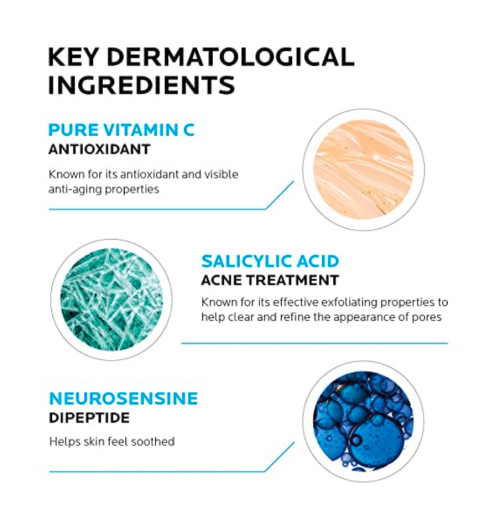 Lac Roche-Posay Vitamin C Face Serum is formulated with 10% pure vitamin C to visibly boost skin's radiance while reducing the look of wrinkles and refining skin texture.
Read more
This daily-wear, morning vitamin C serum is an anti-aging powerhouse. The vitamin C is blended with salicylic acid and neurosensine which will leave your skin feeling supple, softer, visibly refined.
You can use this product alone on clean skin or under a moisturizer for an extra burst of hydration. This product is highly concentrated, but will not leave the skin with irritation.

Celebrity style guide Writers
Bianca
Oct 28, 2021
marakas_csg
Oct 28, 2021
Subscribe to our Newsletter