Store I Love: Tyler's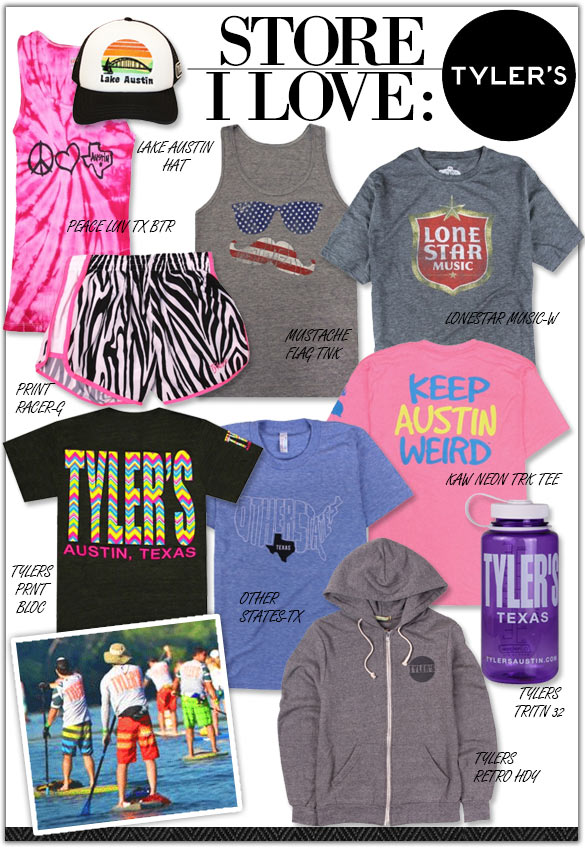 If you know me, you know that I live in Austin, and that I couldn't be happier about my home. This is a city that has it all: a vibrant arts scene, fantastic restaurants, tons of outside activities, a laid-back lifestyle, and FABULOUS style. Which brings me to my point: one of my favorite stores in Austin. It's called Tyler's, and it's definitely the hottest store in Austin right now. How do I know? The whole city is sporting their tees.  Anyone who is anyone, from men and woman to children, is wearing a Tyler's tee. Why are these tees flying off the shelves? It's the hometown pride, the quirky prints, the ridiculously comfortable pieces, and well…just let me show you a few of Tyler's things, and you'll see why…
1. KAW NEON TRK TEE: Printed on ridiculously comfortable American Apparel tees, the whole Tyler's collection has that covetably soft, lived-in feel of something well worn and vintage. Even more enviable is the collection of cheeky, hometown-loving prints these tees come in. Case in point: Keep Austin Weird.
2. LAKE AUSTIN HAT: This hat pays homage to one of Austin's natural landmarks, Lake Austin. Wear this with pride if your out on the lake or sport it as a souvenir if you've ever passed through our city.
3. MUSTACHE FLAG TNK: Even if it's not Mo-vember, this moustache tee works. I'm still riding the mustache-train, and since I'll have this tank forever, I'll remember fondly the years in the mid 2010s when everyone had a love affair with well-trimmed whiskers.
4. TYLERS PRNT BLOC: Available in a zillion colors and prints, the Tyler's tee is the one to sport. Nab your very own piece of this fantastic store by picking one up in your favorite hue and pattern.
5. TYLERS RETRO HDY: Super soft gray hoodie = must have. Headed into fall, I'm ready to pile on the layers. This is the first piece I want to pull on after a long day at work. Cozy up with its retro lines!
6. OTHER STATES-TX: For us Austinites, there is no other state. We sport our city pride and we support our great state. If you're a loud and proud Texan, this tee's for you!
7. TYLERS TRITN 32: One of the things we love about Austin is all the great things to do outside. Whether we're at Blues on the Green or paddleboarding on the lake, we love our sunshine. This Tyler's Nalgene water bottle supports our habit.
8. PRINT RACER-G: Austin is about being who you are, and what better way to express that than with a pair of zebra-printed running shorts (with hot pink trim, of course). I picked these up for my kids, and they absolutely love pulling them on for soccer practice or just lounging around the house.
9. LONESTAR MUSIC-W: Austin is a music haven. Support hometown musicians with this fantastic tee, one of my favorites in the entire collection. I layer this vintage feeling tee with leather when I'm going out in Austin…or with jeans when I'm working from home.
10. PEACE LUV TX BTR: Peace. Love. Texas. What more do you need? I love this free-thinking tie-dyed tank for when I do yoga in the park, another one of my favorite outdoor Austin activities! And perhaps that's the best part about Tyler's tees: they encourage us all to embrace the Austin lifestyle: getting outside, being yourself, appreciating the arts, and embracing life's little pleasures.
Most Read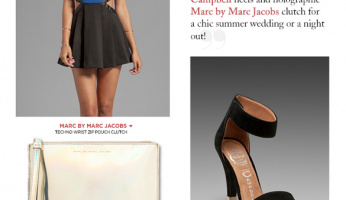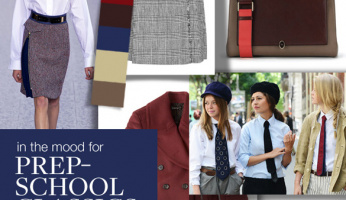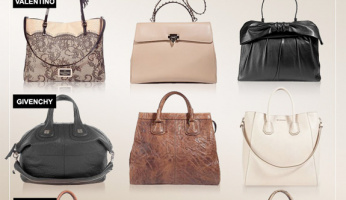 Subscribe to our Newsletter