Steal Her Style: Penelope Cruz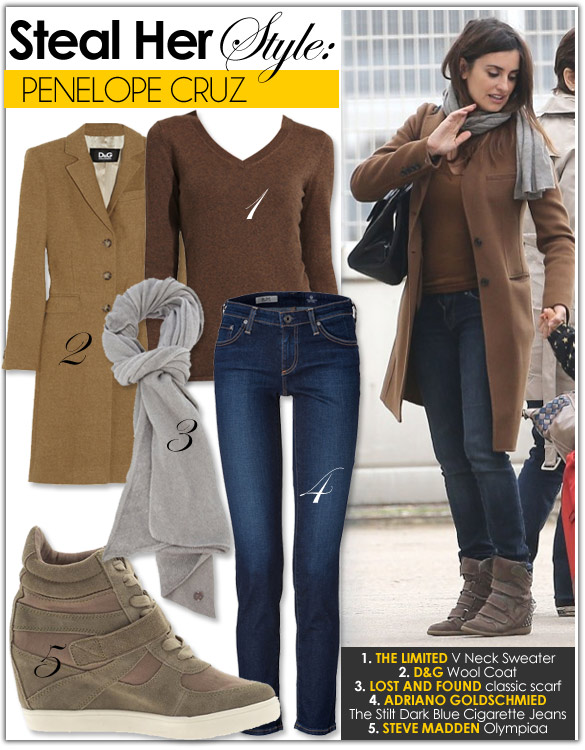 I sigh. Oh to be Penelope Cruz! With perhaps the most gorgeous hunk of a husband on her arm (another sigh: Javier Bardem) and a beautiful child in her arms, Penelope is seen here arriving in Paris, France to promote Bardem's new Bond film, Skyfall. The life of a Hollywood power couple involves a fair amount of jet-setting. With my own holiday traveling on the horizon, I was excited to steal this style. Cruz pairs a classic wool coat with dark denim skinnies, and in my opinion, every closet and suitcase should contain these essentials. For trend, Penelope adds a neutral scarf and a sporty wedge sneaker. The wedge sneaker is the perfect travel shoe, offering up both style and comfort for running across airports and long plane rides. I'll wrap it up with this statement: if I can't steal Javier, I'll be content to have this outfit for my own:
1. Steve Madden Olympiaa: Sporty spice. Sass up a basic sweater and jeans, just like Penelope Cruz did, with a pair of luxurious suede sneakers. The neutral taupe color and wedge heel make these sneaks more wearable that you might guess. I love them best at the end of a skinny leg, be that a dark denim jean or a colorful corduroy pant.
2. D&G Wool Coat: Polished and pretty. A classic camel coat is iconic, whether you're jet-setting like Bardem and Cruz or braving another day at the office. Wear as a topper over your pencil skirts or work trousers from Monday to Friday, but wear open over jeans and booties come Saturday and Sunday. The versatility and polish of this wool coat makes it the perfect wear-with-all for traveling come holiday time.
3. Adriano Goldschmied The Stilt Dark Blue Cigarette Jeans: AG's Stilt jean has risen the ranks of denim as a must-have celebrity item. Spotted on Jordana Brewster, Jessica Alba, Cameron Diaz, and Megan Fox (to name a few), the Stilt has the perfect cigarette leg: skinny on top with a straight ankle. They are perfect with flats, heels or tucked into boots or booties, and you can wear them straight or roll the ankles like the celebs often do. The fine, dark rinse of these jeans takes this style into the deep autumn and winter months.
4. Lost and Found Classic Scarf: I wish every season were scarf season! With so many options in print and color, a scarf is like jewelry…it's a way to let your personality shine. While Cruz opted for a neutral taupe color, use your artistic license to play this piece however you want: ikat, polka dot, ombre, floral, blush or bright.
5. The Limited V Neck Sweater: Style staple. The warm caramel color of this v-neck sweater complements camel, taupe, black, denim, and warm jewel tones. Stack it with varying shades of brown for Penelope's studied mix or use it to temper bold colors. A slim shape and modest v-neck makes this silhouette appropriate for work and play alike.
Most Read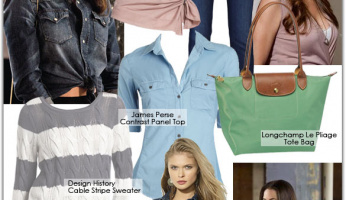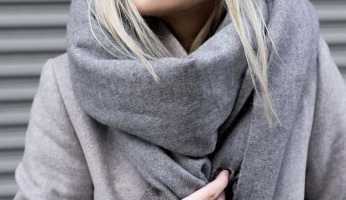 Subscribe to our Newsletter