Interview With Hart Of Dixie Wardrobe Stylist Meredith Markworth Pollack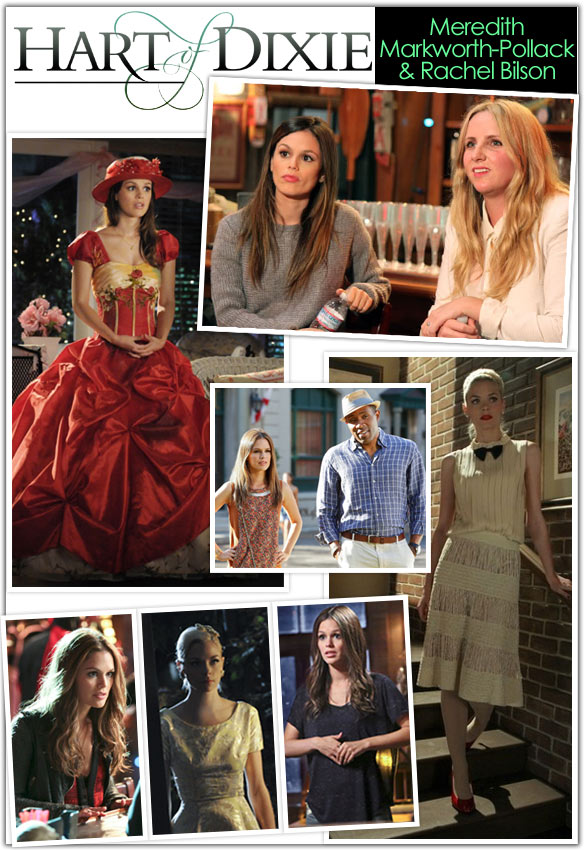 It is no secret that Hart of Dixie is one of my favorite shows on TV, and the cast is always draped in eye candy galore! From Zoe Hart's New York edge to Lemon Breeland's Southern Belle charm, the inspiration I take from style scene of this show is endless. Last week, I had the privilege of speaking with one of the most sought after Hollywood stylists, Hart Of Dixie wardrobe stylist Meredith Markworth Pollack! You can imagine my delight. Meredith gave me the inside scoop on dressing Rachel Bilson and Jamie King for the show, from her process to her favorite pieces to the answer to something we all want to know: where do all those beautiful clothes go after the show? I got the answers, so let's dish. To start, some of the designers you can expect to feast your eyes on in Season 2 are IRO, Rag & Bone, Marc Jacobs A.L.C Phillip Lim and J. Crew. And without further ado, please read on for my one-on-one with Meredith Markworth Pollack!
Heather: Do you have a favorite character on the show that you like to dress?
Meredith: Oh, that's hard. It's kind of just obvious, but I really enjoy, dressing both Zoe and Lemon because they are two extremes and I think we all have a little bit of the uber feminine side that Lemon portrays. I love Lemon's floral, pastels and fun costume jewelry and I think we can all relate to that. Maybe it's not something we do on a daily basis but you know there's plenty of women that still like to get dressed up. At the same time we can all relate to Zoe. She is so much fun to dress and she is more of a day to day working girl look, so I think in general we can all relate to both Lemon and Zoe. It's exciting to be able to have two characters of two different extremes and come up with their looks.
Heather: Can you give me any inside memorable moments between you and the cast as it pertains to a wardrobe?
Meredith: Yes! I think probably the funniest moment was when we surprised Rachel in her fitting for the episode "Hell's Belles" and she came into wardrobe and has to wear a big red, hoop skirt and she was like, " You are kidding me!?!" That was a funny moment! There are quirky story lines in Hart Of Dixie and random and funny costumes, I think the actors are caught off guard, they never know what they are going to walk into. We get to be like "Surprise it's a wedding dress!" For our upcoming Halloween episode "Walkin' After Midnight." it was "Surprise Jaime, you're Marylin Monroe!" We are working on our Christmas episode now and there are lots of crazy costumes, and we get a kick out of it and the actors do as well, because they never know what's going to happen behind the door.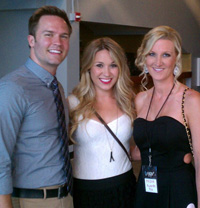 Heather: Speaking of your actors being surprised, I spoke with Scott Porter, George, last month and he let me in on a little wardrobe scoop that he will be wearing shorts this season, which he wasn't sure of at first but he understands that authenticity is a big part of your wardrobe choices. Where do you find your inspiration for the looks of the characters, especially Lemon and George?
Meredith: Laughs! With Lemon we definitely were referencing images of Grace Kelly and kind of a throw back to the  golden era and detailing the iconic southern belles for her and I think that it was important in the original research to kind of keep her in a really soft palette with a lower hemline. Kind of an ode to the mid-fifties Southern Belle. George is the Golden Boy. So there is definitely that iconic, kind of a little bit of trap and a little bit of  summer twang mixed in there. We use a lot of J Crew, Rag & Bone and chambray, gingham prints and loafers. He did spend some time in New York so we like to include that in his look as well.
Heather: You see racks and racks of clothes constantly, how do you keep a fresh perspective and keep motivated?
Meredith: Great question! I think we are very lucky in that all the pieces for our show are so unique and different from each other. All the clothes we get for each character are so different. It stays exciting and new. When we shop, we load up for 3 or 4 episodes and then when it is time to go shopping again, it is new inventory and the racks look much different then they did a month ago. I think that helps to keep things fresh because we constantly have a new inventory of clothes to choose from. We love to see new pieces, new products and we also try to keep current on all the new designers and finding new people to work with. So we definitely like to support upcoming designers as well, so we're constantly on the hunt.
Heather: Do you have any emergency items you have with you at all times on set?
Meredith: Yes definitely! Everything in TV moves very fast, you literally have 5 minutes to fix any problem that comes up! Zoe's emergency kit has two leather jackets, her three favorite pairs of jeans, all of her shoes, couple great "Zoe" blouses and two killer black dresses. Lemon's emergency kit is a couple grey J.Crew cardigans, two or three really beautiful McGinn floral dresses, all of her shoes and then a couple pairs of bright colored trousers.
Heather: Now what happens if the outfit doesn't come together the way you thought it would? Is that when you go into your emergency kit?
Meredith: Well you know everything is pretty much 100% decided before the morning of the scene, but, sometimes things happen and an alteration needs to be tweeked in the morning when we are throwing the dress on. If it's just a little bit off, that's when we run to the wardrobe truck and we have our emergency kit. It does happen, it's not all perfect, and when you're pumping out three to four looks, for each character, per episode and you saw them a couple of weeks prior, things might not go as planned and that's why you have to be prepared.
Heather: I have a question that I received from a fan of you and the show on Twitter, and she wanted to know what happens to the clothes after they are used?
Meredith: Ah, that's a good question! Two things kind of happen, well first of all we use a lot of samples on the show from designers who are generous enough to work with us and with Jamie and Rachel, so a lot of clothes that you see them wearing are actually samples that we then have to return back to the designers. Anything we shop, Warner Brothers owns and if then if we decide that we don't need it any more, we hand deliver back to Warner Brothers and it goes into the Warner Brothers costume shop, which is a huge rental shop here on the lot. We returned quite a few pieces after the first season that we didn't think we needed to use any more and then we constantly see them downstairs when we are pulling and think "Maybe we do need that yellow Marc Jacobs dress again!" and we can grab it.
Heather: Can you use pieces you see and like in the Warner Brothers costume shop from other shows?
Meredith: I can think of an example right now! I have my eye on an older piece from a past season of Gossip Girl. They are sending a lot of pieces back from Gossip Girl right now and what is really funny is I keep finding pieces that I bought for that show years ago! Whenever a big film or show wraps there is always tons of new great inventory to choose from. Along with a lot of great vintage choices down there that are perfect for Lemon. We do have pieces from Hart Of Dixie right now that are in the Warner Brothers museum and that is where some the iconic Zoe and Lemon pieces have gone so far.
Heather: One of my personal favorite outfits was the striped Marc by Marc Jacobs sweater with the safari shorts, what is one of your favorite outfits and what is one that we can look forward to seeing that hasn't aired yet?
Meredith: Well I'm partially biased. I think my favorite outfit is a custom dress we made for Lemon. It came out so well and way beyond my expectations!  It was this gold dress that she wore last season, it was one of the earlier episodes called "In Havoc & In Heat" and she wore it to dinner and then she leaves, and basically it starts raining and she is running to go talk to Lavon Hayes. She shows up and it is reflecting the lights and it is really beautiful.  That piece is in the Warner Brothers museum right now. I would say that was my favorite look so far for Lemon.  As for Zoe, I definitely love the one that you referenced, and she also wore a striped ALC sweater with red leather pants, I think that was a great outfit, definitely one of my favorites!  Although she has some really, really good looks coming up for season 2! I think specifically, episode 207 "Sparks Fly" is definitely Zoe's best fashions of this season so far. Three great looks that I think everyone will love! Stay Tuned!
Most Read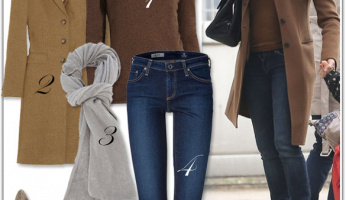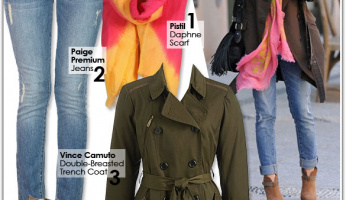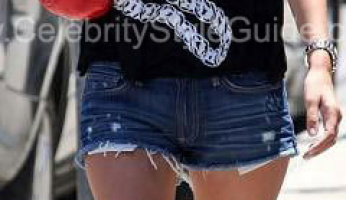 Subscribe to our Newsletter