Shine on this Winter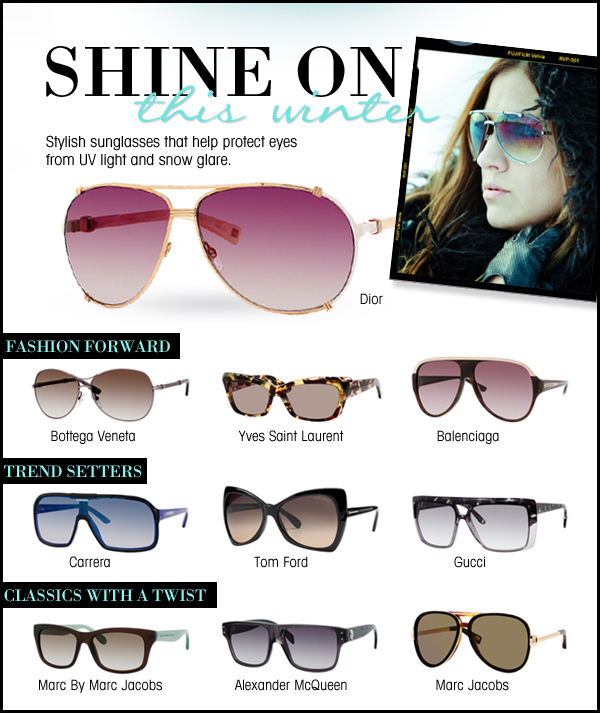 In celebration of the winter solstice today, we're celebrating with, perhaps ironically, a collection of sunglasses from SolsticeSunglasses.com. Although summer is the traditional season for shades, we need them…have-to-have them…every single day. In the winter they not only protect our eyes from harmful UV rays, but also irritating snow glare and paparazzi flashes. And ask just about anyone, designer sunglasses are the trademark of celebrity style. From classic Ray Bans to trendsetting oversized frames to fashion-forward aviators, your sunglasses add your personal signature to each and every outfit.
1. Dior Chicago Aviator ($375)
See the world through rose-tinted glasses. These classic aviators give any outfit a rosy outlook on life.
2. Bottega Veneta Oval Frames ($385)
Subtle elegance, simple beauty. These oval metal frames add classic sophistication.
3. Yves Saint Laurent Wayfarer ($275)
Made famous by Ray Ban, the wayfarer is also done to perfection by Yves Saint Laurent. Bold tortoise shell finish adds a fashion-forward edge.
4. Balenciaga Aviator ($350)
Modern with a vintage twist. These two-toned aviators feature a discreet logo nameplate and warm brown tinted lenses.
5. Carrera Shield Unisex Frame ($140)
Born from the racing trends of the 70's and 80's, this brand manages to merge its throwback roots with ultra mod styling. These blue frames are the ultimate in cool.
6. Tom Ford Nico Geometric ($240)
Modern glamour. Channel your inner glam girl with these Tom Ford specs. Oversized geometric frame in classic black.
7. Gucci Rectangular Frame ($325)
Go bold or go home. Gucci takes the aviator and makes it their own with these rectangular frames. For the jetsetter and the scene stealer.
8. Marc by Marc Jacobs Rectangular Wayfayer ($140)
A style that universally flattering, a wayfayer belongs in every wardrobe, male or female. Marc Jacobs takes his glasses to an eco-friendly level with his bio-based material derived from castor-oil seeds. Packaged in a leather case made from re-purposed leather.
9. Alexander McQueen Rectangular Frame ($325)
Innovative and iconic, this McQueen is urban, edgy, and ready to hit the scene. Rectangular frames with a definitely modern air.
10. Marc Jacobs Aviator ($345)
Pass them down, these Marc Jacobs have a vintage flair that will make a comeback again and again. Brown and gold composition adds warmth from season to season.
Most Read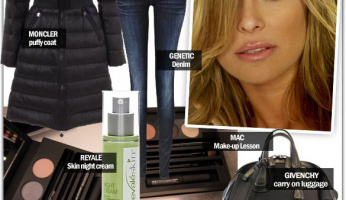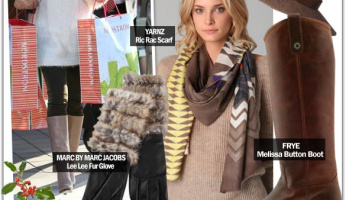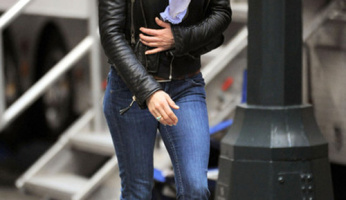 Subscribe to our Newsletter