Sail Away: Nautical Treasures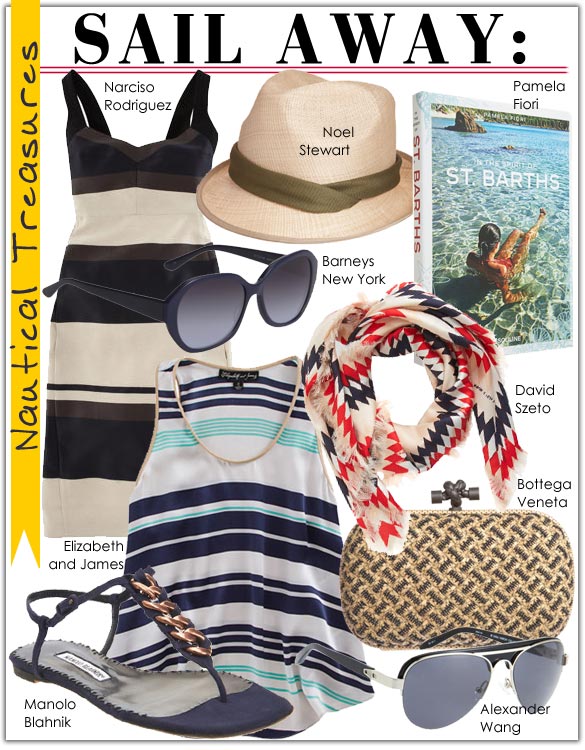 Come sail away with this season's nautical treasures. The spirit of this American style is embodied in one color: navy. Whether it's done up in stripes, placed next to crisp white, or mixed up with red and mint green, navy is the first step to nautical. The next step is to add textures like canvas, leather, raffia, or any natural element associated with sailing. Finish with clean lined shapes (sheath dresses, aviators, t-strap sandals), a touch of gold or brass, and you're well on your way to setting sail with nautical style.
1. Elizabeth and James Stripe Hudson Top:
Nothing says nautical like navy stripes. Mary Kate and Ashley Olsen mixed their navy sailing stripes with a touch of mint green and creamy white. This silky top pairs wear with crisp white denim crops and a t-strap sandal.
2. Alexander Wang Aviator:
Once the chic-est choice for the skies, the aviator has now become the chic-est choice for the seas. Alexander Wang's shades are done up in black plastic with metal accents and finished with gray lenses. Pair this nautical treasure with any style, sporty or sultry.
3. Bottega Veneta Intreccio Catenelle Antique Karung Knot Clutch:
Calling forth the imagery of sailing knots and weaves, this clutch is composed of an intricate woven texture and topped with a metal knot closure. Its natural-brown color is the perfect complement to a navy ensemble.
4. Barneys New York Gretta Sunglasses:
Blue on blue, like sea on sky. The Gretta sunglasses are composed of navy frames and set with steel blue lenses. Their rounded square lenses add a elegant edge to a sheath dress and pumps and a flirty flair to a poolside look.
5. David Szeto Jagged Geometric Square Scarf:
All-American. Navy goes patriotic when complemented by red and white. A jagged geometic print and unfinished edges lend a casual air to this silk twill scarf.
6. Pamela Fiori In the Spirit of St. Barth's:
Summer reading. By the pool or from the comfort of your couch, this beautiful coffee table book has a place in any fashionista's library. Discover the history of this island's nautical-inspired style.
7. Noel Stewart Buntal Trilby Hat:
My hats are off to this jaunty style. This straw trilby hat is accented with a contrasting olive trim that complements any daytime look, seaside to cityscape.
8. Manolo Blahnik Haditha:
Take a vacation from your heels…but not great style. Manolo Blahnik does the t-strap nautically in navy suede. Copper chain links add the final touch of sailing style to this wear-anywhere sandal.
9. Narciso Rodriguez Striped Sleeveless Dress:
When the sun sets, set aside the flats and the fedora. This striped sheath dress is ideal for alfresco dining by the sea. A luxurious silk blend is cut classically and made modern with tonal stripes.
Most Read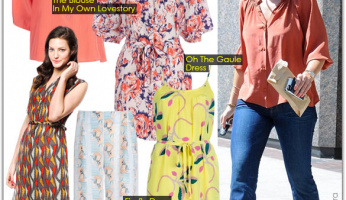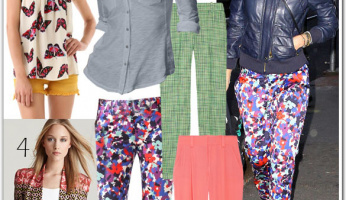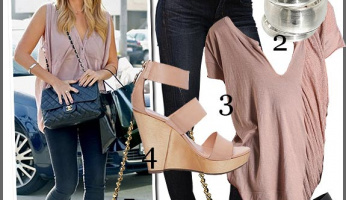 Subscribe to our Newsletter