Obsession: IO Metro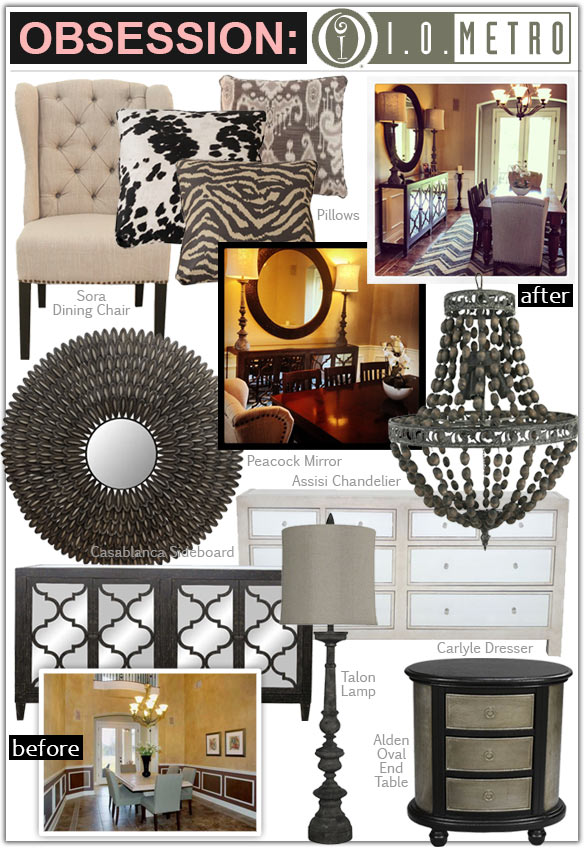 It's safe to say: I'm obsessed. And lucky me, my obsession is close to home, quite literally.
Earlier this summer I happened upon the gorgeous website of Emily Hewett. This talented interior designer is the mastermind behind A Well Dressed Home, and now my new favorite room in the house. After featuring Emily on my site, I hired her on the spot and promised a reveal of her work in my home. She transformed my dining room from blah to beautiful with her impeccable styling and a little help from one of my new favorite stores.
I wanted pieces that were unique to my home, well made, high quality and of course, absolutely beautiful. Enter home store extraordinaire: I.O.Metro. This smart, eco-friendly, and affordable home store is the source of my new lamps, sideboard, and dining chairs. If you can't get to one of their retail locations sprinkled across the south, do not fear. Their online store is waiting just a click away, as is Emily Hewett. She does online consultations with her team of interior decorators. Great style is just too wonderful to keep a secret!
Products used in my re-design:
1. Talon Lamps: My favorite feature of these lamps is their soaring height. Stretching almost 47 inches high, their tall skinny shape makes them the perfect lamp to double up on a sideboard or console table. I also adore the way the two of them frame my new mirror…and you'll love the way they frame any artwork or photographs in your home, too.
2. Sora Dining Chair: To break up all the hard edges of my dining table, Emily suggested a soft linen chair.  The Sora Dining Chair was just what we were looking for! With a classic wingback shape, the Sora is updated with a gorgeous linen fabric and a subtle nailhead trim. I think a pair of these would stand in as beautiful occasional chairs if I ever want to go back to an all-matching set.
3. Casablanca Sideboard 4 Door: Don't forget to add a little glitz. I love the modern rustic look that the linen Sora chair and the zinc Talon Lamps brought to my space, but every room needs a little shine, a little glitz. Cue the Casablanca Sideboard. The mirrors on the front added the touch of shine and the extra shot of modern glamor that my dining room needed!
Pieces I am currently coveting:
1. Alden Oval End Table 3 Drawer: When browsing I.O. Metro for my dining room pieces, I stumbled upon a number of pieces that I'm coveting for other rooms in my house. Number one is this Alden end table. Perfect for any corner of the house, I love its rounded shape, a welcome break from all the squares and rectangles you usually see in world of end tables.
2. Peacock Mirror: I love the mirror above Casablanca sideboard, but this Peacock Mirror is the next one I'm going to buy. It is the magnificent starburst the design world is crazy about, but the peacock feather shape is softer and a welcome twist on the pointy starburst standard.
4. Assisi Chandelier: I love me my chandeliers. There's nothing like the glamorous sparkle and glow they give a room, and they always make me think of Hollywood. This one is a rustic take on the usual glass and gold. I love the earthy, artisanal flavor it brings to a room….maybe over my kitchen table??
5. Gray Ikat Pillow: If you don't have the cash for a full-blown room makeover, changing a pillow or two can be a great option for freshening up a space. These gray ikat pillows are hot in the world of pattern, but their neutral gray color will stay current for seasons to come. These exact pillows have been featured on dozens of home blogger's pages, all singing their praises! Try one on your bed or couch for an instant shot of affordable style.
6. Carlyle Dresser 8 Drawer: Modern, elegant, crisp, clean white. I'm definitely head-over-heels for the Carlyle Dresser, and I can't wait to add it to my master bedroom. Something this gorgeous is definitely worthy of a celebrity's wardrobe! Use it to add a shot of starlet style to any bedroom in your house.
For more design inspiration please check out I.O. Metro on Facebook and Instagram! Happy Decorating!
Most Read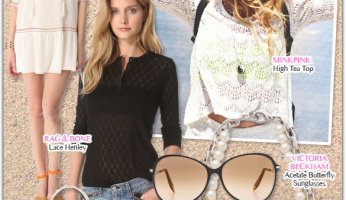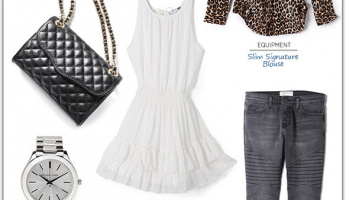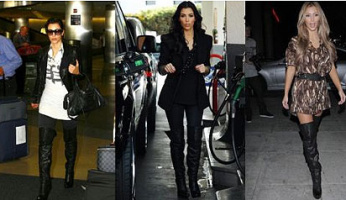 Subscribe to our Newsletter