Zooey Deschanel New Girl Style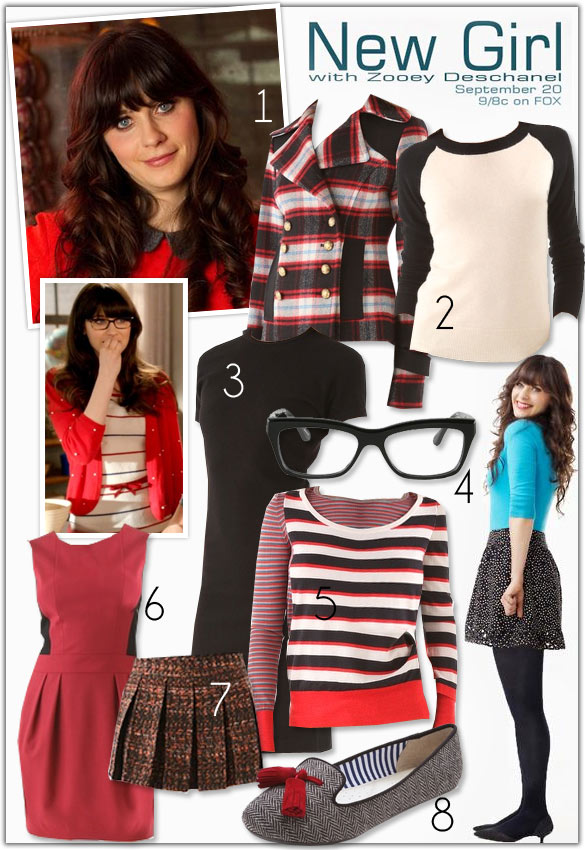 Quirky, hilarious, and absolutely sweet, New Girl Zooey Deschanel charms us Tuesday after Tuesday. Premiering September 25th, Deschanel is back with her boys, their antics, and the intrigue of last season's cliff hanger: will something happen between Nick and Jess? While we wait, I'd like to spotlight Jess's style. Her sweet style completely reflects her personality. She loves to wear short full skirts with tights and flats and mini dresses inspired by the mod sixties. Mixing stripes and polka dots, bold colors, and a plaid jacket here and there, her style is definitely youthful, vintage and vibrant. Add in a pair of retro plastic frames, bouncy curls, and an extra coat of mascara to get a New Girl vibe of your own.
1. 291 Baseball Cashmere Sweater: Living with all those boys, you're bound to steal some of their style. This borrowed-from-the-boys baseball tee is made over for a girly girl with its ultra soft cashmere fabrication and slim cut. Black sleeves and a black neckline add sporty contrast to a creme body. Pair with skinnies or boyfriends for laidback luxe styling.
2. Marc by Marc Jacobs Yaani Striped Sweater: Sweet stripes. Mix this sweater up with a navy mini skirt and tights for an outfit that Jess would wear on the job (she teaches grade school). Marc Jacobs mixes wide and skinny stripes with wide cuffs and a red bottom hem. For extra fun, he's hidden a pocket along the right seam. A fun layered look!
3. Theory Darua Tailor Dress: Who's that lady? Jess may have a sweet style, but she also knows how to rock a cocktail dress. This red number has a throwback sixties vibe with its bold color, mini hemline, front pleating and demure high neckline. Black contrasting back and side panels gives this dress a shot of modern trend. Just add black heels and a fun clutch!
4. Marc by Marc Jacobs Mika Sweater Dress: By day or by night, this sleek black sweater dress is a wear-with-all. For a shot of cuteness, Marc added a removable gold beaded collar. We've seen Jess wear a sweet Peter Pan collar many-a-time: on a sweet blouse, peeking out under a cardigan collar, or adding contrast to a party dress.
5. alice + olivia Houston Box Pleat Skirt: Mini madness. A mini skirt with a cardigan sweater or tucked in blouse is Jess's signature look. This box pleat mini is a grown-up version of schoolgirl style. Crisp pleats make up the bouclé skirt, while a wide waistband adds a sleek finish. An elastic back panel ensures a smooth, snug fit.
6. Elizabeth and James Delancey Glasses: Jess usually wears contacts, but when she opts for glasses she wears retro frames in thick plastic. Available in black or tortoiseshell, both colors are throwback classics. Pair with your look for an extra layer of Jess-inspired style!
7. Smythe Plaid Pea Coat: Preppy plaid. Heading into fall, I love to cozy up with a great plaid. The classic pea coat is suddenly ultra fun when done up in a preppy red plaid. Contrasting black panels, cuff straps, and pocket details along with brown buttons make this an excellent choice for weekend outings.
8. Charles Philip Landa Herringbone Flats: Another vintage preppy choice, the herringbone flat is definitely something Jess would take to school or on weekend outings. The smoking shoe cut along with the contrasting red tassel make these a fresh, fun choice for fall.
Most Read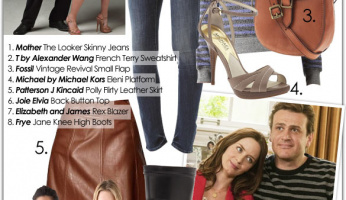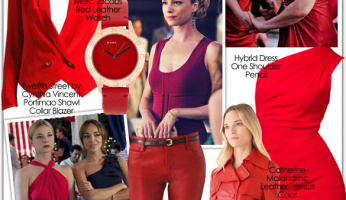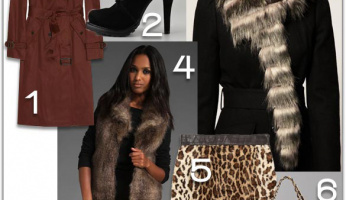 Subscribe to our Newsletter