Inner Beauty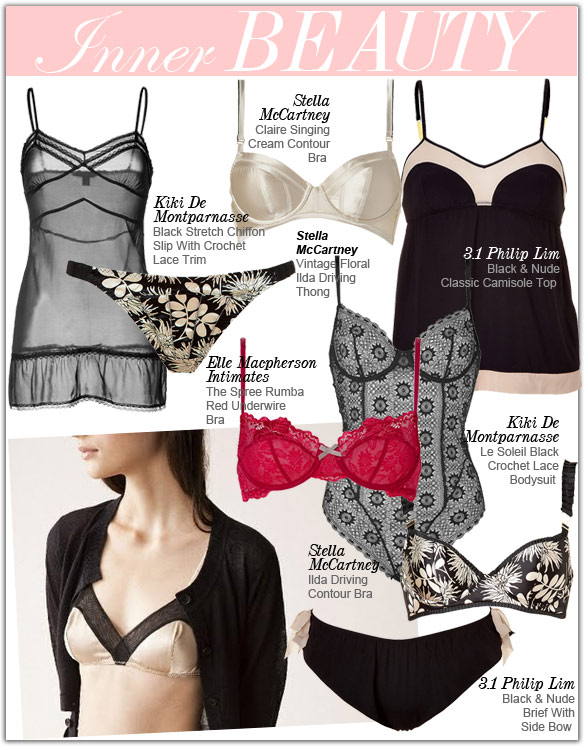 Even if you aren't ready to play peek-a-boo, what you wear on the inside affects how you feel on the outside. Let your inner beauty shine with an intimate makeover. From racy red lace to demure creme satin, stretch chiffon to crochet lace, modern colorblocks to vintage prints, there are a myriad of ways to express your personality (whether anyone sees or not). Feel gorgeous from the inside out, because a great outfit begins with fabulous underpinnings.
1. Kiki de Montparnasse Black Stretch Chiffon Slip with Crochet Lace Trim:
Sheer-ly sexy. Every girl needs a black slip, whether it be all alone in the bedroom or under this season's wide variety of dresses. Kiki de Montparnasses's black stretch chiffon is cut into a form-fitting slip and edged with a delicate crochet lace trim.
2. Kiki de Montparnasse Le Soleil Black Crochet Lace Bodysuit:
Hot on the outside or the inside, crochet has made a comeback. This entirely feminine bodysuit is crafted from beautifully crocheted sunbursts, making it a beautiful inner layer or seductive boudoir piece.
3. Elle Macpherson Intimates The Spree Rumba Red Underwire Bra:
Racy red. It's the classic color of hot nights and steamy days, but there's no need for a special occasion to celebrate beauty. Three-quarter cups make for a sweet shape in sassy red lace. Finished with tiny bow details.
4. 3.1 Phillip Lim Black and Nude Classic Camisole Top:
Colorblocks for the bedroom! This cute cami capitalizes on the colorblock trend in sleek black and nude. Perfect for lounging or as an underpinning, this modern camisole melds comfort and style.
5. 3.1 Phillip Lim Bow Bikini Briefs:
Completing the set, these briefs bring a lounge look together with their comfortable cut, stretch elastic waistband, and adorable side bow details. Modern, yet classic in Philip Lim's exquisite attention to tailoring.
6. Stella McCartney Claire Singing Cream Contour Bra:
If you must do basics, do them beautifully…as in this wardrobe essential cream contour bra. Fine silk stretch is crafted into a lightly padded demi bra. Working well under all your workwear, this bra balances necessity and femininity perfectly.
7. Stella McCartney Black and Gold Ilda Driving Contour Bra:
Vintage-inspired, this McCartney bra captures the essence of vintage-wear with its wide straps, throw-back printed silk, and ruffled trim. Channel serious Old Hollywood glamor with this set.
8. Stella McCartney Black and Gold Vintage Floral Ilda Driving Thong:
You're sexy and you know it. Eliminate distracting lines with this classic brief thong. Pair with McCartney's matching bra or any black bra, cami or slip to put a little extra va-va in your voom.
Most Read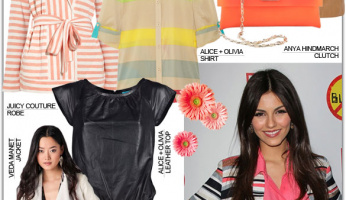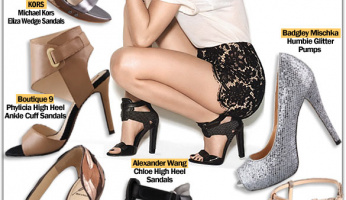 Subscribe to our Newsletter