Basic Essentials: Spring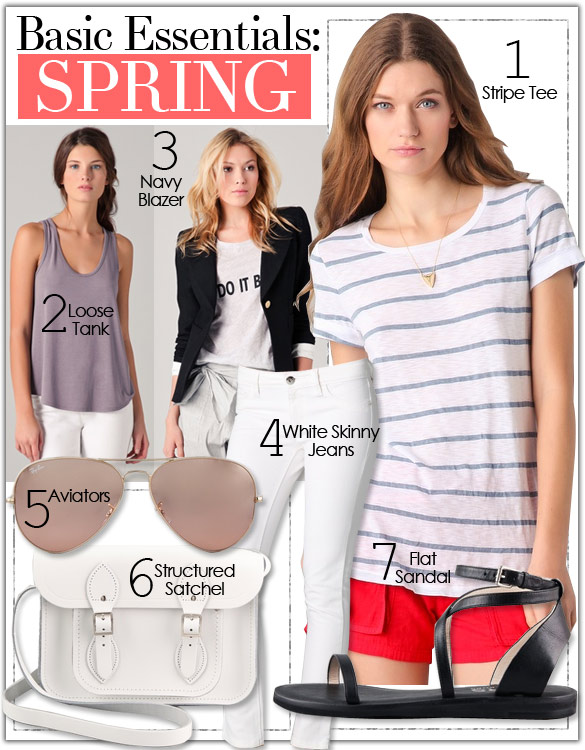 The essentials: a stripe tee, a loose tank, aviators, flat sandals, white skinny jeans, a structured satchel and a printed scarf. The combinations are endless, and the simplicity is divine. Whether you're packing for a getaway, doing a little spring cleaning or learning to buy just the necessities, this list of eight items provides the must-haves that will be the backbone of your wardrobe all spring and into the summer. Pick up the following for a look that is fresh, yet classic; trendy, yet timeless!
1. Stripe Tee:
Splendid Chambray Stripe Tee is a timeless t-shirt. Relaxed, yet tailored, a striped tee will get you through this season and many, many more to come. Pick classic creme and black or branch out with colors, a striped tee pairs back to skinnies for date night, cut offs for lounge, or layers up with a jacket and pencil skirt for work.
2. Aviators:
Ray-Ban Oversized Original Aviator Sunglasses, THE original. Once out of necessity and now out of pleasure, the aviator has always spoken classic sportswear style. Ray Ban is the gold standard of shades; their aviators are constructed of wire metal and finished with logo lettering.
3. Loose Tank:
I love the Vince Shirttail Hem Tank! As the mercury rises, we shed our sleeves. Much like the striped tee, a basic tank like Vince's wears well over everything, from your bikini to a crisp white skinny jean. By choosing a soft neutral like blush or taupe, you guarantee miles of wear, while the relaxed shape provides hours of comfort.
4. Flat Sandal:
The KORS Michael Kors Rosemary Ankle Wrap Sandals are the  perfect flat. Leaving gladiators behind, this season's flat sandals are streamlined and sleek. Michael Kors styled his Rosemary Sandals with a slim ankle strap for just a hint of the gladiator gone by. Style with a maxi dress or any short, as well as your colored crops.
5. White Skinny Jeans:
DL1961 Angel Ankle Jeans are crisp white and speaks of summer. Shedding the grays and blacks of winter, the white cropped jean works well with brights and lights. Pair with a blouse and blazer for work or a simple tank and flat sandal for weekend wear.
6. Structured Satchel:
Cambridge Satchel Classic 11″ Satchel, rethink structure. Not just for work and school, structure is also for weekend and play. Combining a bold gold color with a traditional satchel shape, this wear-with-all works anywhere you take it. Brighten up a monotone look or work it in with prints.
7. Navy Blazer:
This Smythe One Button Blazer is a must have piece. Princess Kate sparked a style craze with her Smythe blazer last summer, reigniting a classic. Whether you wear it back to a prim pencil skirt like royalty or over a roughed up pair of cutoffs, the navy blazer flatters all your looks.
Most Read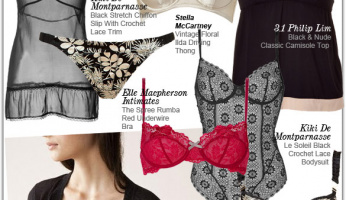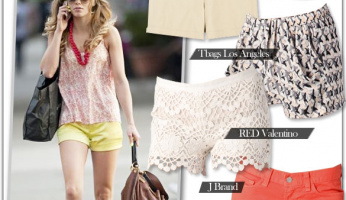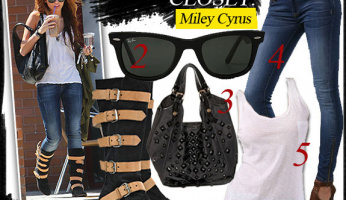 Subscribe to our Newsletter