How to Wear: Midi Dresses Just Add Wedges and Belt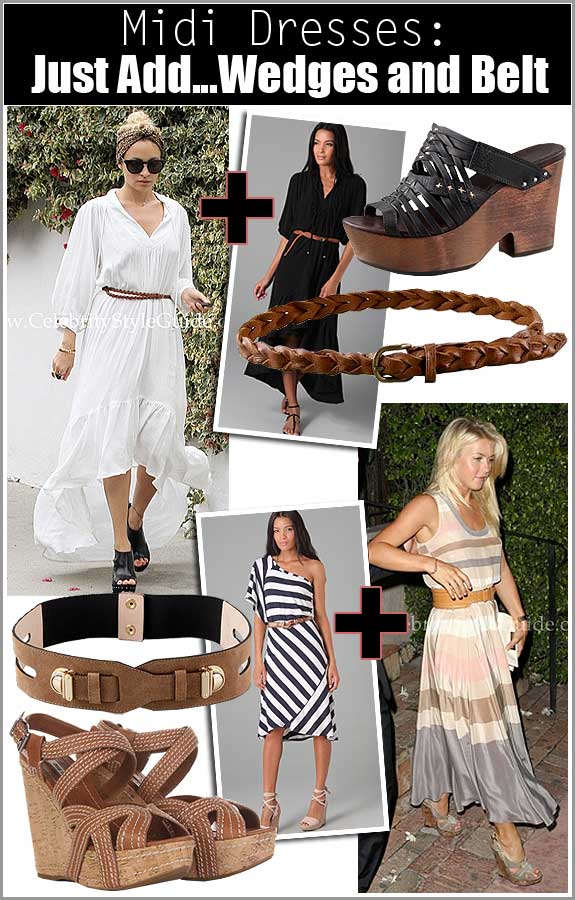 A flashback to the seventies, the midi dress is the freshest retro style this season. Sultry and sophisticated when done right, this length can also go frumpy and funky when done wrong. Here are two tips to get it just right. First, your midi dress should fall halfway between knee and ankle. (Too long, and your midi looks like a maxi gone high-water…too short, and it can no longer be called a midi!). And second, balance this throwback cut with fresh accessories. Just add wedges and a leather belt for style that's unmistakably Summer 2011.
1. Odylyne Barbet Long Dress in Black ($308)
Nicole Richie sported the Odylyne Barbet Dress in white, but I like it just as well in black. A ruffled, asymmetrical hem, split v-neck, and full three-quarter raglan sleeves give this midi a bohemian flair.
2.  Rag and Bone Berkane Wedge Sandals ($262)
Richie does her midi justice with an amazing pair of wedges. I love her chunky pair, and I also love these Rag and Bone wedges. This style is a hybrid of three of 2011's hottest shoes: the clog, the platform, and the wedge. Leather sandals with thin latticed straps, wooden platform and cutout wooden wedge heel.
3.  Motif 56 Lauren Belt ($99)
Finish this boho meets midi look with a thin, braided belt, just like Nicole's. The Motif 56 Lauren Belt creates a nice contrast to a full, ruffle embellished midi dress. Woven, glazed leather belt with a buckle closure and adjustable length.
4. Ella Moss Liberty Dress ($184)
Julianne Hough donned her midi for a date night with Ryan Seacrest. We love her midi meets nautical look…it's so unmistakably summer. The Ella Moss Liberty Dress gives the same nautical vibe with its navy and white stripes, one shoulder cut, and flirty, floucy skirt. Asymmetrical bottom hem, short flutter sleeve, and (so convenient!) built-in shelf bra.
5. Miu Miu Cork Wedge Sandals ($455)
Julianne accessorized her dress with sexy peep toe wedges. These Miu Miu's give the same vibe. Brown leather sandals with contrasting wedge heel and platform, criss-cross ankle strap, and silver toned side buckle closure.
6. BE & D Nicolette Belt ($178)
A skinny braided belt gives a more relaxed boho feel, while a wider, more sturdy belt gives a more pulled-together, polished vibe. Hough chose the latter of the two, and I think she chose right. Define your waist with this suede BE & D Nicolette Belt. You'll love its cutouts, push-lock details, and double-snap closure.
Most Read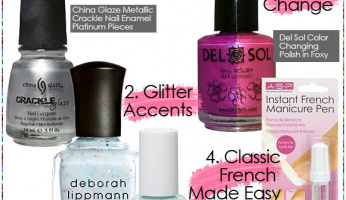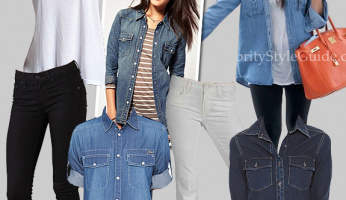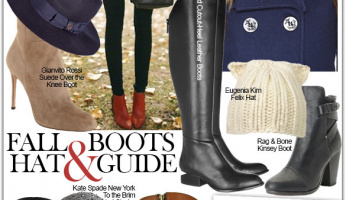 Subscribe to our Newsletter