Beauty Time: Nail Polish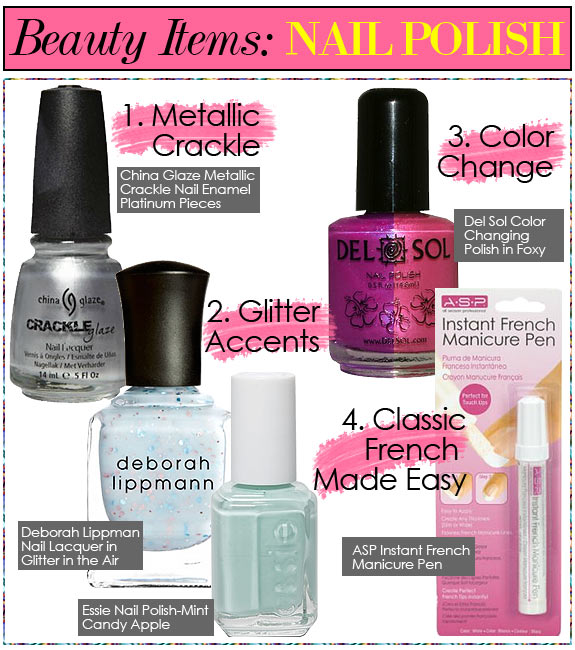 It's time to freshen up those nails for back-to-school or back-to-the-office beauty. Armed with your summer tan, these hot-off-the-runway nails are the perfect accessory: weightless to withstand the heat and bursting with style. Make a fabulous first impression with these four nail polish looks: metallic crackle, color change, glitter accents, or a classic made easy. Any one you choose is on-trend and ready for a fresh new start, season, or school year.

1. China Glaze Metallic Crackle Nail Enamel Platinum Piece ($6.99)
Nail polish goes extra edgy! Layer this metallic glaze over any polish for a seriously stylish metallic crackle finish. Specially formulated to crack as it dries, this style adds dimension and texture to your manicure.
2.Deborah Lippman Nail Lacquer in Glitter in the Air ($18)
Accessorize your nails with a little glitz. This Deborah Lippman nail polish makes the perfect top coat. Liven up any color in your medicine cabinet with  a complete top coat or a simple swipe along the side or tip of your nail.
Essie Nail Polish-Mint Candy Apple ($7.90)
I love this summer favorite for fall with a little swipe of glitter over top!
3. Del Sol Color Changing Polish in Foxy ($7.99)
One color inside, a whole different animal outside. This amazing polish goes from a flirty purple to a pleasing pink when your nails adjust to a new light. Definitely a conversation starter, this polish gives new meaning to "day to night look!"
4. ASP Instant French Manicure Pen ($6.99)
Perfect to touch up your French manicure in between trips to the salon or great for do-it-yourselfers, this pen makes this classic look impossibly easy. Create a thin or thick line or touch up nicks with this amazingly convenient pen.
Most Read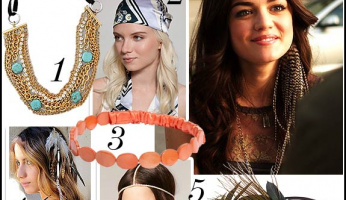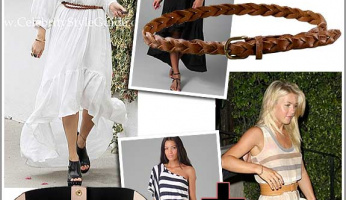 Subscribe to our Newsletter