Your Guide To Color Correcting: What To Use And When!
Have you ever tried to cover up your skin concerns using a full coverage concealer and foundation combo? Let me guess, it barely did the job! That's because our foundation is meant to match our natural skin tone.
When you have skin insecurities or discoloration, it needs to be color corrected to be properly concealed underneath your face base. Color correcting can seem daunting and complicated, but we're going to break it down for you.
This is your guide on how to color correct for a natural, even skin tone.
What are you trying to conceal?
Knowing your insecurities and pinpointing exactly what you want to conceal is vital. You'll pick your corresponding color correction color based on this. Some problem areas that are commonly color corrected are dark circles, discoloration, redness, and skin dullness.
Redness includes anything inflamed like spots and pimples. Discoloration refers to dark spots, sun spots, and any other type of patch of discolored skin. Dark circles are the hardest to conceal as they're usually very dark, especially against paler skin tones.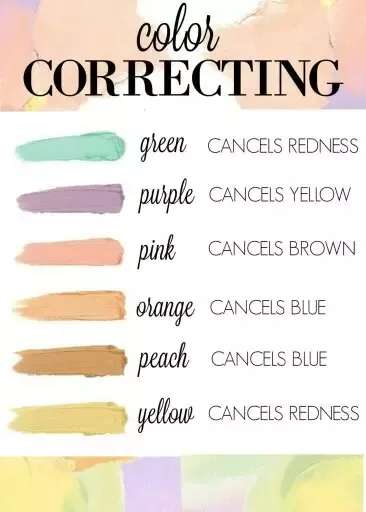 Even though dark circles have become a Tik Tok trend, some people still feel very insecure about leaving the house with bluish-purple bruise-like patches under their eyes.
What are the different color correcting options?
The most common color-correcting color is green. If we look at color theory, green is the opposite of red, meaning that a green color corrector will neutralize redness. This will help hide blemishes, blotchiness, rosacea, and other sources of redness on your face.
The second most common color corrector is peach. A peach concealer will disguise dark circles and dark spots on lighter skin tones. A lighter version of a peach concealer will work better on medium skin tones for the same purpose.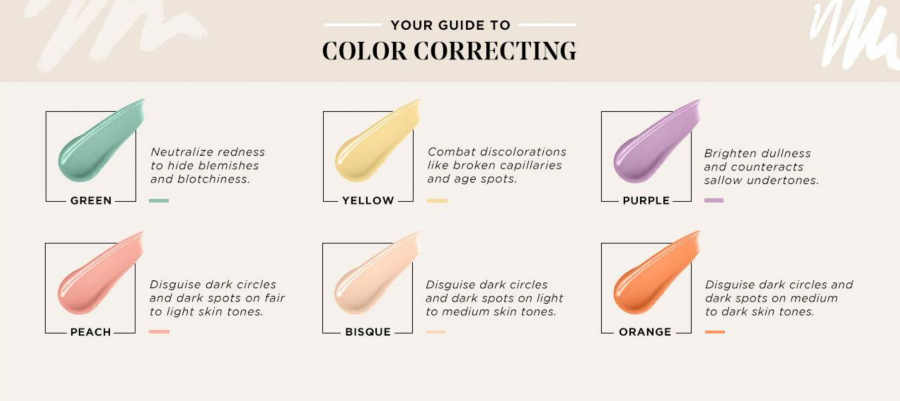 And, for darker skin tones, an orange concealer is the best for covering dark circles or spots.
The two lesser common color correctors are yellow and purples. Yellow will combat discoloration like age spots and sun sports. Purple will brighten dull skin, so it should be used anywhere you want to look more alive.
What are our recommended color correctors?
The Cicapair Tiger Grass Color Correcting Treatment from Dr. Jart+ is one of our favorites for redness. Our full review of this product outlined all of the pros and cons. It's an all-over green-tinted cream to help neutralize and even your skin tone.
The L.A Girl Pro Conceal Set comes with orange, yellow, and green cream concealers. They're lightweight but have medium coverage for efficient results. For under $10 on Amazon, this set is a must-have!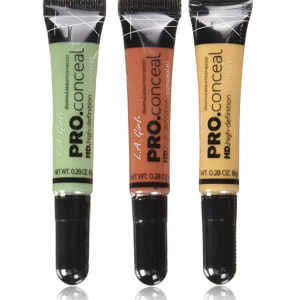 If you're looking for one palette to cover any and all potential skin concerns, this NYX Professional Makeup Color Correcting Concealer Palette is for you. It has six colors including green, yellow, orange, and three varieties of peach for different skin tones.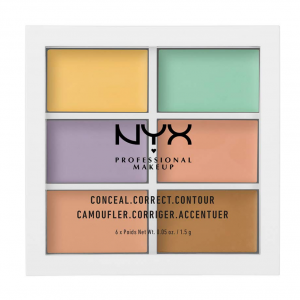 This palette has everything in one tin so you can grab and go, touching up throughout the day easily and without taking too much space in your makeup bag!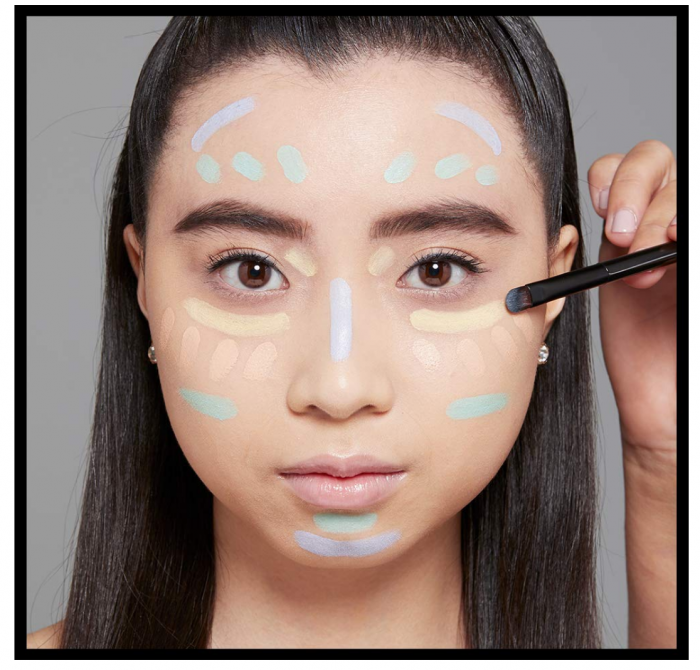 What step in your makeup routine should you be color correcting?
Color correcting should be done after applying your primer or face base, and before your foundation. The best method of application is using a small brush to target the areas of concern best. Blend out for a smooth transition but keep the color corrector on the problem area to avoid the color bleeding through your foundation.
Then, simply choose your favorite foundation and concealer combo and finish up your base. Set your makeup with a dusting of translucent powder or a spritz of setting spray to lock in all your hard work!
Subscribe to our Newsletter