How To Apply Magnetic Lashes in One Easy Step
False lashes are a staple for full glam-loving girls, makeup artists, and more. Eyelash extensions are essentially semi-permanent falsies. The similarity between the extensions and the glue-on lashes is that they can both be damaging to your natural lashes.
This is where magnetic lashes come in. There are two kinds of magnetic lashes with different applications. So, how exactly do you apply magnetic lashes?
1. The sandwiching Technique
The first kind of lashes you'll come across use a sandwiching technique involving two-piece magnetic lashes, one applied at the top of your natural lash and the second being applied underneath them. The tiny magnets in the lashes will stick the two together with your natural lash in between creating a natural look.
2. Using a Magnetic Eyeliner
The second kind of magnetic lashes uses an eyeliner as the bonder. The black liner that comes in the sets is magnetic and the lashes will ultimately stick to that.
After applying the eyeliner, wait for it to dry down before placing down your lashes. If you're using a liner-based magnetic lash, make sure to apply the eyeliner as close to your natural lash as possible to get a blended and seamless look.
How to Remove Magnetic Lashes
As for removing magnetic lashes, it's always done by gently peeling the lash away from your eyelid. The magnetics will detach once you start pulling it off. The magnetic eyeliner can be removed with an oil-based makeup remover or micellar water.
Sometimes the brand of lashes will have a specific makeup remover that you can test out, but coconut oil or micellar water work just as well. The lashes themselves should be cleaned as they are reusable and can last for up to 40 uses!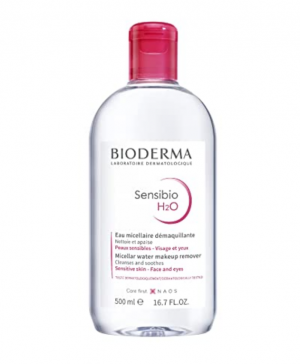 Do not submerge or pour liquid over the lashes as It can ruin the magnets. Instead, try using tweezers or your nail to simply scrape off any liner that came off. If there are makeup clumps in the lashes themselves, you can use a cotton pad with some makeup remover to gently wipe it off.
Now that we've covered the ins and outs of magnetic lashes, let's talk about our favorite brands and styles. Here are our top five magnetic lashes that'll have you trading in your lash glue after the first use.
1. Kiss Magnetic Eyeliner & Lure Lash Kit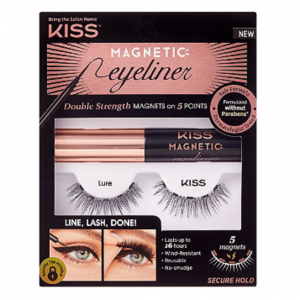 The Kiss Magnetic Eyelash Kit comes with a magnetic liquid eyeliner as well as magnetic faux mink lashes with five double-strength magnets to hold them in place all day long. The magnetic liner glides on smoothly and easily like any other liquid eyeliner.
Both the liner and the lashes have been dermatologist tested and are gentle on the sensitive skin of your eyes. This no-smudge, wind-resistant eyeliner will last up to 16 hours!
2. Ardell Magnetic Lash Accent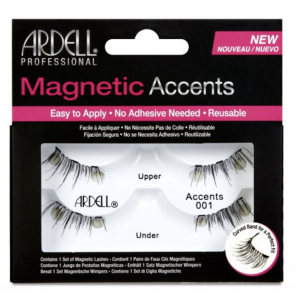 The Ardell Magnetic Lashes use the sandwiching technique that we covered earlier. These lashes have six to eight tiny magnets that are supposed to offer a more secure hold. They are strategically placed from end to end for complete magnetic contact and a virtually seamless appearance.
You simply place the top lashes on top of your natural lash and the bottom ones underneath them and they will lock together.
The great thing about this type of lash is the lack of adhesive, as well as the natural result. Since these lashes are placed directly over your natural lash line, you'll have that your-lash-but-better look.
3. Tori Belle 9 to 5 Magnetic Eyeliner and Lash Bundle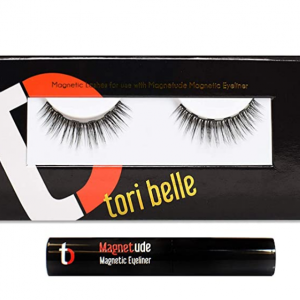 The Tori Belle 9 to 4 Magnetic Eyeliner and Lash bundle comes with a magnetic eyeliner as well as the lashes. This bundle is gluten-free, cruelty-free, vegan, and nickel-free.
The lashes are applied, as usual, using the magnetic eyeliner first and then pressing the lashes over top once dried.
The directions on these lashes specifically say to apply two coats of eyeliner, letting it dry in between. The lashes themselves have ten mini magnets on them.
4. Easbeauty Magnetic Eyeliner and Eyelash Kit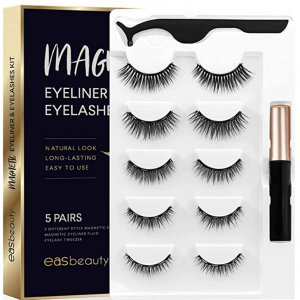 The Easbeauty Magnetic Eyeliner and Eyelash kit is one of the best deals we've seen. Not only does this kit come with a magnetic liner, but it comes with five sets of lashes in different lengths.
The liner itself is infused with more magnetic particles than most for a stable lash that won't droop as the hours' pass. The sets of lashes come in everything from natural to extremely dramatic so that you have a lash for every occasion.
Still not sure if these lashes work? They've been tested and approved by nearly 25, 000 happy Amazon customers.
5. Arishine 3D 6D Magnetic Eyelash and Eyeliner Kit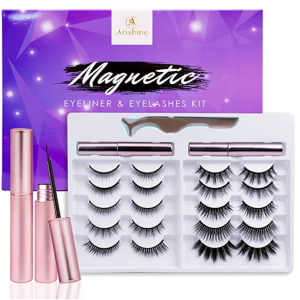 The Arishine Magnetic Lashes are also a liner-based magnetic lash. The kit comes with two magnetic eyeliner tubes, ten sets of unique lashes, and a tweezer-like tool to help with the application process. The sets of lashes come in a variety of lengths and styles that can be reused time and time again.
This kit is easy to use, just apply the liner as you normally would and wait until it's nearly dry. Apply the lashes over top, as close to your lash line as possible for an immediate, long-wearing, and natural-looking end result.
Subscribe to our Newsletter