Happy Halloween! The Ghosts Of TV Shows Past!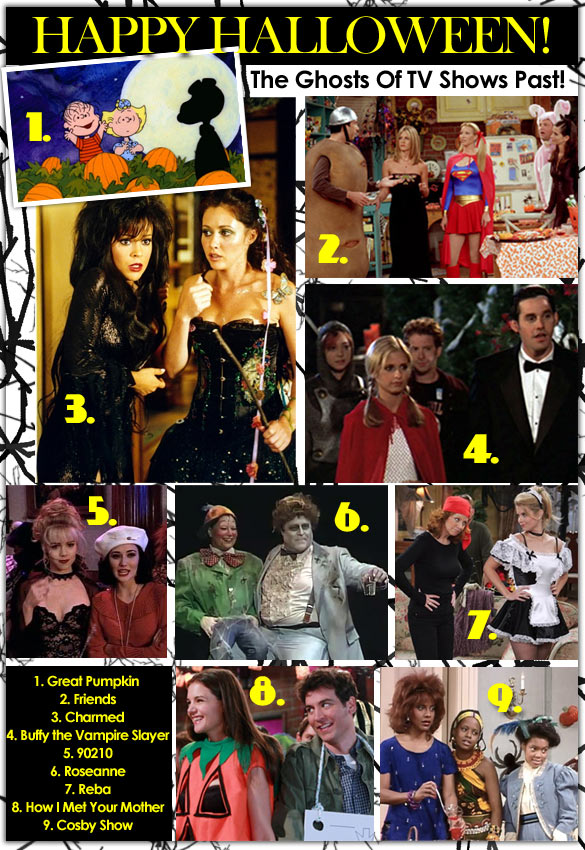 Happy Halloween from everyone here at Celebrity Style Guide! Some of my all-time favorite TV episodes are the much-anticipated Halloween shows. Today I'm calling forth the ghosts of TV shows past for inspiration. Please enjoy this creepy walk down memory lane…
1. It's the Great Pumpkin, Charlie Brown: No childhood is complete without the annual October viewing of "It's a Great Pumpkin, Charlie Brown." Cheer on America's first underdog, along with Linus, Lucy, and our favorite fiesty pooch, Snoopy.
2. Friends: Oh how we miss the Friends Halloween episodes! Who can forget Ross in his "Spudnik" costume, Chandler as a big fluffy bunny or Rachel in her non-costume LBD? We miss our thirty-somethings New Yorkers and their Hallow-laughs!
3. Charmed: Halloween to the Power of Three. Shannen Doherty, Holly Marie Combs, and Alyssa Milano played for lots of treats in this series where every day was Halloween. The three good witches, Prue, Piper, and Phoebe (and later Paige, played by Rose McGowan), battle the forces of evil while trying to maintain their anonymity as regular humans. Miss this show? Catch Supernatural for thrills and chills.
4. Buffy the Vampire Slayer: Buffy! Sarah Michelle Gellar will live on in infamy in her role as Buffy. Battling the dark forces (vampires were cool, even before Kristen Stewart and Twilight!), Buffy and her Scooby Gang had a cult of young Americans following her every courageous move. Re-watching this old episodes makes for a great Halloween evening!
5. 90210: Halloween, done with drama. There was always trouble brewing in this zipcode, no matter what the holiday. The girls of West Beverly Hills High School (Jennie Garth, Shannen Doherty, Tori Spelling) always pulled together some foxy costumes…and plenty of melodrama as well.
6. Roseanne: Working class fun, the Conner family always knew how to do it up for Halloween. A hearty amount of laughs was always in store this time of year, as we tried to guess what Roseanne Barr and John Goodman had up their sleeves for All Hallow's Eve.
7. Reba: Gone country. Reba McEntire knew how to get the family together for some treats and tricks every year, even as a busy single mother. Her sarcastic humor and down-home attitude made for laughs and a kernel of wisdom in every episode.
8. How I Met Your Mother: Ted Mosby and his gang gather together in the city, sneaking around with snarky humor and the inevitable laughs that follow. These friends knew how to do up the Halloween party with laughs and some great costume inspiration.
9. The Cosby Show: An iconic treat. The Huxtable family, led by Bill Cosby and Phylicia Rashad as Cliff and Clair, knew how to celebrate with wholesome family fun. The Hustable kids' antics always led to a healthy amount of chuckles, and their costumes were always family-friendly.
I hope your day is full of more treats than tricks! ~Heather
Most Read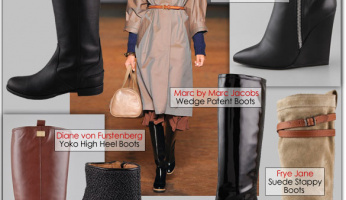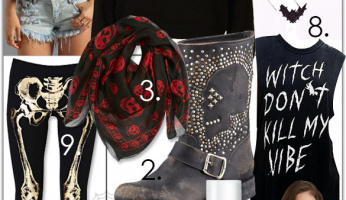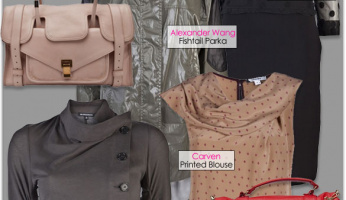 Subscribe to our Newsletter