Candy Aisle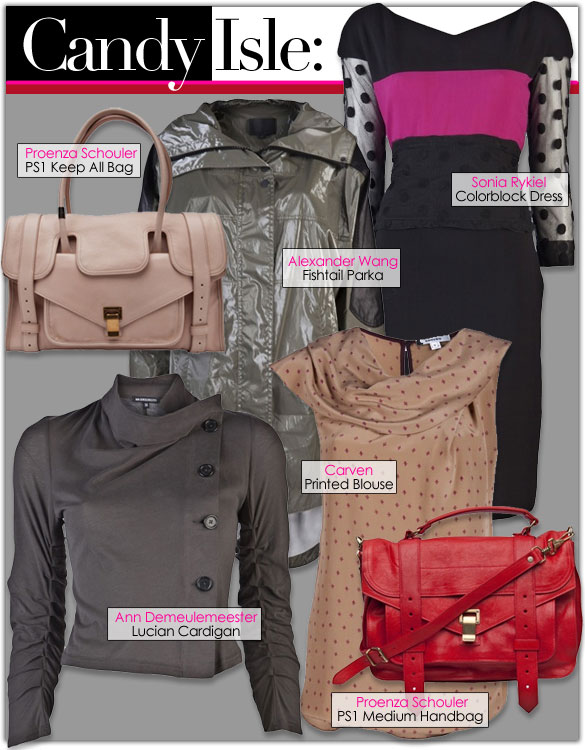 Have a craving? Satisfy your sweet tooth with this delicious collection of non-edibles. We're salivating over ultra luxe Proenza Schouler bags. Brimming with style, these keep-all bags have room for everything in show-stopping red or warm-toned beige. Need some eye candy? Liven up your wardrobe with a print, whether it be a Carven blouse or a vibrant colorblocked Sonia Rykiel sheath. Finally, add a little Ann Demeulemeester and add the edge to any look. Shop these decadent treats now:
1. Proenza Schouler PS1 Keep All Bag ($1250)
Latched, locked and ready to rock. Rich, creamy beige leather is crafted into the ultimate indulgence and finished with latches, locks, and, of course, Proenza Schouler's signature straps. Engraved logo plate on front with double handles.
2. Carven Printed Blouse ($390)
Cravin' Carven. This luxurious silk blouse is cut with a generous shawl collar, rounded bottom hem, and keyhole back. Pair back to your favorite denim for a day in the sun or your favorite cardigan for your 9-to-5. Dotted with delicate little red fleur de lis prints.
3. Ann Demeulemeester Lucian Cardigan ($435)
The edge this cardigan gives is so delicious, you'll throw it on over everything. Available in rich smoky gray, this ultra soft sweater has a fashion-forward asymmetrical closure with eye-catching ruched sleeves.
4. Sonia Rykiel Colorblock Dress ($1595)
Every woman needs a dress this divine. Sweetened up with a fushia colorblock, this LBD gets an extra dose of sugar with its sheer polka dotted sleeves and back panel. A back tie bow adds the final flourish.
5. Proenza Schouler PS1 Medium Handbag ($1595)
One is just not enough. Go for seconds with the rich, redness of the PS1 Medium Handbag. Soft, supple leather is accented by double straps, front lock, and top flap. Carry by single handle or detachable shoulder strap, and wear with absolutely everything in your closet.
6. Alexander Wang Fishtail Parka ($865)
Cold-weather coverups don't get more urban chic than this Alexander Wang Alexander Wang Fishtail Parka. Alexander Wang redefines urban edge with an ultra-modern oversized poncho in luxe glossy coated cotton. An imposing silhouette takes you through the season with a head-turning accent of characteristic Alexander Wang cool.
Most Read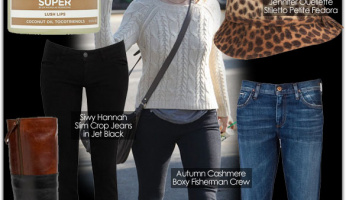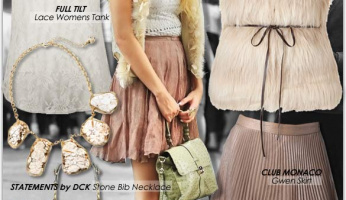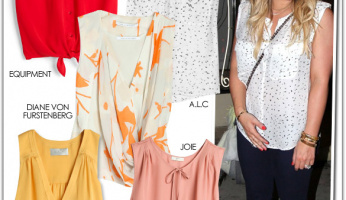 Subscribe to our Newsletter