Guilty Pleasure Show: Bachelor Pad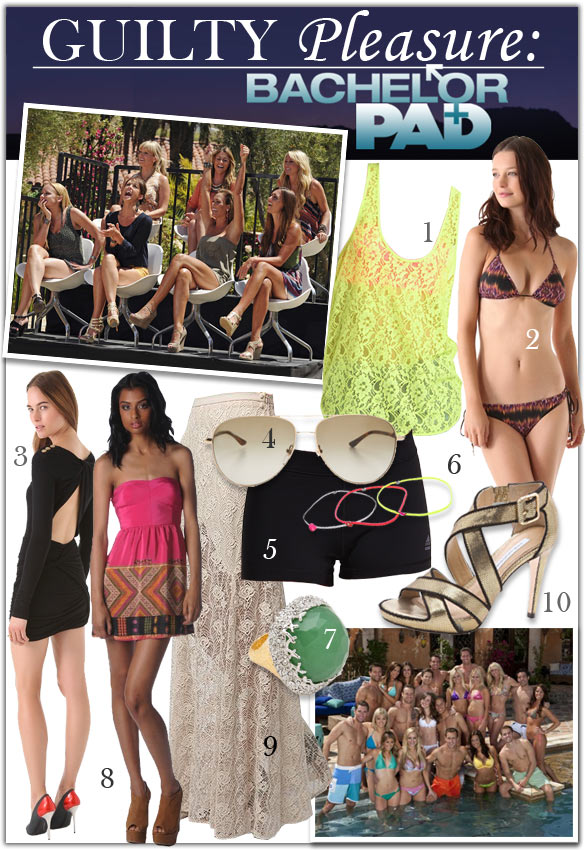 Grab your glass of wine, your chocolate, and your sweats. Everyone's got their favorite midweek treat, their guilty pleasure show. Ours happens to be Bachelor Pad. Die-hard Bachelor and Bachelorette fans can't get enough of the love triangles, the drama, and the cat fights. Will crafty Chris stay around yet another week? How will Rachel fare now that her love interest Michael is gone? And will surprise couple Kalon and Lindzi become the power couple in the house? We can't wait to sink our teeth into tonight's episode, but in the meantime, here are our favorite Bachelor Pad-inspired pieces. From classic shades to sexy sandals, booty-licious bikinis to cheeky yoga shorts, the guys and girls know how to put together a camera-ready look. Our favorite guilty pleasure trends this season are lacy looks and neon accents.
1. Stella McCartney Aviators: Everyone's got a pair, male or female. Gold rimmed or silver, metallic lenses or tinted brown. The aviator continues to be the sunglasses of choice. These Stella McCartney shades are done up in gold wire frames, gradient lenses, and golden tortoiseshell detailing. The bachelors and bachelorettes wear them all day, every day.
2. Diane von Furstenberg Jodi Strap Sandals: Oh so sexy. The bachelorettes work their metallic heels for cocktail parties and date nights. Perhaps they love the versatility, but we're guessing it's about the glitz. These glamorous DVF sandals feature black trimmed gold straps that crisscross the toes and ankles for sexy styling at any event.
3. Matthew Williamson Escape Faze Stripe Triangle Bikini: Poolside style is a cornerstone of Bachelor Pad style. Contestants love to show off their camera-ready bods in skimpy suits and trendy bikinis like this Matthew Williamson. This teeny tiny bikini is one of our favorites with its tribal inspired print.
4. Faith Connexion Long Sleeve Dress: Come hither cutouts. The other cornerstone look of Bachelor Pad is the cocktail dress. Each week, the contestants pull on their cocktail dresses and stilettos to conspire and vote off one unlucky guy and girl. A big trend this season is cutouts, whether they be side or an entire back, like on this Faith Connexion Dress. Body hugging construction with artful fabric twists front and back.
5. Adidas TECHFIT Boyshort: "Cheeky" style. The yoga booty short seems to be the girls choice for competition days. Paired with a neon tank or v-neck tee, a boyshort manages to be sexy and sporty at the same time. These boyshorts have a booty-hugging fit and a contrasting Adidas logo.
6. Juicy Couture S/3 Charm Head Bands: To accent their competition looks, the bachelorettes add a neon headband. Giving a shot of color to a ponytail or messy bun, this fun accessory makes a workout more fun! This fun trio of hair bands have fun little charm details.
7. Urban Outfitters Ecote Crochet Mermaid Maxi Skirt: As seen on Lindzi Cox.  The maxi skirt reborn. Vintage-inspired, it features romantic ivory lace, side button details, and a mermaid silhouette. This gorgeous maxi is worthy of a cocktail party or a dreamy date with its see-through composition.
8. Trouve Lace Tank: Blakely paired her yoga shorts with a neon tank for contest day last week. I love it with a contrasting tank or bralet underneath for day or night. The neon hue is a fresh update to a basic black legging or black skinny jean.
9. Twelfth Street By Cynthia Vincent Party Dress: Pretty in pink. Be the belle of the cocktail party in this hot pink number. Edged in a Thai print, it stuns with its delicious color and flirty skirt. Pair with a simple sandal and an armful of bangles.
10. Alexis Bittar Ring: Hoping for a ring. All the contestants are looking for that special someone. Until they do, a statement ring like this is a placeholder for their diamond. Play with high and low styling by mixing this stunning ring with jeans and a tank or let it shine against your cocktail look.
Most Read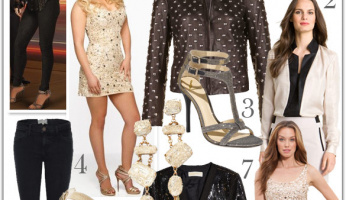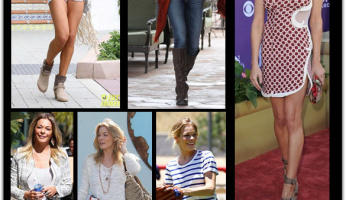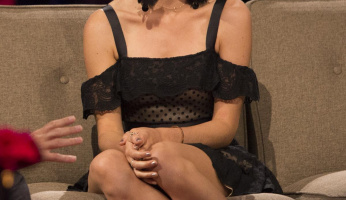 Subscribe to our Newsletter