Fire & Ice: The Ladies of Nashville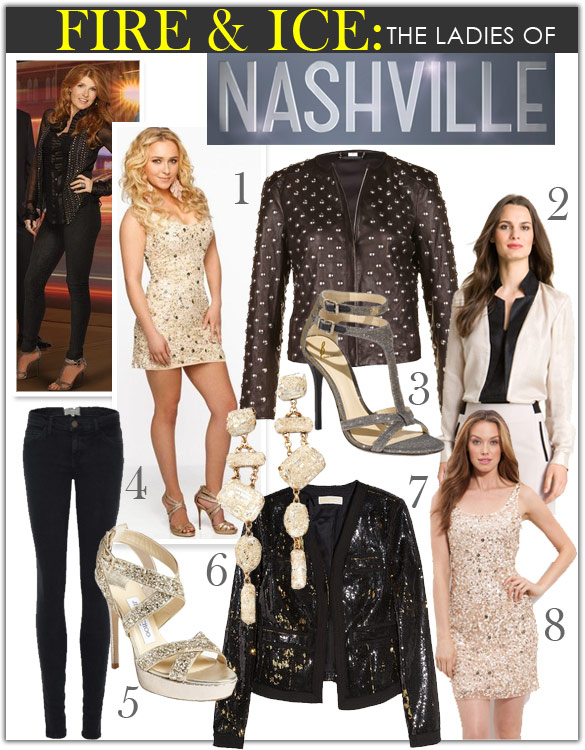 I am so excited for the upcoming Fall TV season and the much anticipated new shows! One of the sure to be hit shows can be described as a classic tale of fire and ice. Opposites, equally beautiful, yet unable to coexist with each other. It's a fitting metaphor for the ladies of ABC's upcoming drama Nashville. Connie Britton plays Rayna James, a legendary country queen whose popularity is beginning to slip away from her. Hayden Panetierre plays the young and ambitious Juliette Barnes, a diva who's scheming to steal the spotlight. The record labels want Rayna and Juliette to share a stage, and a vicious power struggle begins. These beautiful country stars carry on their lives in brilliant style, a mix of classic country (think lots of sequins, tight jeans, and big earrings) and modern trend (the mini dress, the stilletto, the fitted leather jacket, the boyfriend blazer).
1. Rachel Roy Silk Tuxedo Shirt: Layered with a be-sequined blazer and stilettos, this blouse is stage worthy. Tucked into a pencil skirt or paired with a tuxedo pant, this creme and black blouse works office to office party. A lovely juxtaposition of feminine silk and structured menswear.
2. Current/Elliott The Ankle Skinny Jeans: No country queen's wardrobe is complete without her figure-hugging jeans. A trend-worthy skinny jean in an ankle-skimming length guarantees that your stilettos will get the proper amount of attention. A washed black pair like Current/Elliott's is a must-have because of their edgy versatility.
3. Elizabeth and James Rex Sequin Blazer: Set to sparkle. Layer this blazer over a basic tank or solid blouse and get ready to wow. A grown-up way to pull off sequins, this look provides coverage without sacrificing any fun. Keep the rest of your look simple when wearing this piece. Fun for a first date, and looking forward, for the holidays.
4. B Brian Atwood Laeticia Sandal: Rayna finishes her washed black denim with a sparkling stiletto sandal like Brian Atwood's. Play up a simple pair of jeans with a standout heel like this. Silver verging on gunmetal, this t-strap has gold buckles and a matte black heel.
5. Erickson Beamon Smoke & Mirrors Earrings: Country queens share a love of oversized earrings. Erickson Beamon's Smoke & Mirrors Earrings sparkle under the spotlights, the paparazzi flashes, and even the low light of an intimate dinner out. A variety of shapes cascade on a gold chain.
6. Pisarro Nights Short Sequin Sheath Dress: Some like it hot. This short sequin sheath is for anyone who wants to steal the show, whether that be literally like Juliette or figuratively. Light-catching and ultra sparkly, this mesh dress is decked out with sequins in a variety of colors and sizes.
7. Jimmy Choo Vamp Sandal: Can't get enough. Country singers double up on sparkle, like by layering a sequin dress with gold sandals and diamond earrings. For the rest of us, it is wise to choose one sequin piece at a time. Dress up a simple pair of jeans or a matte cocktail dress with these glittering gold Jimmy Choo's.
8. Diane von Furstenberg Kate Studded Leather Jacket: Add the edge. For post-show partying, Juliette may layer a leather jacket over her sequin sheath. Layer this studded leather jacket over a simple black tank dress for an edgy take on an all-black look. The gold studs on this black leather jacket play up a closet staple in a fresh way.
Most Read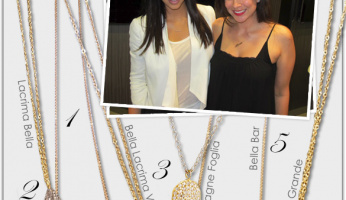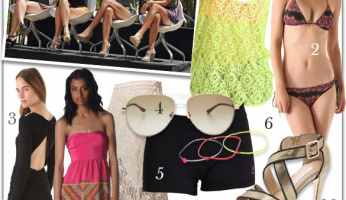 Subscribe to our Newsletter