Guest Editor: Madeline Hollern Senior Editor at Austin Monthly Magazine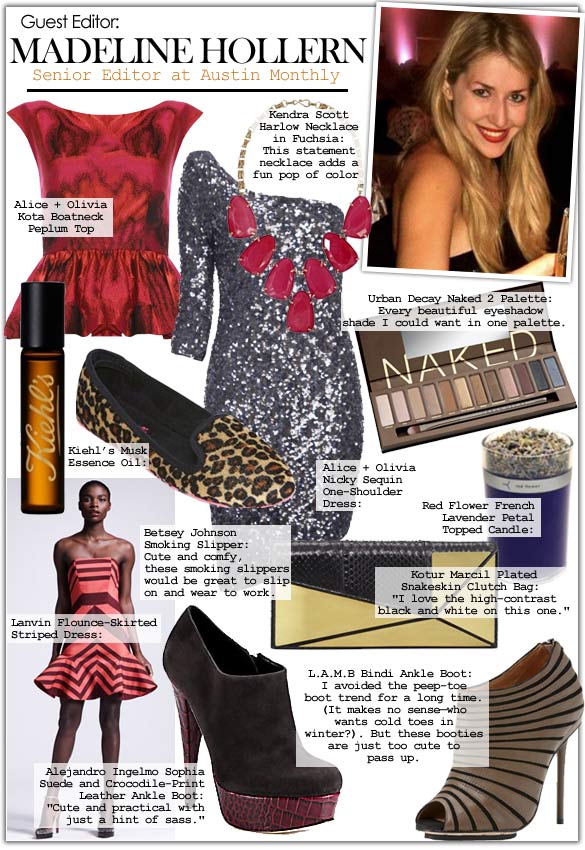 Style and beauty editors at major magazines have access to the best buys and most fabulous fashion finds on the market! I love to learn about what's catching the eyes of the industry's top editors and what they have on their wish lists.
This month I had the privilege of sharing my favorite things in the December issue of Austin Monthly Magazine. To return the favor, Madeline Hollern (Senior Editor at Austin Monthly Magazine) is sharing her list with us!
Madeline grew up in Minneapolis, moved to Texas when she was nine. Lived in Amarillo until college. Graduated valedictorian of College of Communication at UT in 2007 with a journalism degree. She worked for ENVY magazine, 944 magazine and San Antonio Magazine between 2007 and 2011, taking her from Houston to Austin to Dallas to San Antonio. (It was a crazy few years!) She returned to Austin in March 2011 to become senior editor at Austin Monthly.
At Austin Monthly she covers Style, Travel and Scene.
Impeccable style and flawless taste with a flair for fun. That's how I like to describe this list. Let it be your guide for picking holiday pieces to add to your wardrobe, or use it to shop for the fashionistas in your life. Madeline included pieces to create stunning holiday looks…using color, shine, and fabulous accessories to pep up any wardrobe. Also included are beautiful gift items, like a beautiful smelling musk, a luxurious candle, and a gorgeous eyeshadow palette.
A very special thank you to Madeline! Please read on for her holiday list, plus her take on each item:
1. Lanvin Flounce-Skirted Striped Dress:  "How fun is this? The ultimate party dress."
2. L.A.M.B Bindi Ankle Boot: "I avoided the peep-toe boot trend for a long time. (It makes no sense—who wants cold toes in winter?). But these booties are just too cute to pass up."
3. Kotur Marcil Plated Snakeskin Clutch Bag: "I love the high-contrast black and white on this one."
4. Alejandro Ingelmo Sophia Suede and Crocodile-Print Leather Ankle Boot: "Cute and practical with just a hint of sass."
5. Kiehl's Musk Essence Oil: "My sister Claudia gave me this for Christmas a few years ago, and I haven't stopped wearing it since. I swear the scent is intoxicating! I've gotten my friends hooked on it, too—now we all  "musk up" before we hit the town."
6. Alice + Olivia Nicky Sequin One-Shoulder Dress: "I love that sequins are no longer reserved for New Year's Eve. They make any outfit special!"

7. Urban Decay Naked 2 Palette: "Every beautiful eyeshadow shade I could want in one palette."
8. Betsey Johnson Smoking Slipper: "Cute and comfy, these smoking slippers would be great to slip on and wear to work."
9. Kendra Scott Harlow Necklace in Fuchsia: "This statement necklace adds a fun pop of color."
10. Red Flower French Lavender Petal Topped Candle: "Lavender has an amazing calming effect. This candle plus a glass of red wine are the perfect antidote to a long day!"
11. Alice + Olivia Kota Boatneck Peplum Top: I can see Madeline herself rocking this peplum top, a must-have trend. In an eye-catching holiday red print, this pick looks hot with a black leather legging and heel come office party time!
Most Read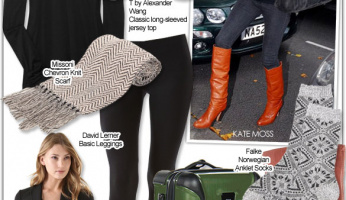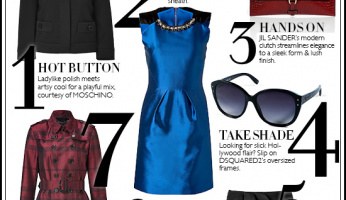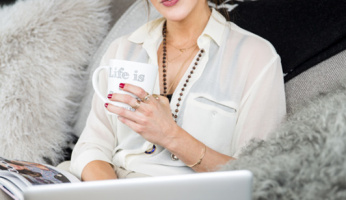 Subscribe to our Newsletter