Celebrity Style Travel Guide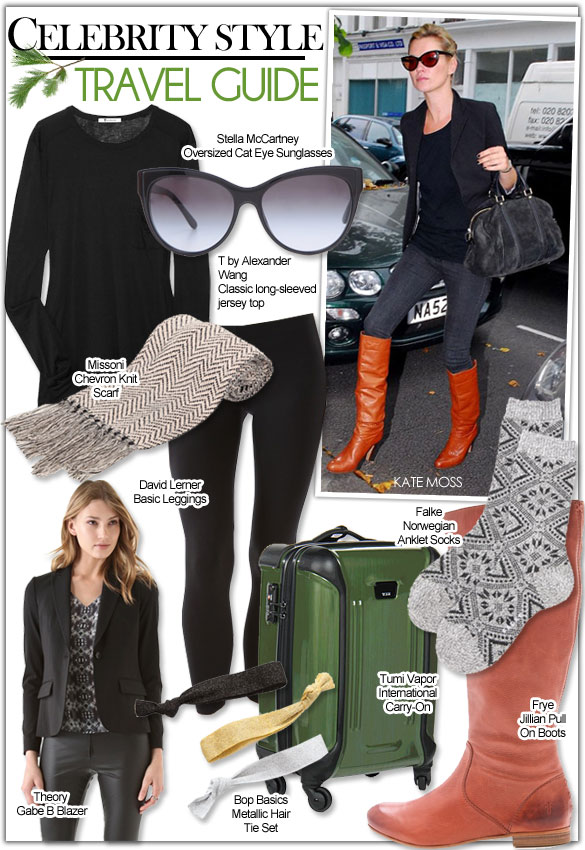 Let the traveling begin! With Christmas less than two weeks away, the travel season is in full swing. Perhaps you've already pulled out the suitcase and began the deliberations about what to (or not to) bring. As you plan, don't overlook your day of travel look. My guidelines are the same as Kate Moss's outfit, featured in today's collage. Black is best when traveling, because this color hides travels stains, gives you a lean look, and has urban appeal. Light layers are also a must as traveling includes a multitude of temperature changes. Choose fabrics with stretch, especially in pants, to avoid rumples and wrinkles. And finally reach for statement accessories, like Moss's bright cognac-colored boots, to stand out in the crowd. Read on for more travel must-haves!
1.  Falke Norwegian Anklet Socks: When you shuffle through security, socks are not only a cute accessory that you get to show off, but a sanitary necessity. Super soft, this sock features an adorably appropriate snowflake pattern.
2.  David Lerner Basic Leggings: The ideal bottom for traveling, this pant won't arrive at its destination with rumples or wrinkles. Composed of black jersey, they are both light and tight for a smooth silhouette and comfortable fit.
3. Frye Jillian Pull On Boots: These spice-colored boots are the way to make a statement in an all-black ensemble. Plus, the versatile color wears well with whatever you've packed for the rest of your trip. A comfortable stacked heel and supple leather construction ensure that these boots were made for walking…even running across terminals. A Frye boot is forever, so invest in one you love!
4.  Theory Gabe B Blazer: Wear-with-all. This light, layer-able wool blazer works for many temperatures and occasions. Wear one to the airport for warmth and style, then wear it during your travels as a versatile outfit topper.
5.  Missoni Chevron Knit Scarf: Missoni's chevrons are a no-fail option, a nod to this season's love affair with fun patterns and in simple black and white, an elegant choice as well. A scarf makes a great light blanket for the plane, too!
6.  T by Alexander Wang Classic Long-Sleeved Jersey Top: Another light layer, this basic layering tee works as your outfit base. Layer on a sweater, jacket, and scarf, then adjust your layers as needed. This sheer tee can be dressed up or down.
7.  Bop Basics Metallic Hair Tie Set: Never leave home without them. Whether it's static cling from dry winter air or the humidity from a tropical location, your hair might not survive the trip. Cute metallic hair ties to the rescue! Tie up your hair and add fun sparkle to your outfit.
8. Stella McCartney Oversized Cat Eye Sunglasses: Speaking of not surviving the trip, your eye makeup might not either. Whether it's the early morning, last night's party or a long day on the road, cover botched eye makeup, dark circles or puffy eyes with an oversized pair of sunglasses.
9. Tumi Vapor International Carry-On: The ultimate carry-on, this hard-sided suitcase has room for all your essentials and the ability to protect your precious cargo. Of course, its swivel wheels ensure that you'll never get stuck in an awkward situation either.

Most Read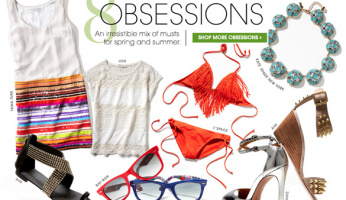 Subscribe to our Newsletter