Exclusive! Celebrity Style Christmas List: Kristin Cavallari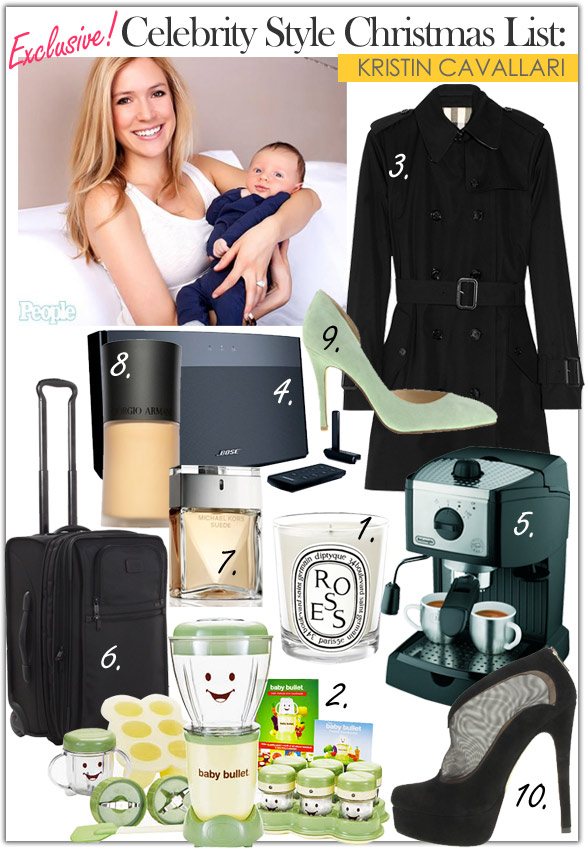 I'm so excited to share another Christmas list this morning: Kristin Cavallari has agreed to be a guest editor again this year! Setting aside a bit of time for us in her busy schedule as new mother to Camden, Kristin shares with us her Christmas wishes. It's a sweet combination of mommy essentials and fashionista desires, so if you're a new mom, or if you know a new mom, let this list be your guide. The fashionista in Kristin wants style: a crisp trench, a stunning pump, and a wow bootie heel. The mommy in her needs appliances: Baby Bullet for baby, espresso machine for mommy, and Bose system for all. And the woman in her relishes simple indulgences like scented candles, luxurious perfume, and luminous foundation. Without further ado, here are the beautiful Kristin Cavallari's holiday picks:
1. Diptyque Roses Scented Candle: Parisian made, and a delight the world over. This Diptyque candles boasts a simple smell, the gentle fragrance of the rose. Light it and be transported to a serene scene.
2. Baby Bullet: When you make your own baby food, you know exactly what ingredients are going into your child's mouth. Experience the satisfaction of homemade baby food with the convenience of the Baby Bullet: everything you need to create your sweet baby's first bites!
3. Burberry London Black Trench Coat: Time is of the essence as a mother. When the elusive perfect look isn't happening or when baby decides to spit up, cover the transgression with this chic trench and no one will ever know. A must-have for mothers on the go, this elegant classic gives you a pulled together look in a snap.
4. Bose Wireless Speakers: Kristin says, "You can take them anywhere and they look great!" We agree. Take your music on the run, whether that be with your child at an outdoor picnic or afterhours at your own cocktail party. Legendary sound anywhere you desire!
5. Espresso Maker: Long nights make for long days as a new mother. Ease the sleep deprivation with your own deluxe espresso maker, and skip the trip to the coffee house in favor of an extra cuddle with your baby.
6. TUMI Suitcase: Kristin Cavallari is a mom on the go. Whether you have the same traveling schedule or not, you'll appreciate the compact convenience of this TUMI suitcase. It goes everywhere with ease!
7. Michael by Michael Kors Perfume: A signature scent. Spray on Michael Kors "Suede" and feel the sensuality of suede on skin. This inspired perfume has notes of sandalwood, orange blossom, and jasmine. A lovely, feminine scent!
8. Giorgio Armani 'Luminous Silk' Foundation: Celebrity favorite. Graced with InStyle's Best Beauty Buy award-winner for "Best Liquid Foundation" and  "#1 Makeup Artist's Choice," this foundation has star qualities. Whether your preparing to walk the red carpet or just entertaining friends, capture a glow with this luminous foundation.
9. Kristin Cavallari Chinese Laundry Copertina: Cavallari is a new mom, but her fashion sense is in mint condition. We celebrate winter's trend color with these classic point toe pumps. Pair with gray, black, denim or creme to let these mint green beauties have their moment.
10. Kristin Cavallari Chinese Laundry Letizi : For afterhours, Kristin could pair these ultra hot booties with anything from a mini to a leather legging. My favorite element is the composition: sultry suede hyped up with sexy mesh. A mommy never looked so hot!
Most Read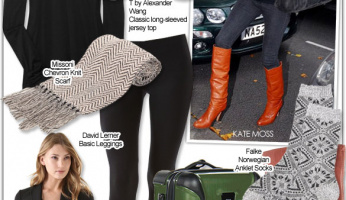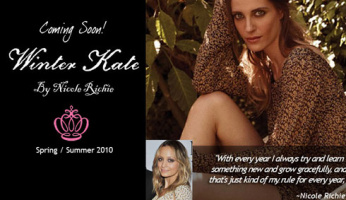 Subscribe to our Newsletter