Guest Editor Alana Sands: These Are A Few Of My Favorite Things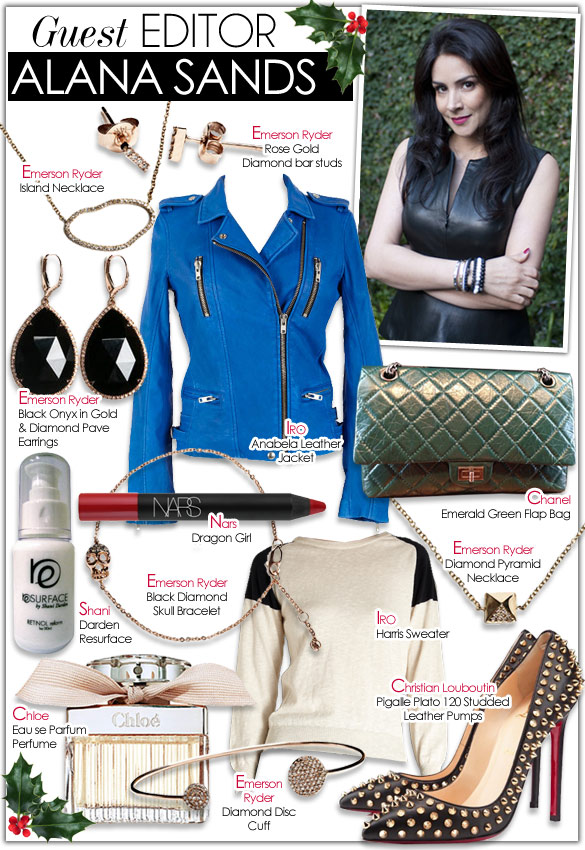 Although there are no "raindrops on roses and whiskers on kittens, bright copper kettles and warm woolen mittens" on her list, everything else I'd love to find wrapped up in "brown paper packages tied up with strings." My guest editor is Alana Sands, and in case you don't know this amazing woman, she's the designer of Emerson Ryder Jewelry (not to mention wife of dentist-to-the-stars Kevin Sands and mommy to two beautiful boys). Her stunning designs have been worn by Minka Kelly, Kim Kardashian, Nikki Reed, Alessandra Ambrosio…..and me! I'm not surprised to find many of her pieces on her own favorite things list, because when a designer's pieces are this excellent, they just have to be worn. This year, when "silver white winters…melt into spring" these will still be a few of your favorite things!
1. Christian Louboutin Pigalle Plato 120 Studded Leather Pumps: Red-bottomed bliss. This Pigalle Plato Pump has the makings of a classic with its red bottom, stiletto heel and pointed toe…add gold studs to the piece, and you're got insta-holiday party.
2. Chanel Emerald Green Flap Bag: More demure than red, emerald green ushers in the holidays with laid-back luxe. There is no denying that a classic like this Chanel is the ultimate gift for any fashionista. Outfitted with signature quilting and gold chain strap.
3. Resurface by Shani Darden Retinol Reform: Since the fountain of youth still hasn't be discovered, we'll settle for the next best thing. Shani Darden's Retinol Reform repairs wrinkles and fine lines while fighting acne and the signs of aging. A stocking stuffer or treat to buy yourself!
4. Emerson Ryder Rose Gold Diamond Bar Studs: A little box means a big gift. I adore these simple bar studs, set with four diamonds in warm rose gold. A elegant classic for a memorable holiday!
5. IRO Anabela Leather Jacket: Work a cool take on color-blocking with IRO's electric blue Anabela Leather Jacket jacket. This biker style will add the label's signature mix of downtown edge and Parisian chic to off-duty outfits – team it with skinny jeans and heels to strike the perfect note.
6. Emerson Ryder Black Onyx in Gold and Diamond Pave Earrings: Fit for the red carpet. These black onyx drop earrings are faceted and set with a diamond pave border. Although versatile, they are statement makers. I can definitely see Kim Kardashian bringing attention to her voluminous wavy hair with these earrings.
7. Emerson Ryder Diamond Disc Cuff: Simple shape, a stunning style. Lauren Conrad and other OC IT girls have been sporting these delicate cuff bracelets. More elegant that summer's beaded bracelets, they have the same wear-with-all attitude. Rose gold with diamond-studded discs.
8. Chloé Eau de Parfum: Capturing the spirit of women, the Chloé vision is not about one singular woman, but rather about the rich and varied personalities of all Chloé women. This fresh, smooth floral fragrance evokes sublime powdery rose. The effect is chic, comfortable, and entirely addictive.
9. Emerson Ryder Black Diamond Skull Bracelet: For the edgy girl or the preppy girl looking to shake things up, Alana Sands styles a thin rose gold bracelet with a playful black diamond-crusted skull. Miley Cyrus would rock it, as would Kristin Stewart.
10. Emerson Ryder Diamond Pyramid Necklace: So nice, I've featured it twice. Alana and I agree: diamond pyramid studs = celebrity style. Whether you're Minka Kelly, Alessandra Ambrosio or….you, stud embellishments bring out the star fashionista in all of us!
11. NARS Dragon Girl Velvet Matte Lip Pencil: Winner of Allure magazine's 'Best of Beauty' award for Best Long-Wearing Lipstick. Paint the town red with this Holiday! The convenience of a pencil with the application of a lipstick in a jumbo-size crayon design. Instantly coats lips with rich pigment, imparting a velvet matte finish for seamless color. The long lasting yet non-drying formula is enriched with special emollients for a creamy texture, while a combination of unique silicones ensures long-lasting, velvety color for hours.
12. Emerson Ryder Island Necklace: Dreaming of warm breezes, turquoise waters, and the tropical sun? So are we. Get your fix with this warm, yellow-gold necklace. Catch extra sparkle with its diamond studs, and wear until the spring sun shines (and right into summer).
13. IRO Harris Sweater: Give your casualwear a luxurious lift with this IRO Harris oh so soft sweater. Finished with black contrast shoulder panels, this two-tone style will make a cozy partner to winter's printed jeans.
Most Read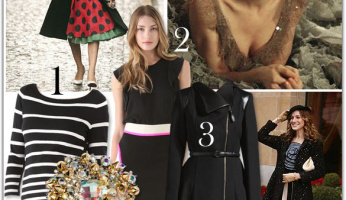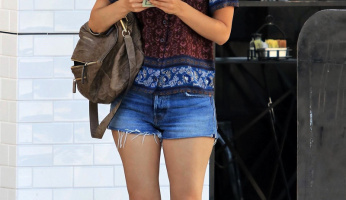 Subscribe to our Newsletter