Get Beach Ready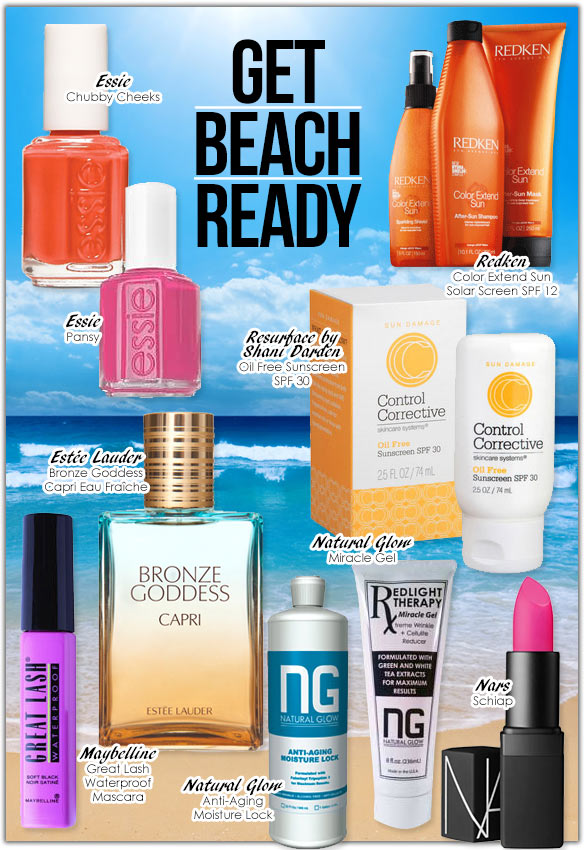 This morning I'm dreaming of white sand beaches, turquoise waters, and fruity drinks. In the midst of paperwork and phone calls, emails and meetings, my oasis has been the thought that even though spring break season is over, summer beach season is right around the corner. I'm inviting you to come along today in dreaming, and maybe a little shopping. All the products on my list are for getting beach-ready, and there's nothing better for getting in a summer state of mind. Whether you head out for a candy-colored pedicure or just pick up a summer-ready perfume, these little purchases will get you beach ready. Aruba…Jamaica…Oooo I wanna take you…Bermuda…Bahama…Come on pretty mama…
Pretty Pedicure: Think sweet pastel pinks and fiery corals
1. Essie Pansy: Prance through the pansies, or in this case, beach boardwalks. Pastels and soft pinks are big in nail polish, for your hands and your feet. This delicious color reminds me of a juicy piece of watermelon.
2. Essie Chubby Cheeks: If bold beach is what you're after, ditch the pink and go fiery coral, coral verging on orange. I love how this color stands up to nautical navy, crisp white, and tropical turquoise.
Freshen Up Your Fragrance
3. Estée Lauder Bronze Goddess Capri Eau Fraîche: Be a bronze goddess. Spritz on this lovely new fragrance from Estee Lauder and be swept away into a new season…it smells like a tropical beach with a citrus twist.

Kick Cellulite to the Curb

4. Natural Glow Miracle Gel: More heat means more skin. Kick cellulite to the curb with this miracle gel…as well as fine lines, wrinkles, stretch marks and scares. It contains anti-aging peptides with white and green tea extracts, and really gets the job done. I use this twice a day everyday. I slather on my legs before a workout with my Zaggorra hotpants and have had great results!
Ramp Up Your SPF
5. Resurface by Shani Darden Oil Free Sunscreen SPF 30: The best skin secret any dermatologist will give you is this: sunscreen, sunscreen and more sunscreen. There's simply no better skin saver than skin protection.
Moisturize, Moisturize, Moisturize
6. Natural Glow Anti-Aging Moisture Lock: A moisturizing body shot! Lock in  moisture, lock in your youth. This moisturizing formula extends the life of your spray tan with Matrixyl, an ingredient that also works on fine lines and wrinkles. It restores radiance for younger-looking skin.
Go Bright With Your Lipstick
7. Nars Schiap: Eye-popping pink. This fresh-faced color is youthful and fun, so pucker up with something pink. Ramp up any beach-going ensemble with this finishing touch.
Save Your Hair
8. Redken Color Extend Sun Solar Screen SPF 12:In all the excitement to get to the beach, I usually forget to protect my hair. This Redken system provides a layer of SPF protection when you spray it on.
Splashproof Your Lashes
9. Maybelline Great Lash Waterproof Mascara: I never go anywhere without a coat of Great Lash, beach included, but I swap my usual formula for this wave-proof waterproof when heading to the surf 'n sand.
(Psst….more swim season beauty secrets here…)
Most Read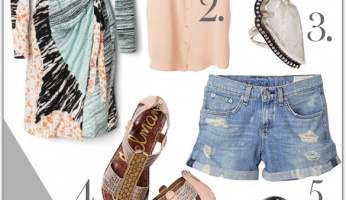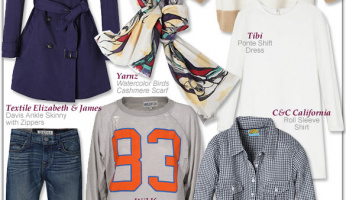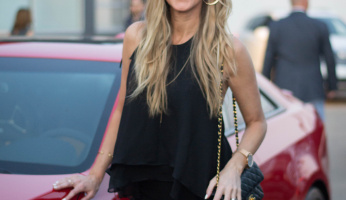 Subscribe to our Newsletter