Fourth Ray Beauty Review: Is It Worth The Hype?
Fourth Ray Beauty is an up-and-coming vegan, cruelty-free brand. It's made with botanical ingredients and the latest, high-performing, trending techniques. If you haven't heard of Fourth Ray Beauty, you may have heard of ColourPop. ColourPop is an online drugstore-quality brand of makeup.
They do cool collaborations including Disney, The Mandalorian, Sailor Moon and so much more. Their products are effective, affordable, and made in the U.S.A. They've won tons of awards including the Glamour beauty award, Allure Best of Beauty, Influenster Reviewer's Choice, Temptalia reader's choice, and Ok! Beauty Award.
Fourth Ray Beauty is a sister company, meaning they hold close affiliations to ColourPop. They are owned by the same parent company and are subsidiaries of a larger beauty brand. Fourth Ray Beauty takes an affordable approach to skincare, offering high-quality, powerful products for less. They have every step of your skincare routine covered from cleansers to tonics, masks and lip treatments, face oils, mists as well as tools.
You can buy a whole skincare routine of just Fourth Ray Beauty and be set. But, are the products really worth it? Let's inspect some of the most popular items on the website to see if this brand is as good as they claim to be!
1. Rays & Shine Jelly Cleanser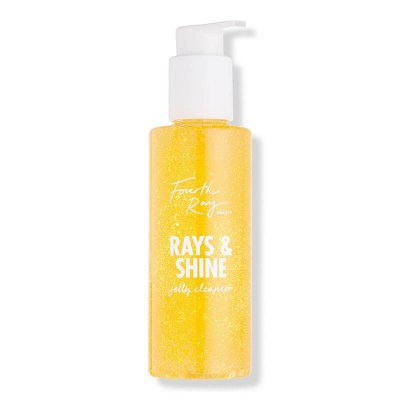 The Rays & Shine Jello Cleanser morning cleanser is antioxidant-rich, containing Vitamin C to help with a brighter and healthier-looking complexion. It's a daily AM cleanser featuring vitamin C, turmeric, and camu camu. Turmeric is a natural antioxidant that will calm any redness. Camu Camu is known to be rich in vitamin C which will support healthy, luminous skin.
These ingredients actually sound great. While most cleansers have alcohol as the main ingredient, it seems that this cleanser doesn't. That means that it is a non-stripping cleanser which will contribute to locking in moisture all day long.
This cleanser retails for $15 at 5.8 oz. This is decent for the ingredients and size, especially considering that even some drugstore cleansers like CeraVe are in the $20-$30 range.
2. Rainfall 2% Hyaluronic Acid Serum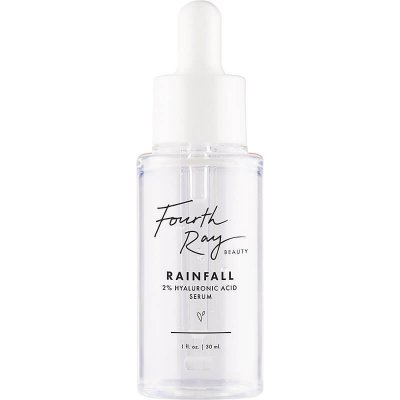 A good hyaluronic acid serum is hard to find. Hyaluronic acid is an amazing moisturizing agent. It essentially works like a magnet, attracting all the moisture it can find and locking it in. Hyaluronic acid will also contribute to a plumper, younger-looking complexion.
The Rainfall 2% Hyaluronic Acid Serum also features seaweed sugar which replenishes hydration and supports skin health as well as cucumber water which is a great source of hydration and can soothe the skin.
As far as hyaluronic acid serums go, they rarely come cheap. For comparison, Glossier's hyaluronic acid serum is $35. The Rainfall serum by Fourth Ray Beauty retails for $16. This is definitely an affordable price point for the ingredients.
3. Remedy Niacinamide Serum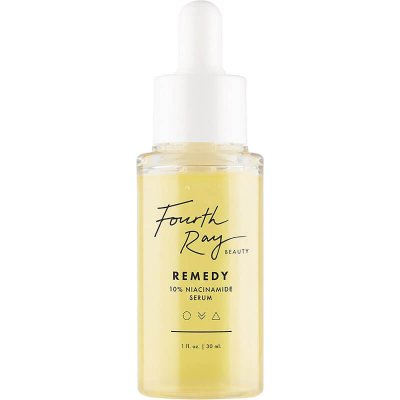 Niacinamide is one of those ingredients that became trendy overnight. It went viral on Tik Tok, specifically, The Ordinary's Niacinamide 10% + Zinc 1% serum. Fourth Ray Beauty has their own niacinamide serum that we think is worth checking out.  Niacinamide serums help to support skin health, target enlarged pores and skin clarity.
Remedy Niacinamide Serum also includes hyaluronic acid and calendula flower. Calendula flower will protect and condition the skin while hyaluronic acid will give you that much-needed burst of hydration. The high 10% of niacinamide will effectively contribute to minimizing pores and evening out your skin tone.
The Ordinary's Niacinamide retails for $5.90 while Fourth Ray Beauty's serum is $16. The percentage of niacinamide is great, and the other key ingredients also sound helpful, especially to those with sensitive or dry skin. Although, there are niacinamide treatments and serums for less. So, give this a shot if it's accessible to you, but if you just don't have the budget, there are other options.
4. A-Ha Moment Enzyme Mask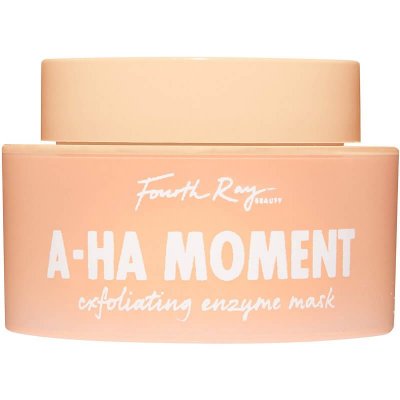 AHAs are a form of acid that helps to chemically exfoliate the skin. The A-Ha Moment Enzyme Mask will help to resurface your skin with its blend of plant-based and chemical exfoliants. Papaya enzymes have excellent exfoliating properties while a blend of glycolic acid and lactic acid will do the same. Cranberry polish is used to help renew and refresh dull skin.
Papaya extract is very common in high-end exfoliators, so we love to see the addition of a plant-based source. Glycolic and lactic acids are also helpful AHAs that contribute to resurfacing our skin. They are safe to use at home and just as effective as getting a facial quite honestly. This mask is $16, and we think that's a fair price.
Exfoliators can be pricey and so can face masks. Skincare is business first, and these products tend to be marked up in price. For $16, we think it's time to try out this enzyme mask!
5. The Daily Face Cream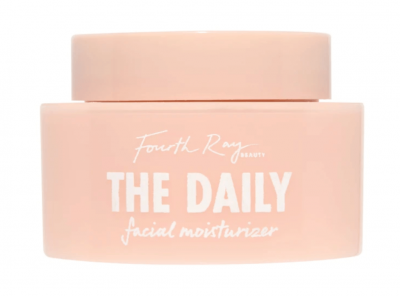 Moisturizers are a vital part of any skincare routine. They are completely necessary whether you have oily skin, dry skin, or sensitive skin. If you're in the market for a new daily face cream, make sure to choose one with great key ingredients.
Fourth Ray Beauty's Daily Face Cream has three components to it. It includes Squalane which is known to improve elasticity in the skin. It helps to support your skin's natural barrier. Squalane is a trending ingredient right now known for its effectiveness in locking in moisture and helping with overall skin health. It also includes vitamin E which is a nourishing antioxidant. Lastly, lychee is used for its high content of vitamin C and vitamin B complex. This will help to brighten your complexion and contribute to clear skin.
This product retails for $16, and once again, we think that's a great price point! Moisturizers can be expensive and this one includes all the same ingredients we'd see in high-end products but for a fraction of the price. Vitamin E is a popular ingredient in moisturizers that often spike up the price. If you're looking for a vitamin E-infused daily face cream, this one is worth a try!
6. Watermelon Face Polish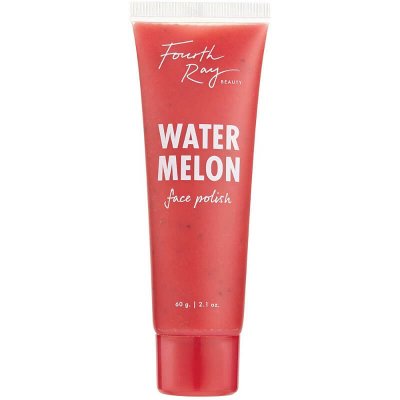 Face polishes are essentially just very gentle manual exfoliants. This Watermelon Face Polish uses very fine sugar and poppy seeds that will remove dead skin, restore dull and uneven complexions and leave your skin looking fresh.
Sugar can be tricky. If the grains of sugar are too large, they can be damaging to your skin, creating tiny micro holes. Polishes usually don't come with this problem, it's the products labeled scrubs that you need to be extra cautious about. Other than the sugar and poppy seeds, this polish has watermelon seed oil which is rich in antioxidants, vitamin A, and vitamin E which will balance and soothe your skin.
If you're wary about using a chemical exfoliant, a face polish is a great place to start. Removing dead skin and product build-up will help your other skincare products absorb into your skin much better. This means that you need to be exfoliating a couple of times a week. Opting for a gentle face polish can reduce damage caused by scrubs or irritation caused by chemical exfoliants.
This product retails for $14. Many scrubs and polishes can be found for less at the drugstore, but $14 is not overpriced. If you have to budget to try this, the ingredients sound promising. But, if you're looking for a true budget buy, we think you can find something more cost-efficient.
Most Read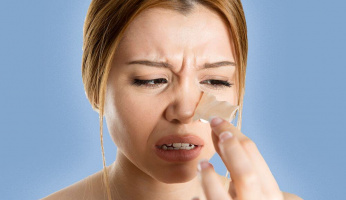 Subscribe to our Newsletter