The Secret To Blake Lively's Flawless Makeup in 'A Simple Favor'
Vivian Baker is an Emmy Award-winning makeup artist with over 30 years experience and a dream resume, having worked with Blake Lively on multiple films. Vivian shares exclusively with Celebrity Style Guide the secret to Blake Lively's flawless makeup in her latest thriller 'A Simple Favor.'
In the film, Blake plays Emily, whose sudden disappearance from her small town leads to her husband, Sean, (played by Henry Golding, who also stars in Crazy Rich Asians) and her best friend, Stephanie (played by Anna Kendrick) attempting to delve deeper into Emily's hidden past. While the trailer doesn't give away many plot details, the thriller sure looks like it'll be a wild ride.
Vivian revealed to me the products she used and must-have beauty tool she swears by for Blake's flawless makeup.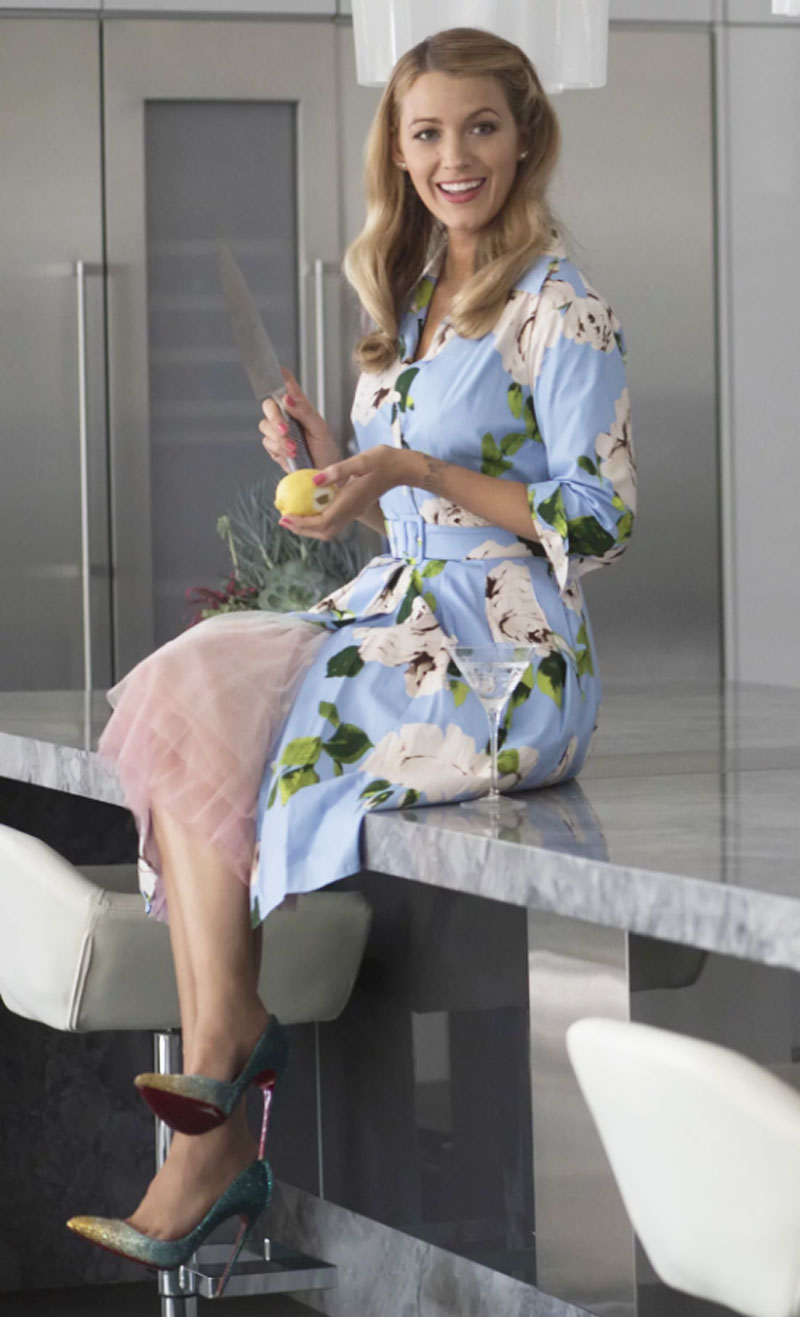 Vivian Shares The Importance Of Great Lighting
Blake and I have worked together on a number of projects, and she is a witness to the value of proper light. All the skin tones and undertones cannot be seen without a fully daylight balanced light. And from Blake's perspective̶ needing to look at lights while her Makeup is being applied̶ they need to be easy on the eyes. As the Digital Age of film entered into my world as a professional film makeup artist who also does prosthetics, lighting became an issue. I needed much more advanced lights to be able to create the work for 4, and now 8k, digital cameras.
My Husband, Michael Astalos, had been supplying the FILM, TV, COMMERCIAL, PRINT, and RUNWAY industry for years with portable makeup stations. But I needed something that was smaller and would be an addition to my makeup trailer. Something that I could put in my kit and go do press work and red carpet. Easy to travel and set up in the smallest of spaces. THE MAKEUP LIGHT was born.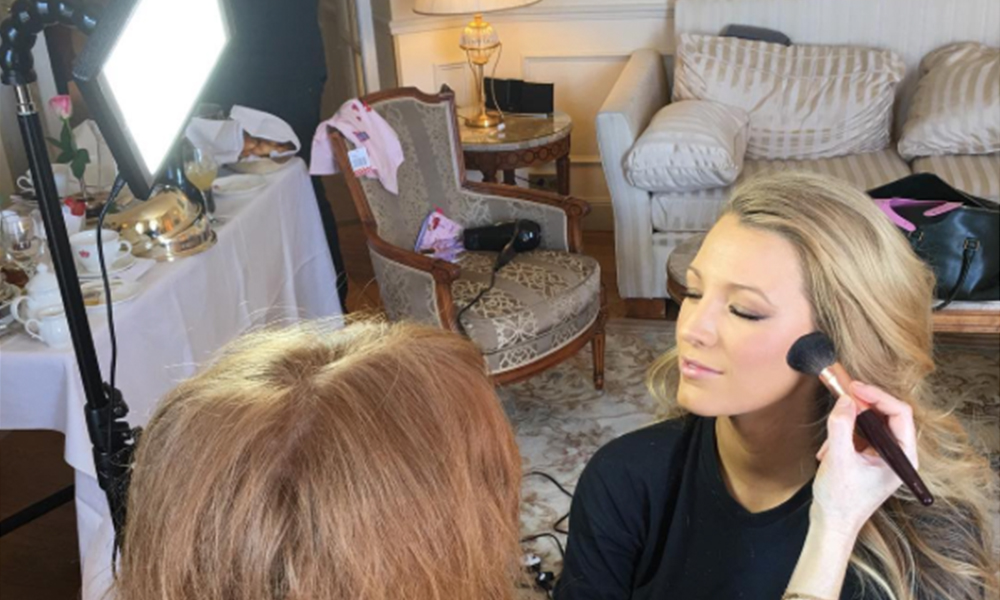 I NEVER do makeup without The Makeup Light. Blake has experienced the difference first-hand. Really
great makeup artists cannot do the amazing work they are capable of doing when they cannot
see. This is the single most important tool in my kit.
It was definitely used in the makeup trailer for A Simple Favor. I set up 2 of them directly onto
the mirror with the new Magic Mount. They stayed there for the entirety of the film, even
when the trailer was moving. When I went to set, I would take one for the touch-up area on set.
Great lighting helped me to choose the look and design for Blake's Character EMILY on A
Simple Favor.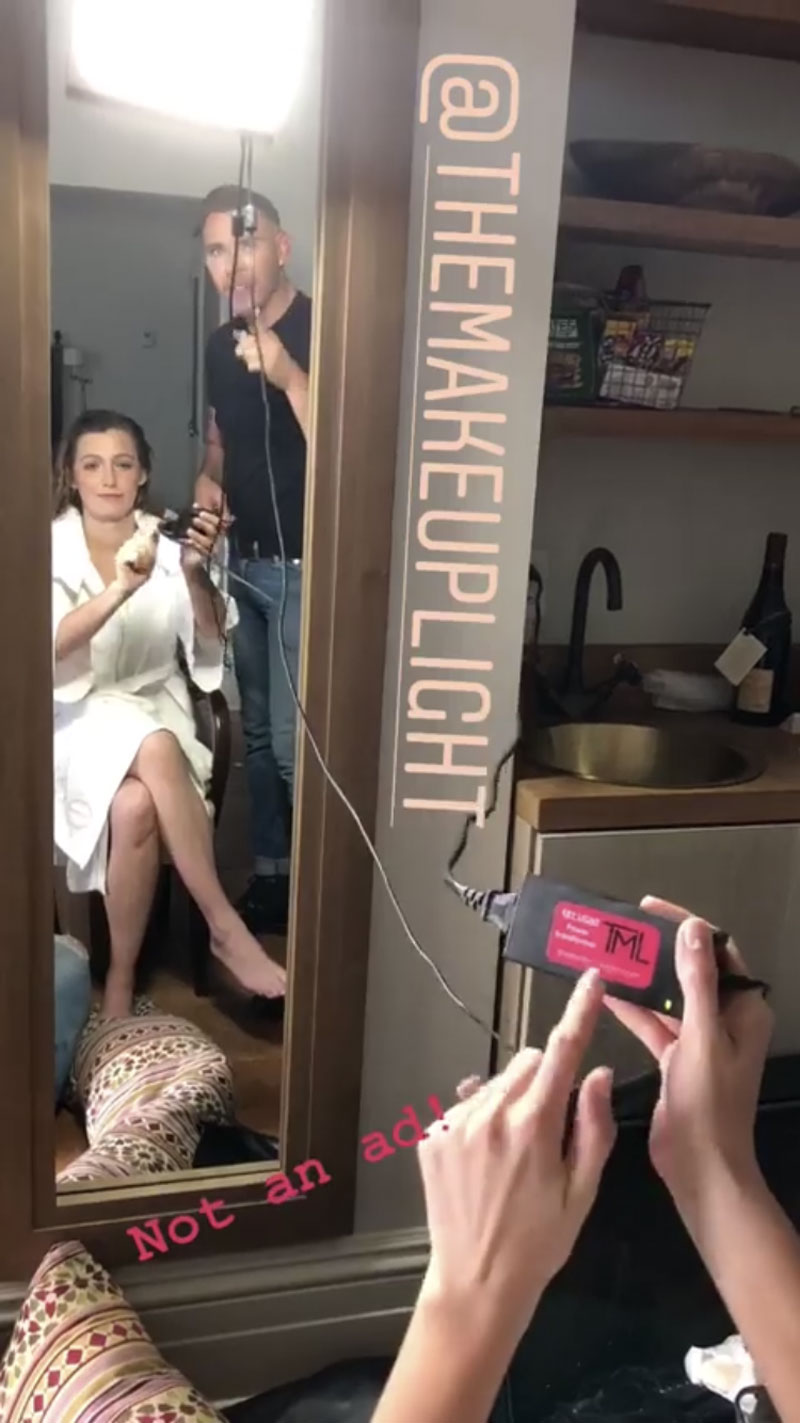 Blake featured the makeup light in a video posted on her own Instagram account, writing that the lights were used during the makeup prep of Lively's upcoming movies, A Simple Favor and The Rhyme Section. "It's true, blow them up because if you don't do your makeup in great light you walk outside and look crazy," says Lively.
Products Used to Prep Blake's Skin for 'A Simple Favor' Makeup:
Skincare is always a big part of the makeup with Blake. DIOR PRESTIGE LA LOTION ESSENCE
DE ROSE. And my all-time favorite, SONIA ROSELLI WATER BALM SKIN PREP. (It's like a drink
of serum-infused water that is the perfect primer for makeup.)
For the evening cleanse we use NATURA BISSE NB CEUTICAL EYE MAKEUP REMOVER and SONIA ROSELLI JAPANESE CLEANSING OIL and DENNIS GROSS ALPHA BETA EXTRA STRENGTH DAILY PEEL.
The Make-up Used To Create Blake's Character Emily's Glowing Skin:
Now that the skin is primed, Charlotte Tilbury Light Wonder Youth Boosting Skin Foundation in #5, Charlotte Tilbury Beauty wand and Contour Wand in Light Medium.
Cheek color by Lilah B in b.lovely, By Terry Cellularose Brightening CC Serum in Sunny Flash was lightly brushed for the sun-kissed look. Then, Sensai Loose Powder lightly for a soft finish.
The Make-up Used To Create Blake's Character Emily's Stand Out: Eyes
The eyes were Dior #537 palette, with Charlotte Tilbury Rock and Kohl in Barbarella Brown and
Diorshow Mascara in Black. We did many lip colors, but we chose from KRISTOPHER BUCKLE
Lips Crayons and Charlotte Tilbury. M.A.C. Lip Pencil in Subculture for the lip pencil.
The Body Make-up Used To Create Blake's Character Emily's Skin:
When Body Makeup was needed, I used Charlotte Tilbury Super Body Model and Votre Vu Silk Stockings.
Blake's Pulled-Back, Wavy Hair:
It was all about keeping it simple for this hair look. "Since [Lively's] hair is striking on its own, as it was coupled with designer tuxedos and stilettos on her model-esque body, I was careful not to overdo it," said Furey, who had used Oribe Grandiose Hair Plumping Mousse on Lively's damp hair and tied it in a bun.
She then used a Dyson Supersonic Hair Dryer to diffuse heat through hair and ironed as necessary before pulling the hair back in a knot. She finished with Christophe Robin Volumizing Mist with Rosewater at the roots.
For Furey, the less product, the better. "We were shooting long days in the humidity," she said, "and too much product can weigh it down with [her hair] length."
Shop BLAKE'S MAKEUP FROM 'A SIMPLE FAVOR'

Most Read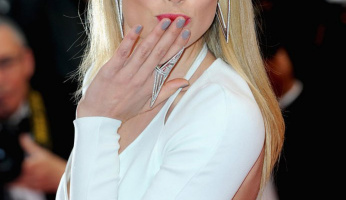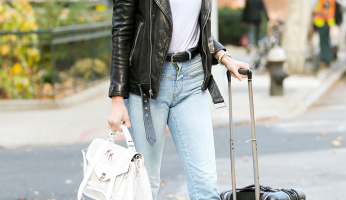 Subscribe to our Newsletter