Designer I Love: C & C California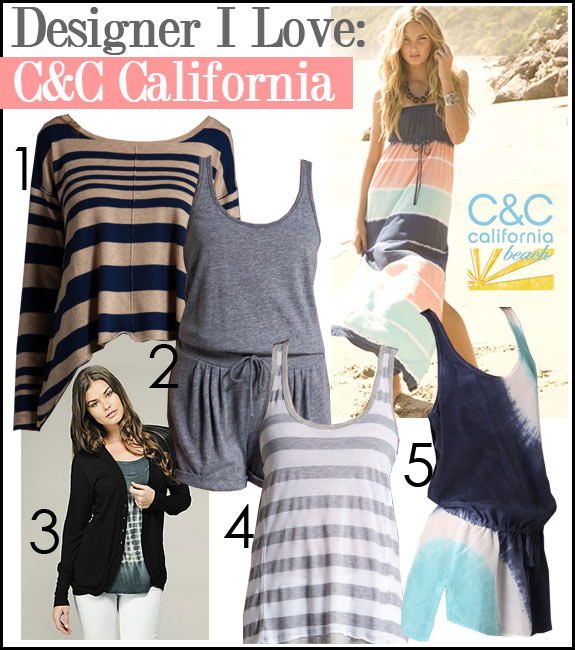 Inspired by the California beach scene of the 1970's, C & C California is the perfect combination of laid-back and luxe …and that's exactly why this brand is one of my all-time faves. C & C began with a quest to create the perfect t-shirt and, after reaching that goal, has continued to evolve with each season. Now the brand is a complete line of tops, bottoms, dresses, and everything in between. The signature look of C&C is "easy, comfortable, and wearable…refined sexiness," according to their official website. Their pieces mix and match perfectly because they are based on a unified color palette (shades inspired by the beach, the surf scene, and the West Coast sunset). Whether you pick up one piece or invest in the entire collection, I'm sure that C&C California will quickly become one of your favorite designers, too!
1. C&C California Stripe High/Low Scoop Sweater ($93)
Embodying the signature casual cool look of the brand, this sweater is soooo very chic. Pair with any bottom in your closet, from casual sweats to fits-like-a-glove skinnies to get a no fuss look at any occasion. Navy and oatmeal stripes lend a little structure to this loose, playful sweater. Finished with side tails and a slouchy scoop neck.
2. C&C California Triblend Romper in Heather Gray ($78)
The romper is back for another season, and I couldn't be happier. The easiest piece to throw on since the jersey dress, the romper is simple, comfortable, and oh-so-wearable. Layer it up or wear it for lounging, this romper is summer personified. Get the perfect fit with a drawstring waist and back button closure.
3. C&C California Ribbed Jersey Cardigan in Black ($110)
A day at the beach can go from sultry to chilly when the sun dips behind the marine layer or makes its way west. Have this ribbed jersey cardigan on hand at all times for fickle weather. This must-have cardi is finished with fun little details like double pockets, extra long cuffs, ruching at back and a rounded hem.
4. C&C California Stripe Racer Tank in Heather Gray ($68)
At first sight, this basic might seem…basic, but that's only because it is the perfect piece to build your summer wardrobe around. Swingy and youthful, this heather gray and white striped tank exudes the laid-back feel of sunny So Cal. Pair with crisp white skinnies and heels or throw it on with your bikini and cutoffs.
5.  C&C California Sunburst Tank Tunic in Navy ($108)
Tie dye is about as chilled out of a print as you can get. This tunic tank is oh-so-groovy with its extra long length, drawstring waist, and aforementioned navy tie dye. Its criss-cross back and keyhole cutout adds to the visual interest of this misleadingly simple piece. Pair with bright white bottoms for the freshest summer look.
Most Read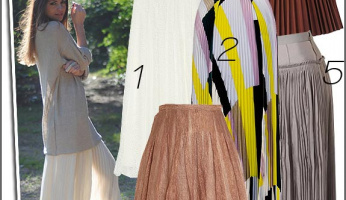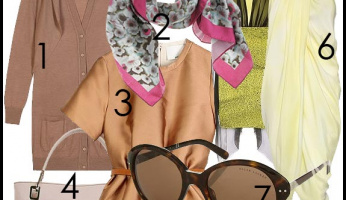 Subscribe to our Newsletter